Ranveer Singh is an actor who needs no introduction. He is famous for pulling off unconventional fashion, dedication towards his acting, and his quirky nature.
He is a versatile actor who is ready to take up a challenging role and give his all in it. His previous movie Padmavat is a perfect example of his dedication to acting. In December 2021, he came out with an excellent movie, '83', based on the 1983 cricket world cup.
WHY SHOULD YOU WATCH 83?
There are several reasons why you should watch this masterpiece. It stars excellent actors like Ranveer Singh, Deepika Padukone, Pankaj Tripathi, Boman Irani, Neena Gupta, Tahir Bhasin, and Saqib Saleem, to name a few.
Even though the roles of most of the actors are minor, they are compelling and impact. Deepika Padukone's portrayal of sadness and disappointment through her eyes is one of the many excellent clips in this movie.
The movie is based on India's journey in the World Cup of 1983. From people making jokes when the Indian team captain Kapil Dev says that he has come to win to the moment he receives the trophy in his hand, this movie perfectly shows it.
India first met reigning world champions West Indies. The movie shows how the team faced each match in this series. Even though winning the first two matches, Indian players were not credited for working hard. Newspapers publish that India won due to shire luck.
KAPIL DEV'S REIGNING 175!
Indian crickets get disheartened and lose a few matches, but their captain Kapil Dev stays calm and confident and steers the team. Due to the few losses, India is faced with a do-or-die game. Indian openers perform miserably, and the of winning are near 0, and that's when Kapil Dev changes the game. He scores 175 runs and beats the world record of highest runs scored in a test match.
SEMI-FINALS – INDIA VS ENGLAND
After winning the do-or-die match against Zimbabwe, India steers to fight in the semi-finals against England. Winning this match against England was groundbreaking. Indian players had never imagined playing in a world cup final.
Indians rejoiced. Many people commented that if India loses the finals and goes home, it won't be a big deal as they have come a long way. But the Indian captain was not satisfied. He was here to win. Going home with the trophy was the only thing that would satisfy him.
FINALS – INDIA VS WEST INDIES
The finals were not easy on India. Losing the toss, India forced to bat first. The West Indies bowlers ripped off Indian batters. India scored 183 runs, the lowest in the final match in cricket. Every Indian was disheartened and believed that West Indies would win the World Cup again.
But there was still hope. The Indian bowlers utilized the weather and the pitch conditions and bowled out all the West Indies batsmen for 140 runs in 52 overs. 183 remains the lowest ever total successfully defended in a World Cup.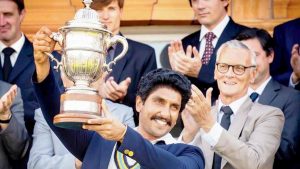 The best part of the movie is that it combines both natural and reel clippings and does not add unnecessary drama. If you are a cricket fan, this movie is a must-watch for you!
Trailer: