According to the Bloomberg Billionaires Index, Gautam Adani, the chairman of the Adani Company, has passed Jeff Bezos to become the second-richest person in the world. Adani's fortune has increased dramatically this year as a result of rising stock prices for the companies that make up his group.
According to real-time data from the Bloomberg Billionaires Index on Saturday, Adani is now just behind Tesla CEO Elon Musk, who has the title of the richest man in the world with a net worth of $264 billion.
As a renewed tech selloff on Friday once more battered the fortunes of the wealthiest Americans, Bezos is just $19 million behind Adani. The change in wealth rankings could only last a short while and is heavily reliant on Amazon.com Inc. shares, which are down 26% this year.
Mukesh Ambani, chairman and managing director of Reliance Industries, is ranked seventh overall with a net worth of $92.3 billion. The top ten list also includes Bill Gates, Larry Ellison, Warren Buffett, Larry Page and Sergey Brin as billionaires.
Adani overtook Louis Vuitton CEO Arnault in August to move up to third place in the world's wealth rankings. It marked the first time an Asian made the wealth index's upper echelons, which had previously been dominated by US IT entrepreneurs.
Adani, who was ranked No. 14 on the Bloomberg Billionaires Index at the beginning of the year, now has a wealth worth $146.8 billion, second only to Elon Musk's $263.9 billion. Some of his group companies have increased by more than 1,000% since 2020, and last week, shares of his flagship Adani Enterprises Ltd.rocketed to a record high.
The price of a share of Adani Enterprises, the conglomerate owned by Adani, hit a record high yesterday of 3,749.15 rupees ($46), more than doubling from the previous year. In response to the soaring demand for power, shares of his Adani Power have increased by a factor of three in the last year, reaching 398.4 rupees ($4.9). Adani Green Energy, a provider of renewable energy, saw its share value nearly double in the previous year to 2,343.05 rupees ($29.2).
Adani's desire for growth has led to him taking risky steps to join new industries. The $10.5 billion purchase of the Indian division of Swiss cement company Holcim Group is now being finalised by the group. Adani Group will buy shares in two publicly traded cement companies—a 63.11% stake in Ambuja Cement and a 54.53%stake in ACC—as part of this arrangement. These deals, for which open bidding were closed last week, would elevate Adani to the position of the country's second-largest cement manufacturer.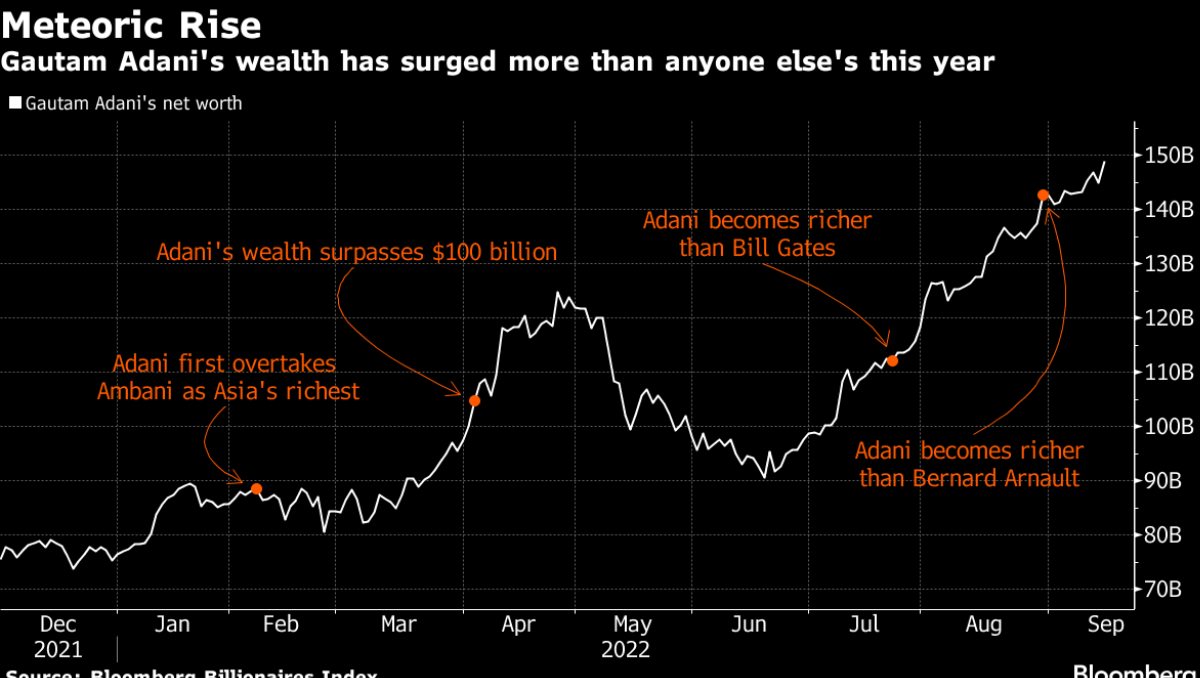 Adani, 60, left college early in the 1980s to try his hand in the diamond trade in Mumbai before settling on coal and ports. Since then, his conglomerate has grown to include everything from media to green energy to data centres, cement, and airports, concentrating on industries that Prime Minister Narendra Modi believes are essential to achieving India's long-term economic objectives.
Adani's empire, which also seeks to become the greatest renewable energy producer in the world, includes the nation's largest private port and airport operators, city-gas distributor, and coal miner. It made a commitment to invest $70 billion in green energy last year, a move that some have condemned as "greenwashing" considering that the majority of the organization's income still derives from fossil fuels.
Adani has received investments as a result of his drive into renewable energy and infrastructure from companies like Warburg Pincus and TotalEnergies SE, helping to increase the stock price of his companies and his net worth. More than anyone else, he increased his wealth by roughly $70 billion this year, while most people experienced losses.
In a September assessment, the Fitch Group unit CreditSights referred to some of the companies' leverage as being "elevated" due to Adani's conglomerate's quick expansion. According to the group, debt levels at its companies have declined recently.
Concerns about opaque shareholder structures and a dearth of analyst coverage are already present, and the scrutiny is just increasing them. In comparison to companies like Tesla Inc. and Amazon, whose valuations have been closer to 100 times earnings, certain Adani Group companies have traded over 700 times earnings.
The Indian businessman, who has promised to donate $7.7 billion to social causes, has also been able to move up the wealth scale since many of the top IT entrepreneurs, including Gates, have increased their philanthropic contributions. Another huge play is renewable energy: Adani New Industries, a utility company, has declared it will spend more than $50 billion over the next ten years on the development of green energy.
---