After at least 153 people were fatally crushed on Sunday during Halloween festivities in a South Korean alleyway, parents searched for their missing children, shocked family members collected their remains, and the general public sought explanations.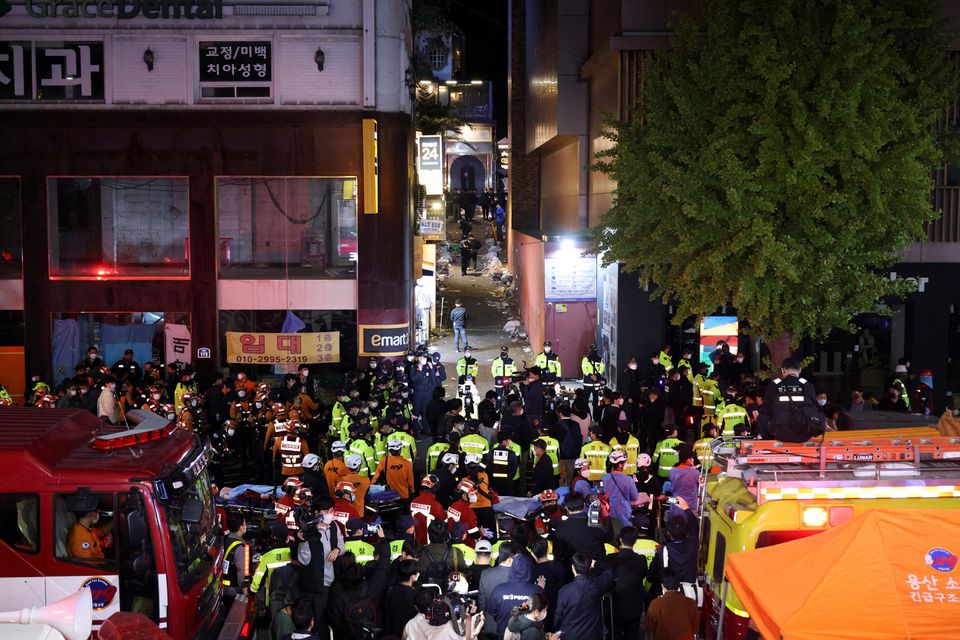 President Yoon Suk-yeol declared a day of national mourning following the catastrophe on Saturday night and declared Seoul's well-known Itaewon neighbourhood a disaster zone.
Emergency personnel stated that a sizable crowd of revellers in Itaewon overflowed into an alley, killing at least 153 individuals, most of whom were in their 20s.
In their eagerness to enjoy the bars, nightclubs, and restaurants where the excitement frequently spills onto the twisting, frequently steep side streets, many of the revellers, many of whom were still in their teens, were dressed in Halloween costumes.
The roadway filled with people crying for help as rescue personnel desperately worked to free trapped victims and give CPR to people sprawled over the debris-littered ground.
According to Choi Sung-beom, chief of the Yongsan Fire Station, who addressed a briefing on the scene, 82 people were hurt, 19 of them seriously.
He claimed that the dead included 22 foreigners. People asked for information about their missing loved ones at community centres that had been transformed into spaces for the missing relatives and friends.
According to the Interior Ministry, at least 90% of the victims had been identified by noon, while some foreigners and young people without identity cards encountered delays. People started to leave flowers and notes nearby, and temporary memorials began to form.
President Yoon expressed his sympathies to the victims of one of the worst stampedes in history and one of the worst disasters to hit South Korea in recent memory. He also wished the many injured a speedy recovery.
He described the situation as "very horrible" in a statement and pledged to examine what went wrong. In the heart of Seoul, last night, a calamity and a disaster that shouldn't have happened took place.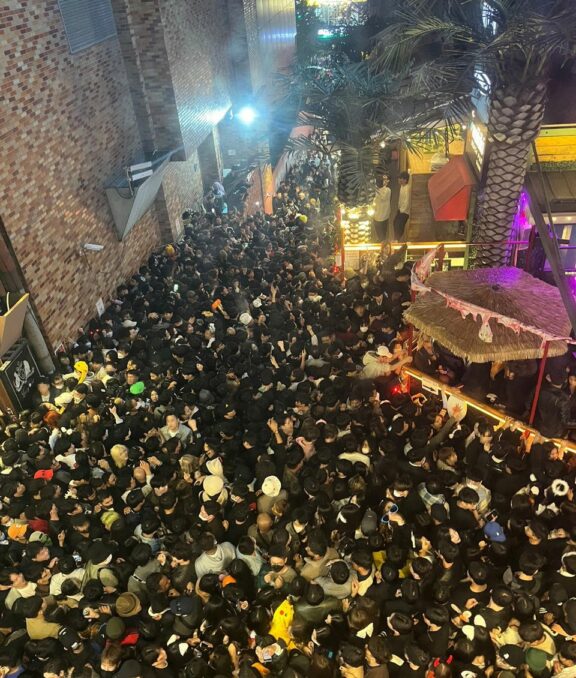 Disorder, then Chaos
As a result of the incident, South Korean IT and mobile gaming firms such as Kakao (035720. KS) and NCSOFT (036570. KS) cancelled their Halloween promotions, while the Everland amusement park postponed its annual Halloween celebration.
Many regional governments and organisations have cancelled or reduced festivals and other events. Itaewon, which had long been a representation of the wild nightlife in South Korea's capital, was just starting to develop after more than two years of COVID-19 restrictions as trendy eateries and boutiques started to replace odious establishments.
It was the first Halloween celebration in Seoul in three years that was mainly free of COVID-19 restrictions and social isolation. Most of the partygoers wore masks and costumes for Halloween.
Twenty-four hours earlier, the festivities had already started to draw potentially dangerous crowds, and the victims' families had expressed alarm about what they saw to be a lack of crowd control. Bloodstains, costumes, and personal items became jumbled up in the small area early on Sunday.
Survivors hid behind emergency blankets amid throngs of first responders, law enforcement, and reporters. Many of those killed, according to Choi, were near a club.
He said that the victims were nationals of Norway, China, Iran, and Uzbekistan. Witnesses claimed that as the evening progressed, the crowd grew rowdier and angrier.
Chaos erupted just before the 10:20 p.m. (1320 GMT) stampede, and according to witnesses, police on hand at the time occasionally struggled to control the crowds.
The event, according to 21-year-old Moon Ju-young, was preceded by blatant signs of disruption in the lane. He told Reuters that the crowd had increased by more than ten times.
As rescue workers and police battled to free them, hundreds of people were crammed into the narrow, slope path, crushed and immobile, as seen in social media footage.
According to Choi, the Yongsan area's fire chief, the alley's crowdedness was likely the cause of all of the fatalities.
Makeshift Morgue
According to fire officials and witnesses, as the lane became completely crowded, people continued to flow in, and when those at the top of the hill toppled, others below them tipped over one another.
One mother said that her daughter was freed from the crowd after being imprisoned for more than an hour.
A temporary morgue was set up at a building close to the area. Four-dozen bodies were brought out on stretchers and taken to a government building, according to a witness who spoke to Reuters, so that the dead could be identified.
The lane was allegedly packed to the gills with people once it reached that point, and when those at the top of the hill toppled, people below them tipped over one another, according to fire authorities and witnesses.
According to one mother, her daughter was saved after spending more than an hour being held captive in the crowd. A short-term morgue was established in a structure close to the scene.
Approximately four dozen bodies were brought out on stretchers, according to a witness who spoke to Reuters, and carried to a government building so the dead could be recognized.
As the COVID pandemic came to an end in April, restrictions on private gatherings and pub and restaurant curfew hours were loosened. In May, the need for exterior masks was eliminated.
President Yoon called a quick meeting of his senior advisors and issued a directive to establish a task force to raise money for the injured party's medical care and start a thorough inquiry into what caused the accident.
Since a boat disaster in 2014 that killed 304 people, predominantly high school students, the catastrophe is the deadliest in the country.
The sinking of the Sewol and the outrage over the government's response shook South Korea, igniting a national discussion about safety precautions that will likely be renewed in the wake of Saturday's crush.