A suicide bomb blast took place at a political rally in Pakistan. At least 44 people have been killed and around 200 are reported to be injured. The blast occurred during a rally on Sunday of conservative Jamiat Ulema Islam-Fazl (JUI-F) party in Bajaur district which borders Afghanistan.
The party is known for links with hardline political Islam. The provincial police reported that the suicide bomber detonated his explosives near the stage where several senior leaders were present.
According to police officials, the banned outfit Daesh (ISIS) may be behind the attack. Three suspects have been arrested by the police. The bomb disposal team has started collecting evidence from the site. Provincial police chief informed that 10 kilograms of explosives set off by the suicide bomber. The bomber was among the attendees seated in the first row of the convention. As reported by both the police and witnesses, the explosion took place right after JUI-F District Amir Maulana Abdul Rasheed stepped onto the stage. Among the victims were JUI-F Tehsil Khar Maulana Ziaullah Jan, Navagai Tehsil General Secretary Maulana Hameedullah, District Information Secretary Mujahid Khan, and numerous party workers.
PM condemnation for the blast
Prime Minister Shehbaz Sharif has expressed strong condemnation of the explosion and has made a firm commitment to identify and punish those accountable for the incident. The prime minister tweeted "The Pakistani nation, law enforcement agencies and our protectors will never allow such cowardly tactics of the enemy to succeed,". He has ordered a thorough investigation into the incident and directed that the critically injured individuals be transported to other hospitals by helicopter.
Eyewitness painful experiences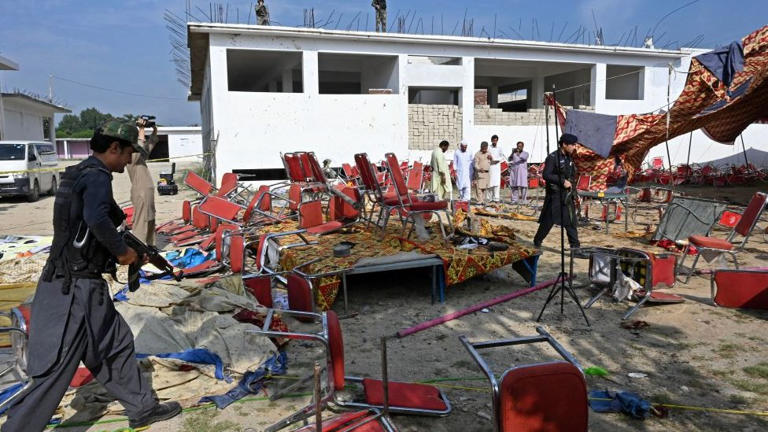 According to Rahim Shah, an eyewitness interviewed by Dawn.com, there were over 500 people present at the convention when the explosion happened. He mentioned that they were listening to a sermon when a powerful blast struck, causing him to lose consciousness. When he regained awareness, he found the scene covered in blood with people screaming, and even gunshots were heard amidst the chaos.
According to Sabeehullah, a 24-year-old supporter of JUI-F, the explosion left him with a fractured arm, and he described the extent of injuries as horrifying. He recounted the scene of the incident, stating that there was absolute chaos, with human flesh, limbs, and body parts scattered all around the area alongside lifeless bodies. He found himself lying next to someone who had suffered limb loss. The air was filled with the distinct smell of human flesh, as quoted in the report.