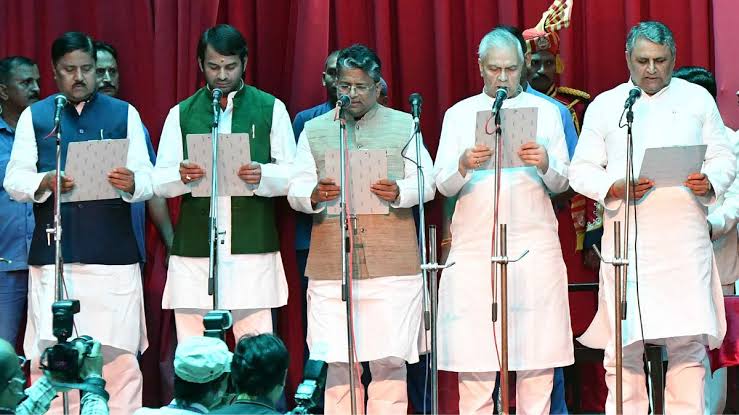 What happened in Bihar politics?
In Bihar, the political rift between Bharatiya Janata Party (BJP) and Janata Dal (United)–JD(U) intensified after Chief Minister Nitish Kumar skipped a key meeting of the NITI Aayog, chaired by Prime Minister Narendra Modi on Sunday and JDU) leader RCP Singh rendered his resignation from the party. Singh, who once was a close aide of Nitish Kumar, has been served a notice seeking an explanation on allegations of corruption.
The JD(U) had demanded Singh explain "irregularities" in properties linked to his daughters. The party workers have alleged that "huge property" has been amassed between 2013 and 2022 in the name of Singh and his family members.
Some media reports stated that Nitish Kumar was upset with RCP Singh for his growing nearness to coalition partner BJP. Singh had accepted a union cabinet without the party chief's consent.
Bihar Chief Minister Nitish Kumar expanded his cabinet today, with the biggest chunk of seats going to alliance partner Rashtriya Janata Dal (RJD). The new ministers were administered the oath of office by Governor Phagu Chauha.
As many as 31 Ministers, including five from Muslim and three women legislators, took oath as Ministers of new 'mahagathbandhan' (grand-alliance) government in Bihar led by Chief Minister Nitish Kumar.
Most of the JD(U) Ministers were retained in the Cabinet while leaders close to RJD leader and Deputy CM Tejashwi Yadav were inducted into the Cabinet.
Among those who took oath, 16 were from RJD, 11 from Chief Minister Nitish Kumar's JD(U), two from Congress, one from ex-CM Jitan Ram Manjhi's Hindustani Awam Morcha (HAM) and one Independent.
The political rift between the two parties led to the separation of both the parties forming a new government in Bihar. Nitish Kumar joined hands with RJD. Nitish Kumar took oath for the 8th time as the chief minister of Bihar whereas Tejwasi Yadav took oath as the deputy chief minister of the state.
Bihar cabinet expansion
The 31 new Ministers also included five Muslims and three women legislators in the new government in Bihar. The number of Muslims in the new cabinet is five, up from only one in the previous NDA government that fell last week after Mr. Kumar severed ties with the BJP.
The RJD has, predictably, given a significant number of seven berths to Yadavs, including Tej Pratap Yadav, the elder son of party president Lalu Prasad. Tej Pratap Yadav will be the new Environment Minister of the State.
It, however, also gave representation to the upper castes in keeping with the wider social outreach by deputy CM Tejashwi Yadav. Among those from the RJD quota were Kartikeya Singh, a Bhumihar MLC, and Sudhakar Singh, a Rajput, whose father Jagadanand Singh is currently the State president.
The JD(U) has retained its ministers from the previous dispensation. The Congress is represented by a Dalit and a Muslim.
Top 10 points on Bihar cabinet expansion.
A total of 31 ministers were inducted into the Bihar cabinet today. The RJD got 16 ministerial berths, followed by the Janata Dal (United) which kept 11.
Nitish Kumar kept the Home Department, while his deputy Tejashwi Yadav got key portfolios like Health, Road Construction, Urban Development, Housing and Rural Development. Tejashwi Yadav's brother Tej Pratap Yadav is Bihar's new Environment Minister.
The JD(U) retained most of its ministers, including Mohd Zama Khan, Jayant Raj, Sheela Kumari, Sunil Kumar, Sanjay Jha, Madan Sahni, Shravan Kumar, Ashok Choudhary, Leshi Singh, Vijay Kumar Chaudhary and Bijendra Yadav.
From RJD, Tej Pratap Yadav, Alok Mehta, Surendra Prasad Yadav and Ramanand Yadav, Kumar Sarvajeet, Lalit Yadav, Samir Kumar Mahaseth, Chandrashekhar, Jitendra Kumar Rai, Anita Devi and Sudhakar Singh, Israel Mansuri, Surendra Ram, Kartikeya Singh, Shahnawaz Alam, Shamim Ahmed took oath.
Two Congress legislators, Afaque Alam and Murari Lal Gautam, were inducted into the cabinet, while Santosh Suman was sworn in from Jitan Ram Manjhi's Hindustani Awam Morcha. Lone Independent MLA Sumit Kumar Singh also took oath as cabinet minister.
The Bihar cabinet can have up to 36 ministers, including the Chief Minister. Some ministerial berths were kept vacant for future cabinet expansion, sources said.
Nitish Kumar had broken away from the BJP and formed a government with the RJD and other parties earlier this month. The Chief Minister Tejashwi Yadav took oath on August 10.
Sources said he felt that the BJP was attempting a repeat of the Maharashtra model – where the Uddhav Thackeray government was dismantled with the rebellion by senior Shiv Sena leader Eknath Shinde who is now the Chief Minister.
The Bihar Grand Alliance has a combined strength of 163. Its effective strength climbed to 164 after Independent MLA Sumit Kumar Singh extended his support to Nitish Kumar.
The new government is likely to prove majority in the Bihar assembly on August 24.