In an exhilarating Euro 2024 qualifier match, England displayed their prowess on the field, securing an impressive 7-0 victory over North Macedonia. The match, filled with exciting moments and stellar performances, showcased England's dominance and signaled their determination to qualify for the prestigious tournament. Let's delve into the highlights of the match and the remarkable achievements of England's young talent, Bukayo Saka.
Saka's Hat-Trick Steals the Show:
Bukayo Saka emerged as the star of the match, delivering a scintillating performance that left spectators in awe. The talented winger netted a remarkable hat-trick, showcasing his exceptional skill, speed, and clinical finishing. Saka's goals not only demonstrated his individual brilliance but also highlighted the depth of young talent in the English squad.
England's Dominant Attack Decimates North Macedonian Defense:
The match witnessed an extraordinary display of attacking football by the English team. From the opening minutes, England took control of the game, relentlessly pressuring the North Macedonian defense. The team's fluid passing, intelligent movement, and clinical finishing resulted in a remarkable seven-goal haul. The victory showcased England's offensive prowess and served as a statement of intent for their Euro 2024 aspirations.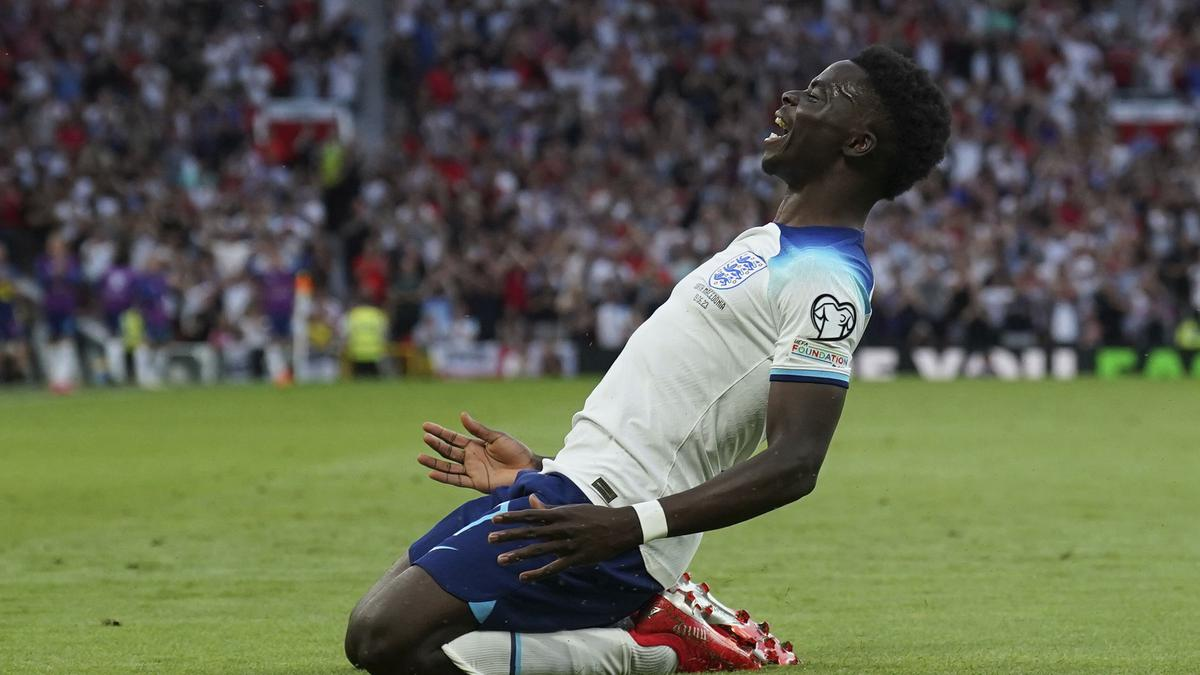 England's Bukayo Saka celebrates after scoring his side's fifth goal of the game and his hat-trick during the Euro 2024 Qualifying Group C match against North Macedonia. | Photo Credit: AP
Collective Brilliance: A United Front Leading England to Victory:
While Saka's hat trick stole the headlines, it was a collective team effort that ensured England's dominant victory. The entire squad demonstrated remarkable cohesion, with players seamlessly combining their skills to create scoring opportunities. Additionally, England's defense remained resolute throughout the match, denying North Macedonia any chance to stage a comeback.
Path to Euro 2024:
England's resounding victory in the Euro 2024 qualifier against North Macedonia brings them closer to securing their place in the prestigious tournament. With a string of impressive performances, the team has established themselves as strong contenders. Their focus now shifts to the remaining qualifiers, where they will aim to maintain their winning momentum and secure their spot in Euro 2024.
England's Resounding Victory Sparks Global Excitement and Anticipation:
The match garnered significant attention and generated excitement among football fans worldwide. Supporters celebrated England's dominant performance, marveling at the team's attacking flair and individual brilliance. The victory also sparked discussions and predictions about England's potential in the upcoming Euro 2024 tournament, fueling anticipation for the football extravaganza.
Conclusion:
England's commanding 7-0 victory over North Macedonia in the Euro 2024 qualifiers showcased their offensive prowess, teamwork, and the exceptional talent of Bukayo Saka. The win propels England closer to qualifying for the prestigious tournament and instills confidence in their campaign. Football enthusiasts worldwide eagerly await England's future matches and anticipate their performance in Euro 2024.