J-Hope was the first South Korean artist to handle a major American Music Festival's main stage
It's all over. The fourth and final day of Lollapalooza 2022 was on Sunday in Chicago's Grant Park, and it was a day that made history. Headliners included J-Hope, Green Day, and Denzel Curry, with surprise guests including Billy Corgan, Chance the Rapper, Vic Mensa, and Becky G making appearances throughout the day.
J-Hope made history at Lollapalooza, becoming The first South Korean artist to perform at the American Music Festival. The BTS member took the stage alone, without group members Jin, Suga, RM, Jimin, V, or Jung Kook, but he made a big impression as night fell on the festival and he performed his set, which lasted more than an hour.
The rapper performed songs from his new Jack In The Box album, which was released on July 15, in front of a crowd of 100,000 people. (The album debuted at No. 17 on the July 30 Billboard 200 chart.)
The 18-song set included songs from Hope's extensive catalog, such as "More," "Arson," "HANGSANG," and "P.O.P (Peace of Piece)" from the recently released LP; tracks from his debut mixtape Hope World, such as Becky G collab "Chicken Noodle Soup," which featured a cameo from the "Mamiii" singer; and remixed version of BTS hits "Dynamite".
Fans of BTS member J-Hope began staking out spots for his 8:50 p.m. headlining set almost as soon as the festival gates opened at 11 a.m, He told Rolling Stone backstage before his set that he was excited to perform his new singles "More" and "Arson", which he described as "styles that I haven't performed before".
Just before starting his set, he humbly introduced himself to the audience, saying that he is a member of BTS, "but you can call me J," the rapper smiled as the crowd erupted in applause. Throughout Hope's performance, which artfully blended elements of hip-hop, pop, rock, and R&B, the audience was riveted.
"You guys are f—ing insane," he exclaimed. He told the assembled ARMY Members. "Many of you are probably seeing me for the first time today…it's wonderful to be here". Fans are calling it "Hobiplaooza". There were many other artists who performed there such as Charlie XCX, The Marias, Green Day, Beach Bunny, and many more.
Doja Cat has canceled several summer festival appearances, including Lollapalooza and her run with The Weeknd's tour, due to throat health complications. On May 20, the singer posted a note on Twitter explaining her absence and confirming she would be undergoing tonsil surgery and would require time to recover.
 J-hope-Homecoming Beach Bunny Charms-
Beach Bunny Frontwoman Lili Trifilio said it was probably their biggest show to date, as the Chicago band performed for the second time at Lollapalooza. It was also a family affair, with the band yelling out their relatives in the audience and Trifilio's brother Steve taking a turn onstage for a couple of tunes on guitar.
 J-Hope- Erica Banks Gets Low-
Never underestimate the power of Tik Tok hits that have gone viral. Erica Bank's gleefully filthy sex rap "Buss It" (and its accompanying challenge) helped put her on the map, and at Lolla, the Texas rapper leaned into the novelty. Her brief set felt little more than a prelude to an epic twerk-off. It was an amusing, self-proclaimed "nasty" contrast to some of the more chaste acts at the festival.
Backstage
J-Hope backstage at 2022 Lollapalooza at Grant Park in Chicago, Illinois on July 31, 2022.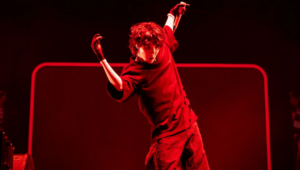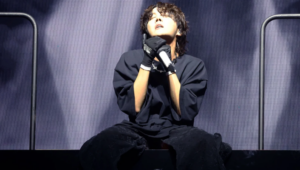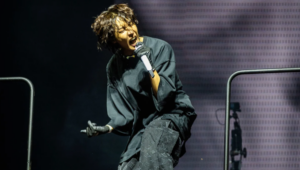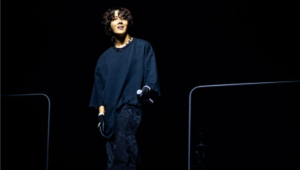 ---
Read More: Can't make it to Chicago? Get Ready to watch Jhope's Performance at Lollapalooza from your Room!
---