Woman Boxer Jaismine Lamboria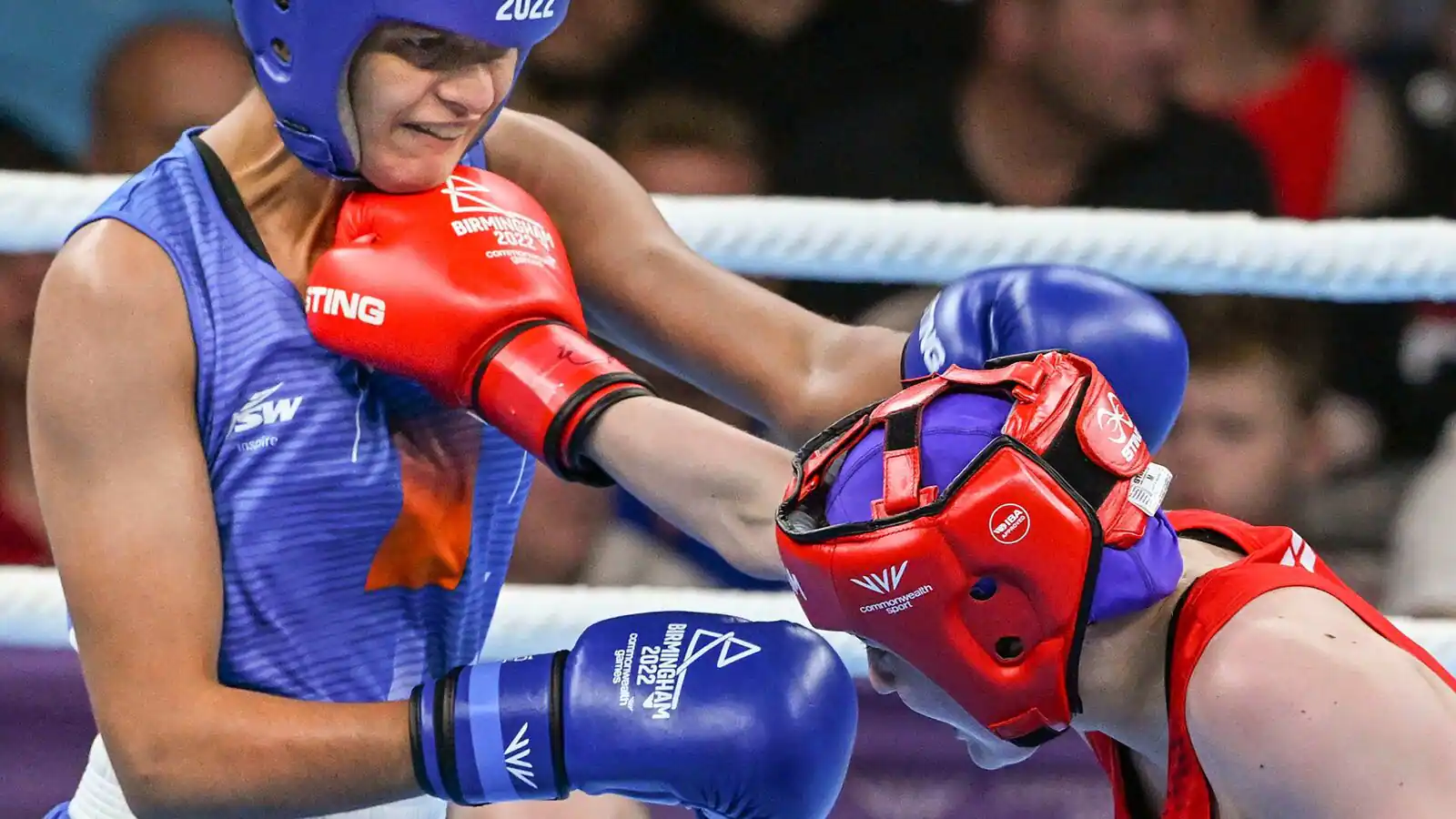 Woman Boxer Jaismine Lamboria got Bronze Medal in Common Wealth Games (CWG) in Boxing. Where she lost to England Boxer Gemma Paige Richardson. In Birmingham on Saturday 2022.
Boxer Jaismine Lamboria
Jaismine Lamboria was born in August 2001 in Bhiwani District, Haryana, India. She is an Indian boxer who competes in the lightweight category. She participated in the 2022 Commonwealth Games (CWG).
Jaismine Lamboria represented India in Woman Boxing and Won a bronze medal.
Family Background  of Jaismine Lamboria 
Jaismine Lamboria came from a boxer's family background. Where her great-grandfather gold medalist HAWA SINGH was a heavyweight boxer who won two times in the Asian games and won the gold medal.
Jaismine Lamboria was trained by her uncles Sandeep Singh and Pravinder Singh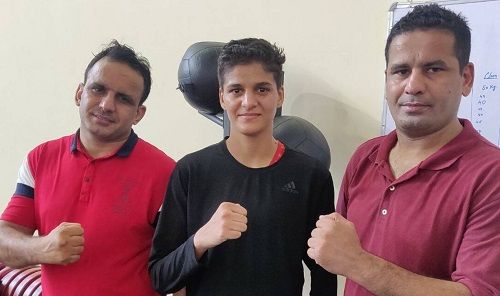 Jaismine Lamboria was trained by her uncles Sandeep Singh and Pravinder Singh who were also national champions in boxing.
Women 's Boxing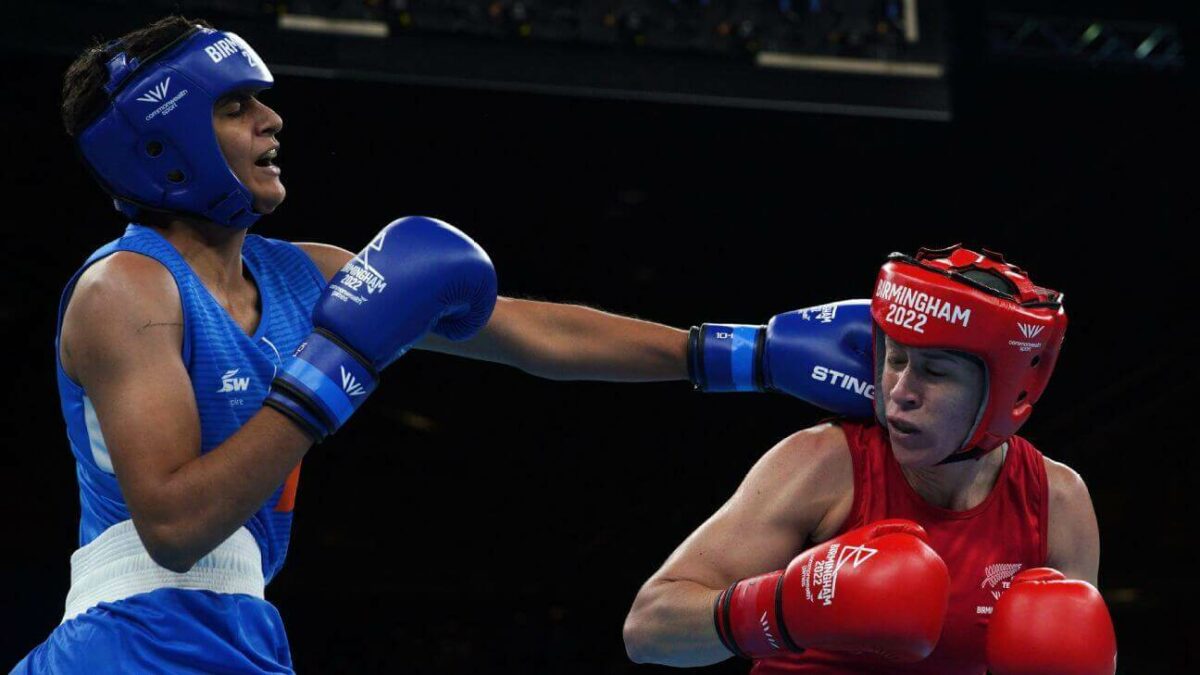 The first women 's boxing matches were held in London and printed in 1722. Elizabeth Wilkinson and Hannah Hayfield are the first women boxer to fight. Women 's boxing first appeared in the Olympics Games as a demonstration sport in 1904 in St. Louis.
First Women Boxing club
Professor Andrew Newton formed a Women 's Boxing club in London in the 1920s. However, it was hugely controversial. In 1988 the Swedish Amateur Boxing Association sanctioned an event for women.
In 1997 The British Amateur Boxing Association sanctioned its first boxing competition for Women.
The first event was meant to be between 2, and 13 years old, but one of the boxers dropped out because of hostile media attention. A month later, an event was held between 16 years old.
Although women fought professionally in many countries, in the U.K the B.B.B.C. refused to issue licenses to women until they issued one to Jane Couch in 1998. End of the century they issued five such licenses.
The first sanctioned professional bout between women in the U.K. was in November 1998 at Streatham in London, between Jane Couch and Simona Lukic.
International Boxing
The International Boxing Association accepted new rules for women 's boxing at the end of the 20th century and approved the first European Cup for women in 1999 and the first World Championship for Women in 2001.
In October 2001 the first women 's world amateur boxing championships called the 2001 women 's World Amateur Boxing Championships, were held in Scranton, in the United state.
Not featured in Olympics
Women 's boxing was not featured at the 2008 Olympics, however, on 14th August 2009, it was announced that the International Olympics Committee's Executive Board (EB) approved the inclusion of women 's boxing in the Games in London in the 2012 Olympics.
Women were allowed to competitively box for the first time at the Olympics during the 2012 Summer Olympics, producing the world's first 12 female Olympics medalist boxers.
Nicola Adams of Great Britain won the world's first women 's boxing gold medal.
Countries of Women 's boxing
Africa: Women 's boxing is not as common in Africa as in western countries. Esther Phiri is one of the more prominent champions
Australia: Women had few opportunities to compete in sports in Australia until the 1880s. After that date, new sporting facilities were built around the country and many new sports clubs were created.
Boxing classes were being offered to women in Australia by 1892, at locations such as the Brisbane Gymnasium on Turbot street, close to the city's railway station.
While classes may have been offered for women, serious training was not permitted for women by the 1900s, and women were banned from pursuing the sport in a competitive way.
In 2002 Desi Kontos of South Australia became the first Australian woman to represent the country at the boxing world Championships.
Naomi Fischer-Rasmussen was the first female boxer to represent Australia at the Olympics when she competed at the 2012 Summer Olympics.
India: Mary Kom of India is a five-time World Amateur Boxing champion. She is the only woman boxer to have won a medal in each one of the six world championships.
Ireland: Katie Taylor won the first officially sanctioned female boxing match in Ireland, at the National Stadium, defeating Alanna Audley from Belfast.
United Kingdom: One of the earliest mentions of women 's boxing is in the travelogue of a German man who visited London in 1710.
United States: In 1876, the first women 's boxing match was held in the United States. In this match, Nell Saunders defeated Rose Harland Her prize was a silver butter dish.
Professional women 's boxing has declined in popularity in the united states and struggles to get viewership and sponsorship and many fighters have to fight in Mexico or Europe in order to make a good living.
Among females, the sport has been supplanted by Women 's MMA.
READ MORE: Women's World Boxing Championship 2023