A policeman near a burnt vehicle after a communal clash in Himatnagar during a Ram Navami Procession.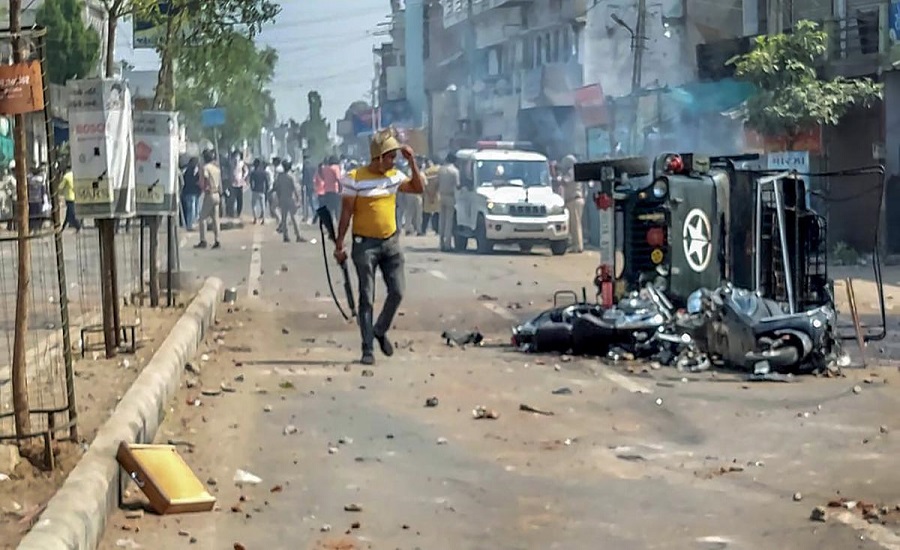 Communal clashes have been reported amid Ram Navami processions in various states across India like Gujarat, Madhya Pradesh, Jharkhand, and West Bengal.
In Khambhat city of Gujarat, one individual was killed and another was injured during the rally. Police officials arrested nine people who were involved in violence and stone barraging.
Superintendent of Police Ajit Rajian said, "The situation in Khambhat town is under control. We have already arrested nine suspects and started further investigation." Himatnagar town of Sabarkantha also experienced roughness between the members of two communities in which shops and vehicles were destroyed on the occasion of Ram Navami.
Collector Hitesh Koya on Sunday imposed Section 144 of CrPC which restricts the gathering of more than five people in some sensitive areas of the town till 13th April 2022. Over ten police personnel were injured during the mishap which persuaded police officials to use tear gas to control the crowd.
In Madhya Pradesh, it was reported that at least ten houses were set on fire and approximately fourteen people were harmed including six cops and Superintendent of Police, Siddharth Choudhary in the conflict held during the procession in various areas of Khargone District which compelled the administration to establish curfew in the city. Khargone District Collector
Anugraha P said, the first stone-pelting incident was reported around 5 pm when the Ram Navami procession departed from the village of Talab Chowk and had barely moved about 500 meters. It has been stated that the clash began near Talab Chowk Mosque where few people opposed the provocative songs played during the procession.
MP Chief Minister, Shivraj Singh Chouhan addressed the issue and said, "An unfortunate incident has occurred in Khargone but the rioters will not be spared. Stringent action will be taken as there is no place for rioters on MP's soil and they are meant to be in jail.
The rioters have been identified. Those who have pelted stones will be punished but along with it they will be made to pay for the losses to both public and private properties." Meanwhile, Home Minister Narottam Mishra said, "The situation is under control at Khargone. All rioters are being identified and 77 have been arrested so far."
The twin city of Kolkata, Howrah was attacked during the Ram Navami Shobha Yatra. The devotees had to leave the profession due to the assault by Muslims. The rally was coordinated by Durga Bahini, Vishwa Hindu Parishad, and Bajrang.
It started at the Indian Institute of Engineering Science and Technology, Shibpur but was attacked midway. West Bengal BJYM Vice President, Priyanka Sharma came up with a video on Twitter, where she shared her insights about the issue and said, after the attack, the police officials lathi-charge the Hindu procession and arrested them but did not take any action against the attackers. The massacre which began during the day continued till the evening.
It has been claimed that in Jharkhand's Bokaro, a few teenagers were on a bike to join a Ram Navami Procession when they were attacked by stones by a group of people on the way. In the Lohardaga district of Jharkhand, 4 people were injured and ten motorcycles along with a pick-up van were burnt after a clash in one of the processions.
"Congress leader, Rahul Gandhi took to Twitter and said, "Hate, violence, and exclusion are weakening our beloved country. The path to progress is paved with the bricks of brotherhood, peace, and harmony. Let's stand together to secure a just, inclusive India."
---
Published by – Mohit Maurya
Edited by – Parvarthy Pillai
Read More : Ukraine will never be a Victory for Putin: Biden ,Yogi calls Ram Mandir India's "Rashtra Mandir."