Former Indian cricket team captain MS Dhoni has always been an inspiration for millions of fans across the globe. He has gained immense respect and popularity both on and off the field, especially for his humble and simple lifestyle. It's no surprise that whatever he endorses or promotes becomes a hot topic of discussion in the country.
27, June, 2023
In a video that is going viral, Dhoni has shown another side of his humble and down-to-earth nature. The video shows Dhoni onboard a flight with his wife Sakshi and an air hostess preparing a plate full of chocolates, dates, and other eatables to offer to the former India captain.
As the air hostess brings Dhoni the tray, he is pleasantly surprised by the sweet gesture and greets the air hostess with a smile. As the air hostess places the tray near Dhoni, he picks up only a packet of dates and politely turns down the rest of the sweets that were on offer.
MS Dhoni follows a strict diet and fitness regime and is widely known for his fitness levels, despite being almost 42 years old. It allows him to continue playing competitive cricket in the IPL.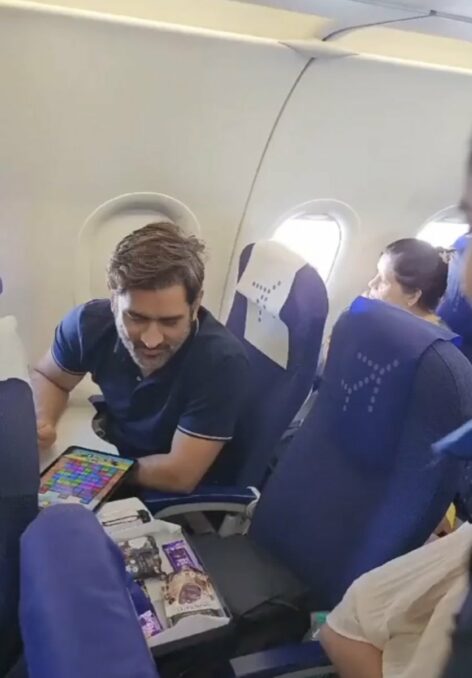 Candy Crush is a free-to-play game with different levels, scores, and targets. It is an addictive game where the player has to match at least three identical candies to move on to the next level. The game first launched in 2012, and since then, it has become one of the most popular mobile games globally. In 2019, Candy Crush raked in $1.5 billion in revenue and ranks among the most successful mobile games of all time.
Dhoni's video led to a remarkable increase in Candy Crush's popularity, and as a result, the game saw three million downloads in three hours after the video's exposure. This is an unprecedented rise for any mobile game to ever witness. With those numbers, Candy Crush created a new record by becoming the mobile game with the most downloads in a single day.
The sudden rise in popularity had a visible impact on the game, not just in India but globally. The Candy Crush craze infected users worldwide, and the game began topping the charts in various app stores around the world. This surge in downloads and popularity for the game has not come without cost; many users reported a slowdown in the game's servers due to the influx of new users a few hours after MS Dhoni's video went viral.
The video also shows Dhoni flying in economy class and playing the popular tile-matching video game 'Candy Crush' on his device. Thanks to the popularity that Dhoni enjoys, 'Candy Crush' was quickly trending on social media. There were in fact as many as 3.6 million new downloads of the game in just 3 hours—this is a statistic that has been acknowledged by the company itself.
The official 'Candy Crush' Twitter handle posted a tweet mentioning that, along with a thank-you note for MSD as well. This has been a great free promotion for Candy Crush, making it more popular than ever.