Before the commencement of a major joint exercise between Seoul and Washington, Kim Jong-Un, the leader of North Korea, visited a navy unit to oversee a strategic cruise missile test, as reported by the state media agency Korean Central News Agency (KCNA) on Monday, August 21.
KCNA revealed that Kim inspected one of the fleets in the East Sea, commonly known as the Sea of Japan, where the crew conducted a drill involving the launch of "strategic cruise missiles." The timing of the visit and the specific missile type were not disclosed.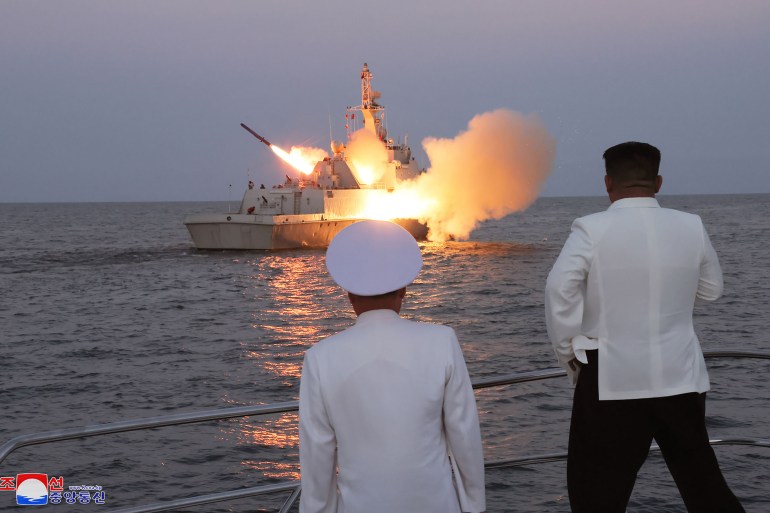 The images depicted Kim observing the missile's flight from a location other than the ship itself.
The missile launch aimed to validate the ship's combat capabilities and missile system features, while also enhancing the crew's proficiency for executing an "attack mission in actual war." KCNA highlighted that the missile from the ship successfully hit its intended target.
Simultaneously, South Korea and the US initiated the annual Ulchi Freedom Shield drills on August 21, set to continue until August 31. These exercises serve as a countermeasure against the escalating threats from North Korea's nuclear weapons. North Korea has openly expressed its disapproval of these drills, characterizing them as "rehearsals for an invasion" and warning of "overwhelming" counteractions.
In recent developments, Kim took precautionary measures by instructing authorities to ramp up the production of missiles and artillery shells, aiming to bolster preparedness for potential conflict.
Kim reportedly visited key munitions factories responsible for tactical missiles, missile launch platforms, armoured vehicles, and artillery shells, issuing direct orders. State media reports quote Kim emphasizing the importance of maintaining substantial military power and readiness to deter enemy aggression and ensure swift annihilation if provoked.
Kim Pledges to Modernize His Military Forces
South Korean legislators have indicated that North Korea might conduct an intercontinental ballistic missile test or engage in other military actions as a response to the joint drills between the allies or the recent summit involving South Korea, the United States, and Japan.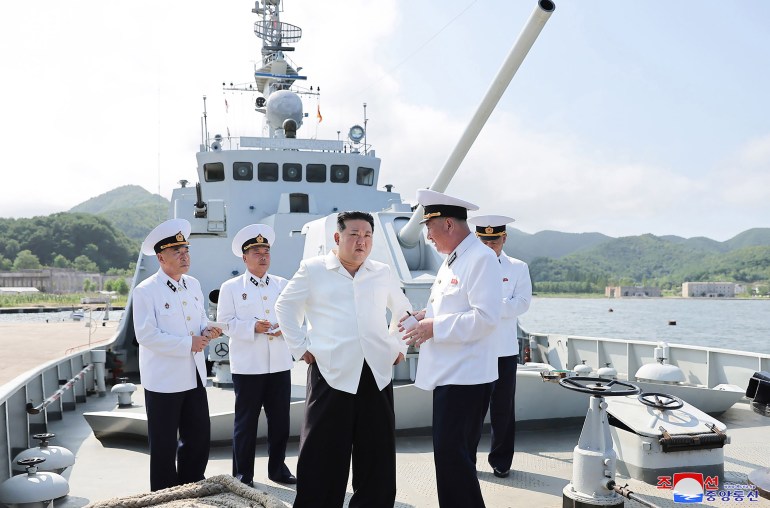 Over the past couple of years, North Korea has been conducting tests of what it terms "strategic cruise missiles," with suggestions from some analysts that these could potentially carry nuclear warheads. In its efforts to enhance naval capabilities, North Korea unveiled a new underwater attack drone with nuclear capabilities in March.
During his presence on the ship, Kim committed to reinforcing the navy by implementing "enhanced combat efficiency and a comprehensive range of modern surface and underwater offensive and defensive" capabilities, as reported by KCNA.
"We will accelerate the modernization of naval weaponry and equipment, encompassing the construction of formidable warships and the advancement of shipborne and underwater weapon systems," his statement read.
North Korea Expresses Discontent
Significantly, the apparent launch of the "cruise missile" follows shortly after US President Joe Biden convened a separate summit at Camp David, where South Korean leader Yoon Suk Yeol and Japanese Prime Minister Fumio Kishida were in attendance.
This marked the inaugural occasion when these three nations and their leaders held a dedicated summit that placed significant emphasis on North Korea-related discussions.
It's plausible that Pyongyang might have been dissatisfied by the trio's endorsement of a multi-year strategy encompassing regular exercises spanning all operational realms.
Additionally, they formally pledged to engage in consultations during times of crisis, as underscored by Biden's announcement of the establishment of a hotline.
According to a Reuters report on Sunday, August 20, hackers believed to be affiliated with a North Korean group termed Kimsuky were implicated in cyberattacks carried out during the joint military exercises.
Hotline Service Planned by US, Japan, and South Korea
During their Camp David summit, President Joe Biden, South Korean President Yoon Suk Yeol, and Japanese Prime Minister Fumio Kishida announced their intention to activate real-time missile warning data sharing with North Korea by year's end. They also revealed plans for annual trilateral exercises.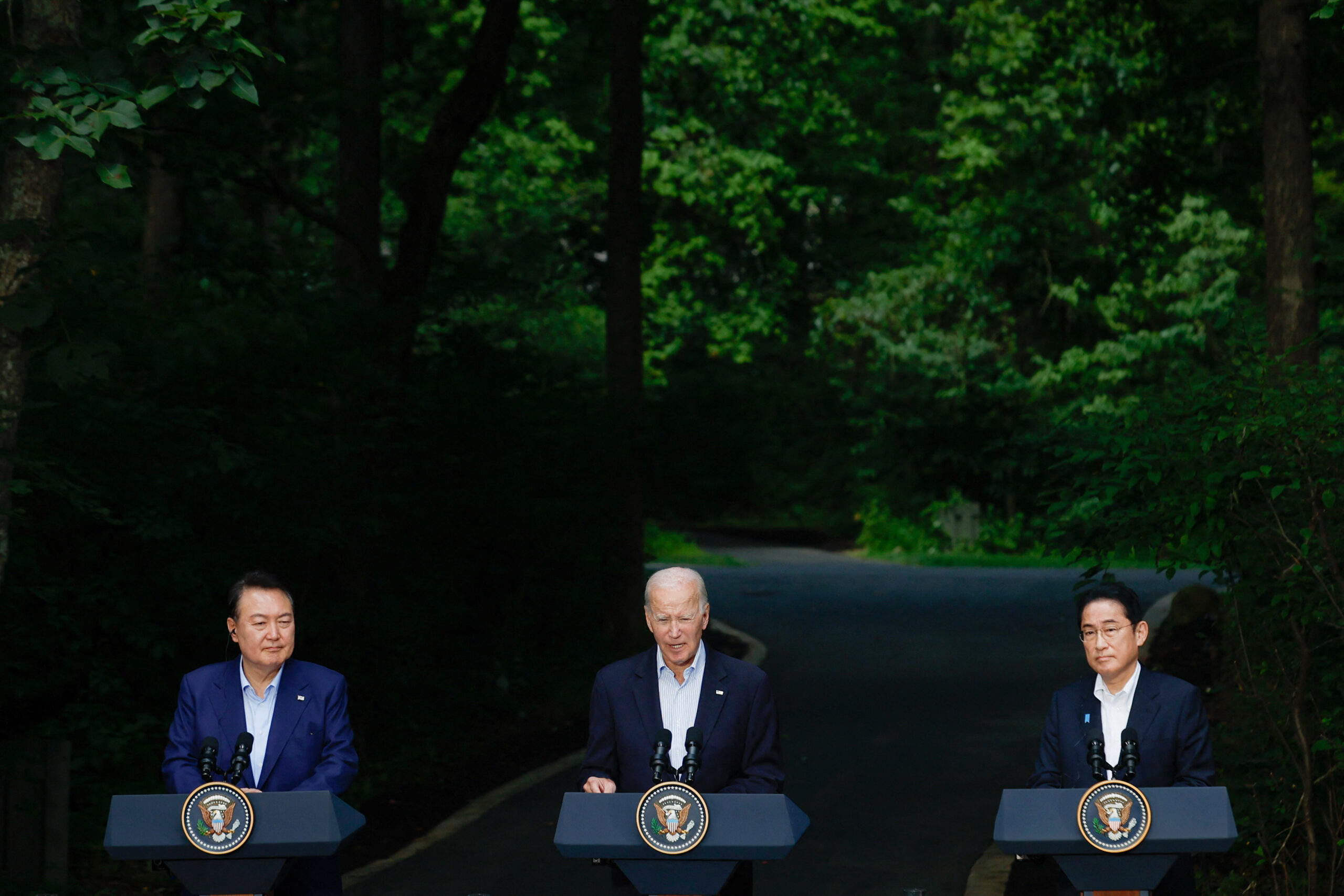 Additionally, the leaders introduced the creation of a collaborative working group aimed at countering North Korean cyber threats and thwarting its cyber-based sanctions evasion. To address threats, the three nations are setting up a hotline.
As a result of the intensified security cooperation efforts by these three countries, North Korea has stated that it's compelled to enhance its own military capabilities.
South Korea's intelligence service informed lawmakers on Thursday that North Korea is taking preparatory measures for launching long-range missiles and attempting to deploy a spy satellite into orbit. The North's initial effort to launch a spy satellite in late May was unsuccessful.