Prajakta Koli, a well-known actor and content creator, recently shared some heartwarming news with her fans. She took to social media to post a delightful photo alongside her now-fiancé, Vrishank Khanal, in which she proudly flaunted her stunning diamond engagement ring. Her caption, " @vrishankkhanal is now my ex-boyfriend," sent shockwaves of joy through her followers, signaling the beginning of a beautiful new journey.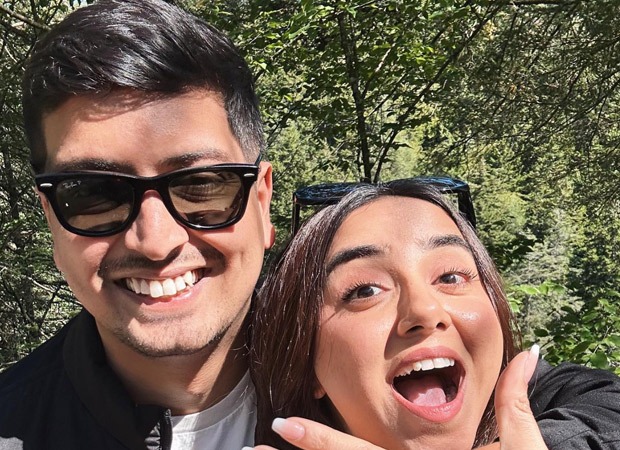 The photograph captures a moment of sheer surprise on Prajakta's face as she showcases her exquisite ring, while Vrishank beams at the camera. Currently, the couple is reveling in a holiday in Pittsburgh, Pennsylvania, celebrating not just their engagement but a love that has endured for over 12 remarkable years. Their relationship has been a rock of support, and they've stood as confidantes for each other throughout their incredible journey together.
The announcement of their engagement was met with an outpouring of love and well-wishes from both friends and fans. Kusha Kapila couldn't contain her excitement, writing, "CONGRATULATIONS @mostlysane @vrishankkhanal. Sending so much love your way." Meiyang Chang chimed in with, "Kyaaaaa baat hai … congratulations!." Dancer Sonal Devraj joined the chorus with her heartfelt response, "Congratulations baby doll. You both are so cute God bless. Team Naach has to be invited to this wedding thanks." Even Prajakta's JugJugg Jeeyo co-stars, Maniesh Paul and Varun Dhawan, expressed their congratulations to the newly engaged couple, further emphasizing the immense happiness that this union has brought to all who know them.
Prajakta Koli and Vrishank Khanal's love story is one for the ages. In a recent interview with Humans of Bombay, Prajakta opened up about their unique connection, highlighting how their differences have been a key factor in their bond's strength and evolution. "We are nothing alike — the kind of people that we are, the kind of content that we watch, the kind of music that we listen to, the way we react to happy or tough situations, etc.," she said. Prajakta candidly admitted that their relationship was never a walk in the park, but they both remained committed to making it work. "Even though we have had our tough times, we have loved every single minute of it. That's what has gotten us here."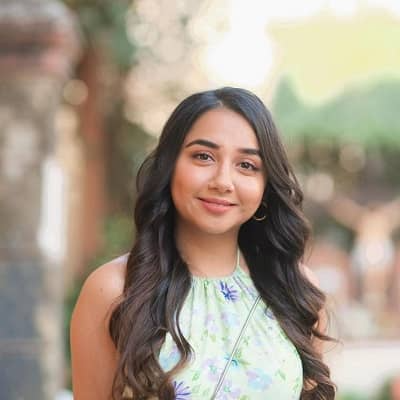 Their story began when Prajakta was just 18, and Vrishank was 22. Their initial interactions took place on Blackberry Messenger, a platform that sparked the flame of their connection. Interestingly, Prajakta agreed to be his girlfriend even before meeting him in person, a testament to the strength of their emotional bond. As fate would have it, when they finally met, their relationship blossomed into a beautiful love story that has now culminated in a joyous engagement.
Prajakta Koli's journey in the entertainment industry has been nothing short of remarkable. She first rose to fame through her YouTube channel, MostlySane, where she captivated audiences with her relatable and humorous content. Her ability to connect with viewers on a personal level catapulted her to stardom, and she quickly became a beloved figure in the online community.
Transitioning from online content creation to acting, Prajakta made her debut in the Netflix series "Mismatched," where she shared the screen with talented actors like Rohit Saraf, Rannvijay Singha, and Vidya Malvade. The show received immense love from fans, further solidifying her presence in the world of entertainment.
Taking an even bigger leap in her career, Prajakta starred in Karan Johar's highly anticipated film, "JugJugg Jeeyo," where she portrayed Varun Dhawan's on-screen sister. Her performance was praised, and her role contributed to the film's success.
Prajakta Koli's journey from a YouTube sensation to a celebrated actor and now an engaged woman is a testament to her talent, determination, and the enduring power of love. Her engagement to Vrishank Khanal is not just a personal milestone but also a celebration for her countless fans who have followed her on this incredible journey. As she continues to conquer new horizons in her career, one thing remains clear – Prajakta Koli's star is only on the rise, and her love story with Vrishank is an inspiring tale of love, perseverance, and the magic of two people who are truly meant to be together.