Kavita Chowdry, 09 November 2022
Priyanka Chopra Jonas appreciated the evident changes in Uttar Pradesh under the Yogi government. She praised the Chief Minister and said that the changes were a must and it was good to discover newness in the society.

Image Courtesy: Google Images
Indian actress and UNICEF India's brand Goodwill ambassador Priyanka Chopra on Tuesday praised the Uttar Pradesh government for their constant hard work towards the state and the citizens. She thanked Yogi Adityanath, chief minister of Uttar Pradesh for inaugurating digitally tracking women helpline number ' 1090', to help rescue the victims by tracking them digitally. 
The actress said I am happy and proud that the government is working for the equality of women in the state. The state needed changes and it is important to look upon the safety, security, and health of women. The actress stressed the rising crimes against women and how the Uttar Pradesh government is handling the situation with descriptive measures.
Priyanka said that it is important to change the mindset of society or no matter how many schemes the government launches, it is going to be thrown in the trash unless people are aware of their rights and how to treat the other existing genders. Committing crimes these days have become easy because people underestimate the value of other lives and disrespect their rights. They need to understand that it is important to co-exist together in a society and if we won't change our mindset then it is not going to be a safe place to exist for anyone.
No matter how hard the government tries to handle the situation and unless people move forward with their mindsets, change is not going to be evident. It is important for people to know the importance of women and child security, which I am happy the government is doing right now.
Gender equality is something very basic yet hard to achieve yet, people at every point start questioning women in their every action. It is important to treat your son to respect women no matter what, it is basically something that starts from a home environment. A mother is someone who can build a child's character morally and mold them as she wants, so it's our responsibility to make them understand the importance of equality amongst all genders in society.
She praised the initiative taken by the Uttar Pradesh government and congratulated the officials and coordinators for working so hard toward the cause. The actress was on a 2-day tour in Uttar Pradesh since Monday when she attended the event where a digitally tracking victim dialing number was inaugurated, she attended the event and graced the audience with her presence.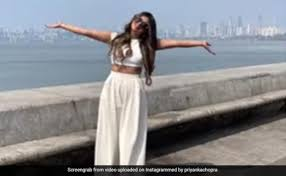 Image Courtesy: Google Images
The actress came back to India after three years for a promotional event for the Nykaa beauty brand. She stayed in Mumbai and enjoyed her special time with friends and family. Meanwhile, she also visited Lucknow for the event. She thanked her fans for all the love and support and expressed how much she missed her country.
She and her husband Nick Jonas just became parents of a beautiful baby girl via surrogacy and they were on cloud nine after the news. The actress also revealed how excited she was when she planned her trip to India and she couldn't imagine herself to bring back. She is currently flying high in Hollywood and is working on her upcoming film projects in Hollywood.
read more : Priyanka Chopra visits Kenya as UNICEF's Global Goodwill Ambassador