"Harper's law" bill passed in parliament
British government has adopted a bill named "Harper's law" under which mandatory life sentences will given to anyone who kills a emergency worker in the span of their duty. The bill has already passed through the parliament and is now enroute to receive royal assent, which is the queen's approval to any bill after having passed in the parliament.
The bill is named after police corporal Andrew Harper, who was killed in the line of duty while responding to an attempted burglary. PC Harper's wife Lissie Harper campaigned for the law after the 28 year old Police corporal was killed due to injuries sustained during the burglary in 2019.
He was caught up in a strap behind the getaway vehicle and was dragged for several meter's in Sulhamstead, Berkshire during 2019.
The perpetrators behind PC Harper's death Henry Long (19), Jessie Cole (18), Albert Bowers (18) were jailed for charges of manslaughter. PC Harper was dragged down a country road, when his killers tried to flee the scene after failing to steal a quad bike.
The getaway driver Henry Long (19) was sentenced to 16 years in prison for manslaughter while the other two criminals, Jessie Cole (18) and Albert Bowers (18) were sentenced to 13 years.
The bill by queen
Harper's Law' implicates that anyone who assault's police or any other emergency workers will face the maximum penalty doubled from 12 months to two years.
It is one of four major bills that have become law, as part of the Police, Crime, Sentencing and Courts (PCSC) Act.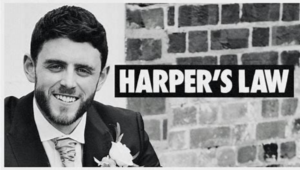 The royal assent from the queen also implicates the approval and necessity of laws that will protect and defend the emergency workers who work under severe life threatening conditions and scenarios.
Lissie Harper (31) , widow of PC Andrew Harper campaigned relentlessly to introduce the new bill in the nation's statute
This includes frontline health workers, prison officers or fire service personnel. The Act will also place a legal obligation on local authorities, police, criminal judiciary agencies, emergency medical and fire and rescue services to work together in order to reduce the scope of serious violence.
PC Harper's wife Lissie Harper said in a statement that her inspiration behind the campaign was the realization upon her husband's death that emergency workers don't get enough protection that they deserve.
Conclusion
PC Harper's death may have sparked the need of acquiring legal and legitimate protection for emergency workers who put their lives on the line responding to emergency calls.
Ms. Harper's relentless campaign has finally ensured that next time an emergency worker dies in the line of duty, their deaths will not go unpunished and their families will get much needed disclosure that they deserve.
After the Royal assent by queen Elizabeth, the bill will be functional within the next few weeks, incorporated as a permanent part of British Statute and laws.
Published By – Supreeti Ghosh