Challenging his recent conviction in the defamation case over his 2019 comments about the 'Modi' surname, Rahul Gandhi moved a Surat Sessions Court on Monday. Later in the day, the Congress Leader was granted bail, and his sentence stands suspended till April 13. awaiting the disposal of the appeal.
Table of Contents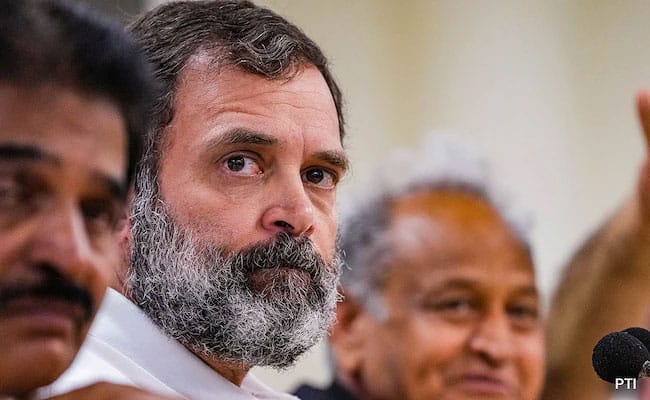 Appeal to be heard on April 13
The 52-year-old Congress Leader, who was recently convicted by the court of the Chief Judicial Magistrate, in Surat, in a defamation case, has presented a criminal appeal against his conviction. The Surat Session Court, in its appellate capacity, has provisionally suspended his sentence and has scheduled the appeal to be heard on April 13. The court of Additional Sessions Judge R.P. Mogera will hear Gandhi's appeal for setting aside the conviction.
The case was based on Gandhi's remarks, about the 'Modi' Surname, specifically over his statement, "How come all thieves have Modi in their surnames?", in an attempt to link PM Modi's name with two fugitive businessmen at the time. Rahul Gandhi was sentenced to two years of simple imprisonment by the subordinate court on March 23, upon proceedings initiated via complaint by Surat West MLA Purnesh Modi.
An attempt to reverse disqualification from the Lok Sabha
On March 24, a day after his conviction, Gandhi was disqualified for Lok Sabha membership under Article 102 of the constitution, and the Representation of People Act, 1951. Revocation of his conviction, in principle, means reversal of disqualification under Cr.P.C.
To retain eligibility for membership of the Lok Sabha, Gandhi would be looking to secure acquittal in this case.
Fighting for Democracy against 'Mitrakaal': Rahul Gandhi
Rahul Gandhi, stated in a recent tweet following his bail order on Monday, that this was his fight against 'Mitrakaal' or friendship-based-politics, to save the democracy of the nation. Further stating in Hindi, that in this struggle, truth is both his weapon and his ally.
Rahul Gandhi's legal team on Sunday had notified the media that the leader was going to move the Surat Session Court on Monday, to present an appeal against the conviction order, challenging the verdict of the Chief Judicial Magistrate in the defamation case. The Congress leader flew to Surat, Gujarat on a commercial flight with his sister Priyanka Gandhi Vadra, reaching court premises at about 02:40 PM IST.
The appeal is accompanied by two separate applications: an application for a stay on conviction, and an application for suspension of sentence. If the stay on conviction order is accepted, Gandhi's Lok Sabha disqualification stands a chance of being reversed.
Congress alleges 'Illegal Arrest'
The Indian National Congress on Monday threw allegations of 'illegal arrests' around the area and implied that these were being made to prevent Congress Party Workers and Rahul Gandhi supporters from going to Surat and reaching the court premises where his appeal was to be heard.
Senior Congress Leaders including sister Priyanka Gandhi Vadra, Rajasthan CM Ashok Gehlot, Chhattisgarh CM Bhupesh Baghel, and Himachal Pradesh CM Sukhwinder Singh Sukhu accompanied the Congress Leader to the court.
Jairam Ramesh, the party's General Secretary in charge of communications and former Union Miniter, in a recent tweet stated that there were continuous reports of the government in Gujarat systematically arresting Congress Party Leaders and workers in their attempts to stop them from going to Surat. The undemocratic face of the Bharatiya Janata Party is being revealed again and again, Ramesh tweeted in Hindi.
Read more at: Rahul Gandhi convicted for Defamation over strong comments about Modi by Judge on 23rd March
(https://www.ptinews.com/news/big-story/rahul-gandhi-gets-bail-in-defamation-case-hearing-in-surat-court-on-apr-13/543462.html)