Santiniketan, West Bengal: In a watershed event, Santiniketan, the revered town in West Bengal's Birbhum region, has been inducted into UNESCO's renowned World Heritage List. This honour, bestowed on the town where Nobel Laureate Rabindranath Tagore spent a significant portion of his life, marks a significant milestone for India, as Santiniketan becomes the country's 41st UNESCO World Heritage Site, and the third in West Bengal, following the Sundarbans National Park and the Darjeeling Mountain Railways.
Supriyo Thakur, the great-grandnephew of Rabindranath Tagore and former principal of Patha Bhavana, Tagore's school in Santiniketan, delved into the historical roots and profound significance of Santiniketan's UNESCO designation in an exclusive interview with The Indian Express.
Santiniketan's Enlightenment Legacy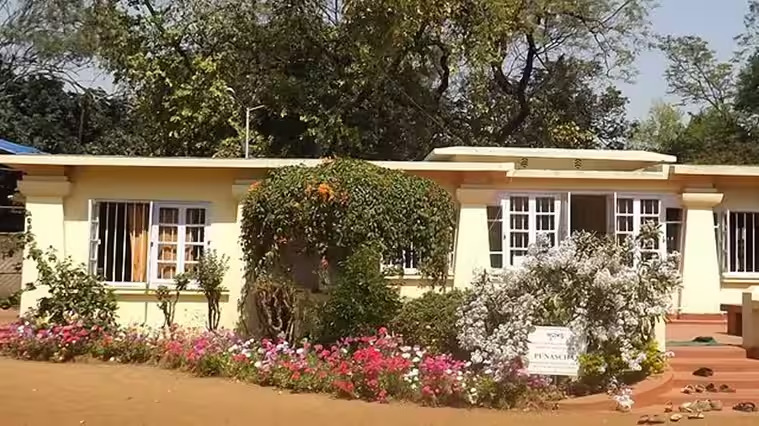 Santiniketan's path as an intellectual and cultural sanctuary began in 1863, when Rabindranath Tagore's father, Maharshi Debendranath Tagore, a prominent member of the Brahmo Samaj, purchased a tract of land from Bhuban Mohan Sinha, the talukdar of Raipur in Birbhum. The patriarch's first construction of a guest house, called "Santiniketan" (the home of peace), served as the basis of what would eventually blossom into a thriving centre of learning and artistic expression.
This property became known as Santiniketan after an ashram for spiritual contemplation was founded on it in 1867. Rabindranath Tagore began his mission in 1901 by establishing a Brahmacharyaashrama with only five pupils, which would later become Patha Bhavana in 1925. The major motivation for establishing Santiniketan was to promote a deep connection between humanity and the natural environment. It quickly became known not just for education but also for the development of numerous art forms such as painting, sculpture, music, dance, and drama. It also became the home of Visva Bharati University, embodying Tagore's vision of a global meeting place for students and researchers from all over the world.
Tagore's Vision for Santiniketan and Visva Bharati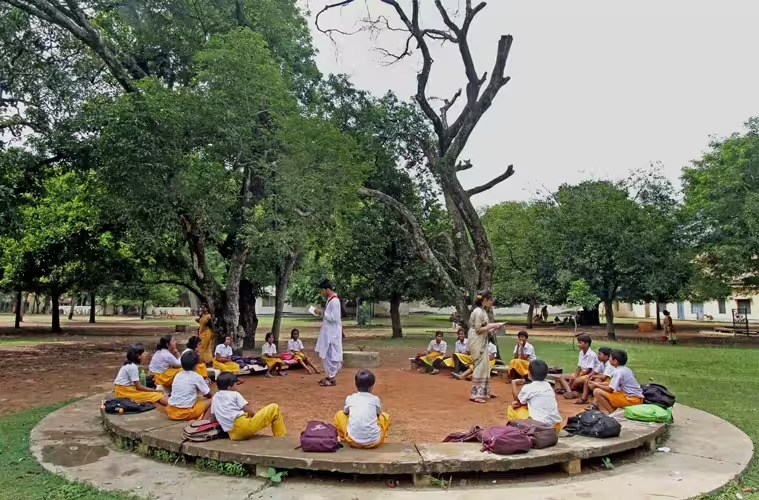 Rabindranath Tagore's visionary credo, "Yatra Vishwam Bhavati Eka Needam" (where the world becomes a nest), was at the heart of Santiniketan's founding. His objective was to establish a learning institution where students would be free to explore their surroundings, draw knowledge from nature, and absorb the different cultures that the world has to offer. Visva Bharati was envisioned as a learning sanctuary that would serve as a gathering place for a tapestry of world cultures.
Supriyo Thakur, on the other hand, bemoaned the diversion from Tagore's original goal. Today, the university appears to prioritise degree conferral over Tagore's concept of holistic education. Over time, the once-revered method of ashram life and the core of Santiniketan have lost part of their profound meaning.
UNESCO Recognition: A Lighthouse of Hope
Santiniketan's UNESCO World Heritage status is set to revitalise Tagore's ideal. It is not just an acknowledgment of the past, but also an opportunity to reignite Tagore's vision for the future. Santiniketan, with its antique houses and bhavans nested within Visva Bharati University, exemplifies Tagore's enduring legacy. The UNESCO accreditation implies a solemn obligation to conserve these cultural and educational riches.
Supriyo Thakur expressed hope coupled with a sense of duty when asked what this recognition means for Santiniketan. While admitting the challenges of fully resurrecting Tagore's vision within today's educational scene and the evolving Santiniketan setting, he emphasised the importance of a comprehensive makeover. He emphasised that this transformation must try to embed Tagore's vision not just in the hearts and minds of students, but also in the very fabric of the community that surrounds them.
As Santiniketan begins its new chapter, preservation becomes increasingly important. The Visva Bharati University's historic houses and bhavans must be preserved as unique cultural and educational treasures. Tagore's lessons, which have stood the test of time and continue to inspire future generations, must be preserved.