The government has announced a comprehensive plan to ensure the safety and smooth conduct of the Amarnath Yatra, scheduled to take place between July 1 and August 31. With a three-layered security arrangement manned by the J&K police, CRPF, and the Army, as well as advanced surveillance technology, potential terror threats will be effectively mitigated. Home Minister Amit Shah, during a high-level meeting, emphasized the Modi government's commitment to facilitating a hassle-free and comfortable pilgrimage experience for devotees.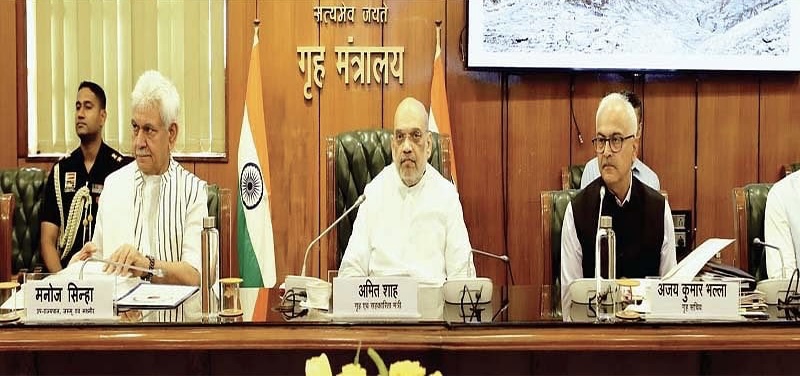 A detailed security, administrative, and infrastructural review was conducted during the meeting, attended by key officials including J&K LG Manoj Sinha, the home secretary, Intelligence Bureau director, CRPF and BSF DGs, BRO DG, general officer commanding-in-chief Northern Command, and J&K chief secretary.
The meeting included a presentation outlining the incident-free plan for the Amarnath Yatra, incorporating measures such as the use of radio frequency identification tags for pilgrims and regular vehicle checks for IEDs and sticky bombs.
Additionally, an adequate deployment of central para-military personnel will be ensured along the entire Yatra route. It is estimated that around 4.5 lahks (450,000) yatris will participate in the pilgrimage this year.
Special precautions are being taken to prevent potential disasters like the cloudburst incident that claimed the lives of 16 pilgrims last year. The Border Roads Organisation (BRO) has been entrusted with preparing the yatra tracks, including repairing weak or damaged railings and bridges.
Vulnerable areas have been identified, and strict measures will be implemented to prevent the setting up of tents in these regions. Aerial surveys will be conducted to detect the formation of glacial lakes, with immediate preventive actions taken to avoid breaches.
In addition to security measures, the Shri Amarnath Ji Shrine Board has released a health advisory containing a list of prohibited food items for the pilgrimage. The banned items include jalebi, halwa, pooris, and chhola bhaturas. Langar organizations, shops, and stalls that serve and sell food to pilgrims and service providers have been provided with alternative options.
Registration for the Amarnath Yatra is now open, and it is anticipated that at least 500,000 people will visit the Amarnath cave shrine during the 62-day pilgrimage. The trek spans 14 kilometers and involves altitudes as high as 14,000 feet.
Before embarking on the yatra, it is essential for participants to familiarize themselves with the list of banned food items and permissible items. Non-vegetarian food, alcohol, tobacco, gutka, pan masala, smoking, and other intoxicants are strictly prohibited. Certain foods such as heavy pullav, fried rice, poori, bathura, pizza, burger, stuffed parantha, dosa, fried-roti, bread with butter, cream-based food, pickle, chutney, fried papad, chowmein, and all other fried or fast food items are also prohibited. The advisory provides a detailed list of permissible food items, including cereals, pulses, green vegetables, fruits, sprouts, plain rice, roti, herbal tea, low-fat curd, and various other nutritious options.
To ensure a safe and successful yatra, the health advisory recommends focusing on physical fitness at least a month before the pilgrimage. Pilgrims are advised to engage in daily walks covering around 4-5 kilometers, incorporate deep breathing exercises, and practice yoga, with a special emphasis on pranayama to enhance oxygen efficiency. Individuals with pre-existing medical conditions are encouraged to consult their physicians before hand.