On April 21st, Yemen witnessed a devastating stampede. The authorities say that almost a hundred people have been killed in the stampede at a school. Hundreds of people including many children had gathered to receive gifts of money in the charity event arranged by local merchants prior to Eid, in the capital Sanaa.
Chaos and confusion continued after hundreds of people had come to a school in the Bab al-Yemen area of the capital. A charity, organized by some local merchants had been giving out donations of around $9 per person. Eyewitnesses say the crowd became so large that the forces who were in charge of the area started firing into the air to try to restore order. They are said to strike an electrical cable resulting in an explosion. The explosion led to panic and the subsequent stampede. The discarded shoes and clothing left behind give some indication of how many people were involved. Dozens have lost their lives, and hundreds have been taken to hospital, with some in critical condition.
The Interior Ministry says those responsible for the aid distribution have been detained and an investigation is underway. It says they've detained two of the organizers of this event. The Houthi Interior Ministry says there was little coordination with their officials ahead of this planned event. Some officials including the leader of the Houthi-controlled administration visited a hospital and met with some of the injured.
Nightmarish images have been surfacing since the disaster. At least 78 people are dead, out of hundreds of people including women and children. Houthi forces were there as well. This is the rebel group that has controlled the capital city since 2015. There are videos of the immediate aftermath of the crush which shows blood-stained steps, atop is a large pile of scattered shoes. It really shows how many people were there.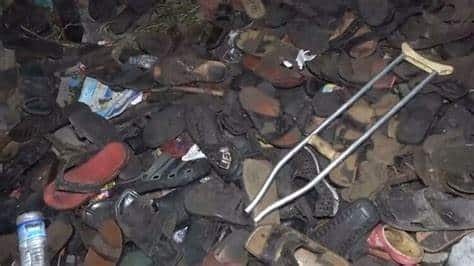 Political Condition of Yemen
The UN describes Yemen as one of the world's worst humanitarian tragedies. The country has seen eight years of fighting between Houthi rebels and pro-government forces. A major prisoner swap has been taking place between the warring sides. The Red Cross says this is a chance to reunite hundreds of families torn apart by conflict. It was a glimmer of hope during the holy month of Ramadan but now a new pain of the stampede has claimed so many lives.
Almost ¾ of the people in Yemen rely on some kind of aid – that's about 23 million people. It's the poorest state in the Arabian Peninsula, devastated by this ongoing civil war. It has not only divided the country but also damaged infrastructure and deeply hampered its economy. Therefore, local events to hand out aid like this are not very uncommon.
Sources: CBC; BBC