Why iPhones are superior to Android devices
Enhanced Usability
For anyone looking to buy a phone that is user-friendly, accessible, and dependable, there is no competition, says Kaley Rudolph, writer and researcher for freeadvice.com, "Apple has nearly perfected the user interface."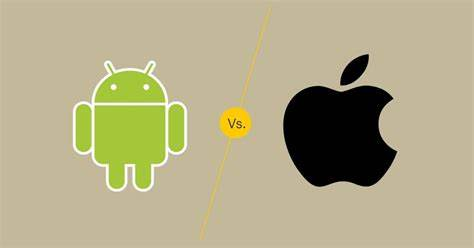 Credit: droidblog.org
Indeed, iPhones have a very friendly user interface. According to Ben Taylor, founder of HomeWorkingClub.com, "Android phones run lots of different operating system versions, all tweaked and skinned by the various phone manufacturers." In contrast, iPhones are created from top to bottom by Apple so that the user experience can be much more consistent.
Improved Security
Security gives the iPhone a significant advantage over Android. According to TechInfoGeek's Karan Singh, "Apple closely monitors the iTunes app store. Every app undergoes extensive testing before being released, and any malicious code is detected. Due to the fact that malicious apps cannot be installed thanks to the vetting process, your phone is much more protected from them.
Better Augmented Reality
Apple has led the way in bringing Augmented Reality (AR) to smartphones. Morten Haulik, the Head of Content at Everest, says Apple has a "far superior" ARKit and is in a good position to "dominate the upcoming AR revolution."
Halik added that Apple may be incorporating its new LiDAR Scanner into the next line of iPhones, which are set to be released in September 2020. The LiDAR scanner helps a camera determine range and depth, which will help AR developers.
Greater Efficiency
The use of Swift language, NVMe storage, large processor cache, high single-core performance, and operating system optimization, according to TechInfoGeek's Karan Singh, "ensures that iPhones remain lag-free." While iPhones and Android devices have recently appeared to be in a tie for performance, iPhones typically offer more reliable and effective performance. Because of this optimization, iPhones can run the same tasks with longer battery life than Android phones.
Warranty Program And Customer Service
In the world of mobile phones, AppleCare+ is the best warranty program available. Nothing close to this level of depth exists for Android.
The makers of Android devices, according to Rudolph, "have carefully crafted clauses built-in to void replacement responsibility." However, Apple offers two programs that can cover theft, loss, and up to two instances of accidental damage.
Why Android Is Better Than iPhones
Expandable Storage
Do you frequently run out of room on your phone for storage? If so, switching to Android might be a good idea! Many Android phones allow for expandable storage, which allows you to add more storage and save more files, apps, and other items using an SD card.
Headphone Jack
Apple's decision to remove the headphone jack from the iPhone 7 was controversial at the time. These days, Bluetooth headphones are more affordable and easier to use than before. There isn't as much need for a built-in headphone jack anymore.
However, Apple did create a problem when it removed the headphone jack. iPhone users can no longer charge their iPhones with a Lightning cable and use wired headphones simultaneously.
More Phone Options
When comparing iPhones vs Androids, most midrange Android phones often have more features than flagship iPhones. Many midrange Android phones have headphone jacks, expandable storage, and sometimes even unique hardware like pop-up cameras. Best of all, these mid-range Android phones offer relatively good performance.
In short, cheaper Android phones are getting better and better, and you may not have to spend a thousand dollars on an iPhone when you can get a $400 Android that can do everything an iPhone can do and more.
More Customization & Personalization
In this regard, Apple has surpassed Android in recent years. You can now change the wallpaper, widget menu, and many other features on your iPhone.
However, since Android has been around for a lot longer, there are a lot more customization options. "Androids are much more flexible when it comes to customization of icons, widgets, layout, etc., and all these without having to jailbreak or even root the device," writes Paul Vignes, the communication and marketing specialist at Trendhim. Because of this, Android phones have a huge advantage over iPhones in terms of user customization.
More RAM and Processing Power
Because of how well their apps and operating systems are optimized, Android phones typically have more RAM than iPhones. However, the Android experience benefits greatly from having more RAM and processing power. The Big Phone Store's digital marketing manager, Brandon Wilkes, claims that "Android releases phones every year with better processors and more RAM. In essence, this means that whenever you purchase an Android phone, you are purchasing a device that is capable of operating much more quickly and smoothly. You're also only paying a small portion of the cost!
Easier File Transferring
The ability to manage files is one of Android's strengths. The user interface on iPhones is designed to be fluid, but file management and storage are lacking.
The certified nutrition coach at Rave Reviews, Elliott Reimers, claims that "androids have a much more comprehensive filing system that allows you to find, store, and move files easily. This is ideal for someone who values organization in their life or for a professional who doesn't want to accidentally share a photo from last weekend with the boss. Android and Microsoft Windows are most comparable in terms of file management, organization, and movement.
Both sides of the iPhone vs. Android argument have a ton of compelling points to make. The leading Android manufacturers and Apple have recently been competing for the title of best device. The Samsung Galaxy S20 and some of the best Android smartphones are undoubtedly comparable to the iPhone 11, the best iPhone currently available.
We think that since neither is objectively that much better than the other, the decision ultimately comes down to personal preference. Which one best fits your preferences and which one do you prefer? It's all up to you.
READ MORE