Beijing, [01, August 2023]: In a move that has garnered significant attention both domestically and internationally, China's President Xi Jinping has implemented a major leadership reshuffle within China's elite nuclear forces. The strategic decision comes amid a backdrop of geopolitical challenges and heightened global concerns over nuclear proliferation.
Table of Contents
Chinese President Xi Jinping has replaced two top generals in charge of the country's nuclear arsenal, in a move that has been seen as a sign of growing Chinese military assertiveness.
The two generals, Li Yuchao and Zhang Zhaozhong were removed from their positions as commander and deputy commander of the People's Liberation Army (PLA) Rocket Force, respectively. They were replaced by Wang Houbin, a former deputy navy chief, and Xu Xisheng, a member of the Communist Party's Central Committee.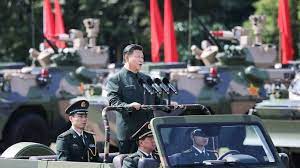 Handpicking New Commanders to Ensure Stability and Modernization
President Xi Jinping, who also serves as the Chairman of the Central Military Commission, has carefully handpicked the new commanders for China's nuclear forces, reflecting his commitment to ensuring stability and enhancing the country's nuclear capabilities. The reshuffling is part of the ongoing modernization efforts within the People's Liberation Army (PLA) and underscores China's dedication to robust and technologically advanced nuclear deterrence.
The appointments made by President Xi include high-ranking officials in charge of the country's land-based intercontinental ballistic missiles (ICBMs), submarine-launched ballistic missiles (SLBMs), and strategic bombers. This move is seen as an effort to strengthen China's nuclear triad, a crucial component of its nuclear deterrent strategy. The nuclear triad ensures that China's nuclear weapons can be delivered via multiple platforms, making it more challenging for potential adversaries to neutralize their nuclear capabilities.
Strengthening China's Nuclear Triad
The shake-up comes at a time of heightened tensions between China and the United States. The two countries are locked in a trade war, and there is growing concern about China's military buildup.
Experts say the shake-up could be a prelude to further reforms of China's nuclear forces. The PLA Rocket Force is currently undergoing a modernization program, and the new leadership could be tasked with overseeing these changes.
The shake-up has also been interpreted as a sign of Xi's growing power. As chairman of the Central Military Commission, Xi has consolidated his control over the military. The removal of two top generals without explanation is a clear sign that Xi is willing to make changes to the top ranks of the military.
The PLA Rocket Force is responsible for China's land-based ballistic missiles, as well as its nuclear-powered submarines.
The shake-up is the first major change in the leadership of the PLA Rocket Force since 2015.
Xi Jinping has made nuclear weapons a priority of his military modernization program.
The United States has expressed concern about China's nuclear buildup.
Enhancing Transparency and Communication
While the leadership reshuffle aims to bolster China's nuclear capabilities, President Xi Jinping has also stressed the importance of enhancing transparency and communication with the international community. China asserts that its nuclear posture remains defensive and aims to maintain a minimal deterrence policy. The country's nuclear forces are not targeted at any specific nation, and their purpose is solely to safeguard China's sovereignty and national security interests.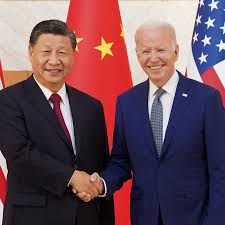 Global Reaction and Geopolitical Implications
The reshuffling of China's nuclear leadership has drawn attention from international observers, particularly amidst growing geopolitical tensions. As one of the major nuclear powers, any changes to China's strategic military leadership can have ripple effects on the dynamics of global security and arms control.
The shake-up has been met with mixed reactions. Some analysts have welcomed the changes, saying that they are necessary to improve the PLA's nuclear forces. Others have expressed concern that the shake-up could lead to instability in the military.
It is still too early to say what the long-term implications of the shake-up will be. However, it is clear that Xi Jinping is taking a close interest in China's nuclear forces, and that he is willing to make changes to ensure that they are effective.
Experts around the world are closely monitoring the developments, urging both China and other nuclear-armed nations to uphold transparency and responsible nuclear stewardship. With ongoing concerns regarding nuclear non-proliferation and the arms race, open dialogue and cooperation among nuclear powers are crucial in fostering global stability.
President Xi Jinping's recent appointment of new leaders for China's elite nuclear forces marks a significant step in the country's ongoing efforts to modernize and strengthen its nuclear capabilities. While the move is intended to bolster China's nuclear triad and enhance its deterrence capabilities, the Chinese government emphasizes its commitment to transparency and defensive nuclear posture. The global community will closely monitor the implications of these leadership changes on the broader geopolitical landscape and the importance of responsible nuclear stewardship in maintaining international stability.