The building, which took just nine months to construct, is an engineering miracle. It has a special place in tennis history, and during the previous 100 years, many spectacular things have happened there. Wimbledon history, which dates back to 1877, encompasses practically all game areas. Because Centre Court is the most storied tennis venue, commemorating its 100 years is equivalent to celebrating tennis.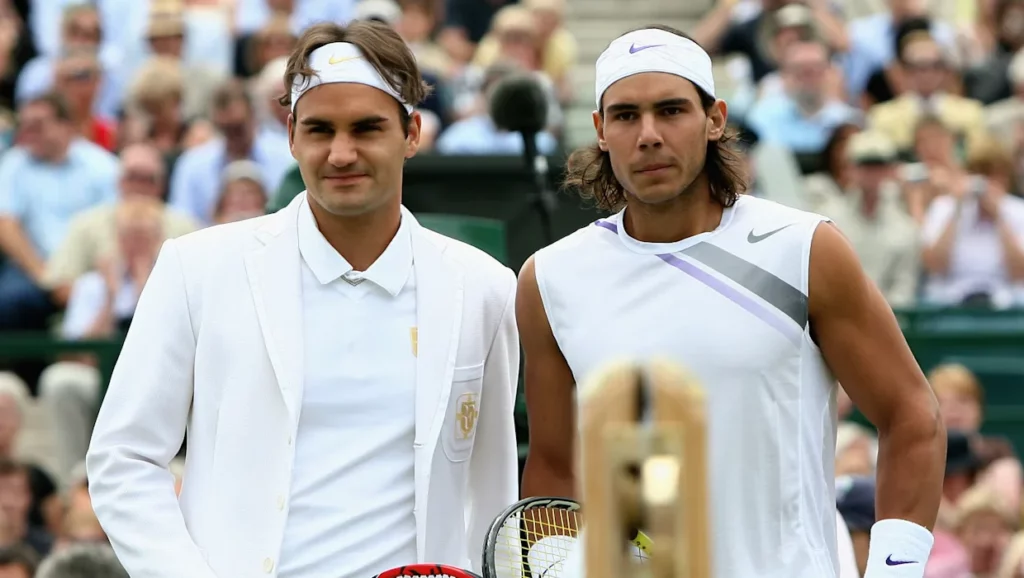 Wimbledon, which has been held annually since 1877, is both the most renowned and the most established grand slam in tennis. It's noteworthy as it's the only championship currently held on a grass court. The greatest Colosseum of center court tennis turns 100 this year, making it particularly unique. It is situated in southwest London and is one of the city's primary sports venues, along with Center Court, Lord's Cricket Ground, and Wembley Stadium for football.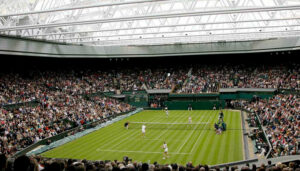 According to the Wimbledon website, "Center Court is celebrated at this year's event." The building, which took just nine months to construct, is an engineering miracle. It has a special place in tennis history, and during the previous 100 years, many spectacular things have happened there. Wimbledon's history, which dates back to 1877, encompasses practically all game areas. Because Centre Court is the most storied tennis venue, commemorating its 100 years is equivalent to celebrating tennis.
The Duchess comforts Novotna
It was the day that the unnamed gained recognition in athletics. In 1993 final, Jana Novotna competed against Steffi Graf. After putting up a lot of resistance in the opening set, which Graf won in a tiebreaker, Novotna made significant progress. He won the second set 6-1 and moved into a commanding 4-1 lead in the third. In the sixth game, she failed to catch Novola's second serve on break point. Graf won 7-6, 1-6, and 6-4.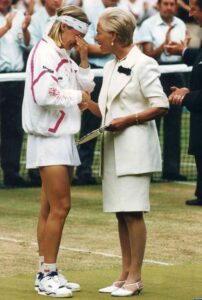 During the trophy ceremony, Novotna started to cry, and the Duchess of Kent comforted her. This is one of the most enduring images from the championship. The Duchess reassured her, "Don't worry, I know you can do it." By winning the women's championship five years later, Novotna carried out this prophecy.

 
The Indian Duo
Leander Paes and Mahesh Bhupathi had a fantastic year in 1999. They reached the men's doubles finals of all four Grand Slams that year. The victory at Wimbledon, however, was the most memorable. They both won the French Open that year, making them the first Indian pair to do so. But, as a native of a country where the game is played on grass courts, Wimbledon's victory meant even more to him. They defeated top seed Jared Palmer and defending champion Paul Haruise in the final, 6-7, 6-3, 6-4, 7-6. It was the first time two Indians stood on the center court, holding the championship trophy.
image image source: alamy
The King is Gone, Long Live the King
Pete Sampras dominated Wimbledon in the 1990s. 1999, on the other hand, was the best. In a stellar performance this year, he defeated rival and former French Open champion Andre Agassi in the final, 3, 6-4, 7-5. 'Pistol Pete' won the match by two seconds off the tee. It was his sixth Wimbledon title and tied Roy Emerson's record of 12 Grand Slam titles. In addition, he broke Borg's Open Era record for the most Wimbledon titles.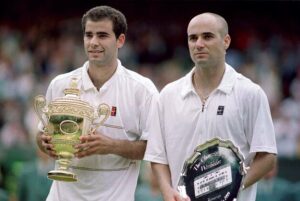 The shift of round Or handing over the game's baton to someone else? Whatever you want to call it, Roger Federer's fourth-round victory over defending champion Pete Sampras at Wimbledon in 2001 was a new beginning. The spectators kept their fingers between their teeth during the five hard-fought sets; it was a mesmerizing game for them. Federer, 19, recorded his first victory on center court, defeating Sampras 7-6(7), 5-7, 6-4, 6-7, 7-5. Later, he stated, "It's been an excellent year for me." I knew I had another chance, but I wasn't sure. I mean, who will be on the grass court this time?" Who will rule the grass court in the next decade?
Goran Ivanisevic's Story
Sevic, a three-time finalist at Wimbledon, received a wildcard despite no one considering him to be a major threat, breaking tradition. However, this player, who served frequently, lost a chance to take home the gold. Tim Heinman had to play five challenging sets to advance to the championship match. The match was postponed for three days due to the weather. The last game was played on Monday because of the bad weather. There were no more available tickets. The championship game was played in front of a sizeable audience. Ivansevich, the 125th-ranked player in the world, triumphed with a score of 6-3, 3-6, 6-3, 2-6, and 9-7.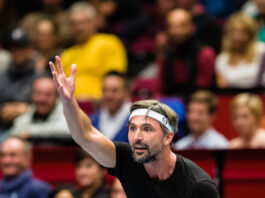 The story of two sisters
For the first time in the tournament's history, two sisters battled it out for the Wimbledon championship in 2002. This match included Venus Williams and Serena Williams as competitors. Venus was the two-time defending champion even though she was familiar with the Wimbledon grounds. However, this day's name was inspired by Serena's match. Venus was defeated 7-6, 6-3, and she won her first of seven Wimbledon championships.
. "I just wanted Wimbledon," Serena said. "I wanted to be a part of its history and reputation."

image source: espn
Federer vs. Nadal in 2008
For the past few years, Rafael Nadal has mastered the clay court, but Wimbledon champion Federer was getting closer, and Nadal was sobbing. However, this time it was the Spanish player's turn. The Wimbledon championship match has always been regarded as a classic. Nobody anticipated that these players would elevate this match to such a level. Amid the warm weather, Federer and Nadal avoided one another from every angle of the court composing the dialogue for the greatest game ever, making impossible shots from impossibly steep angles. At Wimbledon, Nadal defeated Federer 6-4, 6-4, 7-6, 7-6, and 9-7 to put an end to his reign.
Center Court got the roof
Due to the weather, Wimbledon ultimately chose to cover Center Court. This retractable roof was put in place in 2009. On June 29, 2009, Emilie Mauresmo and Dinara Safina met for the first time inside this building in the fourth round. The area of this terrace was 5,200 square meters. Strong, adaptable, translucent, and waterproof describe the roof. Following that, Andy Murray and Stan Wawrinka played in a match that also made history. The game at Wimbledon lasted the longest of all. At 10:39 p.m., Murray prevailed with scores of 2-6, 6-3, 6-3, 5-7, 6-3.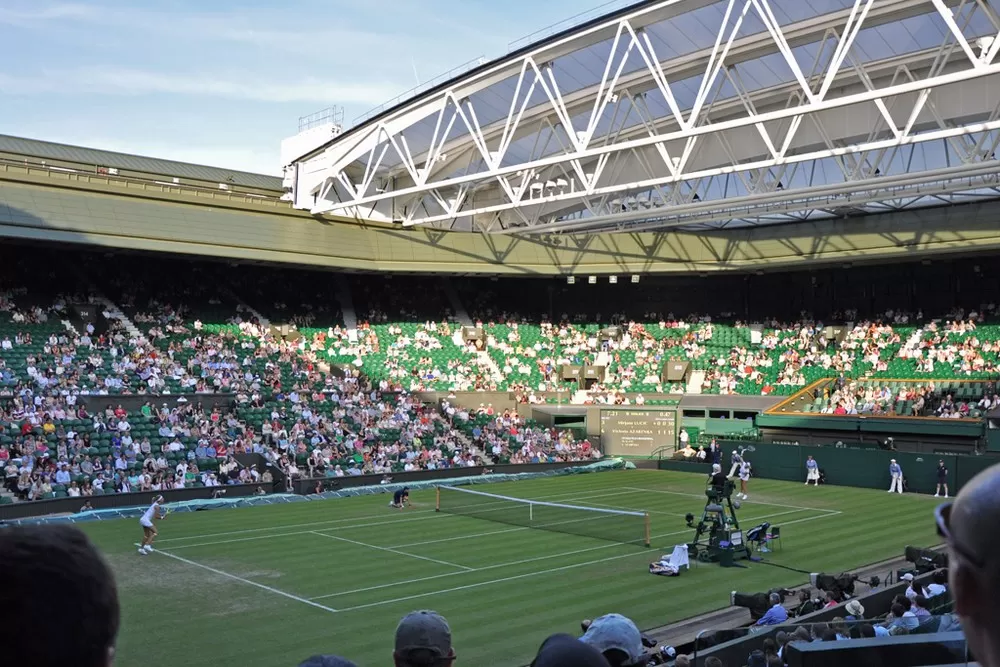 Federer's 15th championship
In the 2009 Wimbledon final, Roger Federer defeated Andy Roddick to claim his 15th Grand Slam victory. The score was 5-7, 7-6, 7-6, 3-6, 16-14. Sampras' prior best performance was surpassed by this. Roddick had his finest Wimbledon final, but he also lost a lot. prolonged the fifth set. Roddick's serve was broken in four games by Federer, who won in four hours and sixteen minutes, Roddick said, "I hurled the kitchen sink at him, but he brought his tub from the bathroom."
Wimbledon in Olympics
In 2012, Wimbledon hosted tennis matches, and London hosted the Olympics. As a result, athletes might don the clothes of their respective nations. Federer stated: "I find it unusual to play at Wimbledon in a red shirt. I don't mind it, though."
At Wimbledon, this Swiss player recently overcame Andy Murray. Murray, a British player, altered the game this time, though. He won the Olympic gold after defeating Federer 6-2, 6-1, 6-4 in the championship match. (The only five-set game was the championship.) A year after taking home a significant trophy on center court, he won Wimbledon. 2013's Wimbledon men's singles champion was Murray. Serena Williams, meanwhile, took home the women's singles and doubles crowns, and he was awarded two gold medals.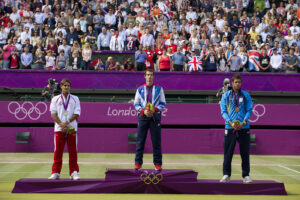 Wimbledon 2016: Serena Williams
Serena Williams wins for the 22nd time. She tied Steffi Graf's Open Era record of 22 Grand Slam victories by defeating Angelique Kerber in the final 7-5, 6-3. This player was having a hard time because she had dropped her last three Grand Slam competitions. She was defeated by Roberta Vinci in the 2015 US Open semifinals, Angelique Kerber in the 2016 Australian Open final, and Garbine Muguruza in the 2016 French Open final. Williams acknowledged this.
"It was challenging to avoid considering the record. I was aware that it would be challenging to break the record. I have to be composed and sure of myself during it. The same applies to me. I'll keep playing the tennis I've been playing for ten years."
Pain and pleasure
Although Roger Federer had two match points, Novak Djokovic prevailed. Most likely, this Serbian athlete had advanced significantly in his career. Federer has spent the last two decades as a center-court hero, yet his two most agonizing losses have occurred here. The first time was in 2008 against Nadal, and the second time was in 2019 versus Djokovic. At 8-7 in the fifth set, Federer served and had two match points, but Djokovic saved them with two surprising returns. Despite having the entire stadium cheering against him, Djokovic kept up an incredible performance. He prevailed in the game 7-6, 1-6, 7-6, 4-6, and 13-12 in four hours and 55 minutes.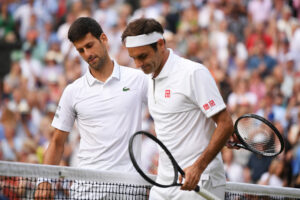 It may sound foolish, but Roger, who lost the match, remarked, "I prefer to make it so that I can hear 'Novak' when the crowd is yelling Roger; it was like that, and I try to convince myself that this is all it is."