As South Korea geared toward the beginning of its Army Day, its neighbor in the North fired two short-range ballistic missiles on Saturday that landed in the sea of Japan, barely outside Japan's exclusive economic zone (EEZ).
This is the fourth such test by North Korea in a week, showing an acceleration in the aggressive behavior of the dictatorial state, probably in response to the bilateral and trilateral military exercises of South Korea, Japan, and the United States.
So far, North Korea has launched 38 ballistic missiles this year and claims to have nuclear weapons.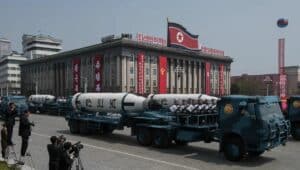 Although this time around, the debris of the missile launch landed off the coast of Japan, outside its exclusive economic zone (EEZ), during some previous testing conducted by North Korea, the debris landed in Japan's exclusive economic zone, which extends 200 nautical miles (370 kilometers) from its coast.
Japan's Defense Ministry, confirming the reports of the launch, said, "Both missiles appeared to have splashed down in the Sea of Japan, outside Japan's exclusive economic zone."
In March, North Korea conducted its biggest intercontinental ballistic missile (ICBM) test since 2017, whose debris landed in Japan's exclusive economic zone, 170 kilometers off the Japanese coast.
The falling of debris so close to the exclusive economic zone is a cause of concern as it can lead to fatalities as economic activities such as fishing occur in these zones.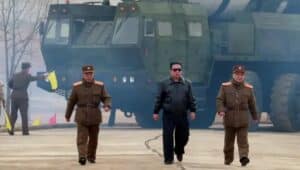 "Two short-range ballistic missiles were launched from the Sunan area in Pyongyang city toward the East Sea at approximately 06:45 and 07:03 on Saturday," reported the South Korean Joint Chiefs of Staff.
The missile launches occurred just hours before President Yoon Suk-yeol, Defense Minister Lee Jong-sup, and other senior military leaders were scheduled to attend South Korea's 74th Armed Forces Day celebration on October 1.
South Korea's Joint Chiefs of Staff further reported that a virtual meeting to assess the situation was held between the United Nations Command, the United States Forces Korea commanders, and the South Korean command.
Additionally, South Korea's Joint Chiefs of Staff stated, "In close collaboration with the US, our military will maintain a firm readiness posture while tracking and monitoring related moves in anticipation of more provocations by North Korea."
Characteristics of Ballistic Missiles Launched
According to The Korea Herald, the short-range ballistic missiles covered roughly 350 kilometers at a distance of 30 kilometers and a speed of about Mach 6.
The distance traveled from the launch site was approximately equal to what it needed to hit the military headquarters of South Korea, the venue of the Saturday Armed Forces Day.
South Korean President Yoon Suk-yeol's reaction
South Korean President Yoon, during his speech on Armed Forces Day, warned the North Korean dictator Kim Jong-un of strict consequences, urging him to give up nuclear weapons.
During his speech, South Korean President Yoon said, "The alliance between South Korea and the US and our military would respond decisively and overwhelmingly if North Korea attempts to utilize nuclear weapons." and vowed that the lives and property of South Korean citizens would be safeguarded by their military against any provocations or threats from North Korea.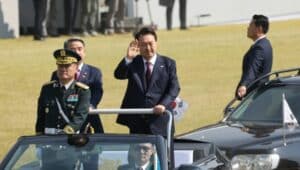 On Thursday, United States Vice-President Kamla Harris visited the heavily fortified Demilitarized Zone, on the border between North and South Korea, to emphasize the commitment of the United States government to South Korean defense against North Korea.
She also underscored that the US would "do everything" within its ability to ensure that it would uphold its deterrence pledge to South Korea, which would be supported by the entire range of its military assets.
Toshiro Ino, Japan's state minister for defense, told reporters that North Korea's recent actions, including four consecutive ballistic missile launches in the past week alone, pose a threat to the stability and security of the region and the global community and cannot be tolerated.
South Korea and Japan have deep military ties with the United States and are heavily dependent on it for their defense needs.
The growing military capabilities of dictatorial North Korea are a cause of concern for not only its immediate neighbors but also other countries as it now possesses nuclear weapons. The launching of four ballistic missiles in a week by North Korea can allude to bigger concerns for its neighbors, and the situation, therefore, needs to be closely monitored.
---
Read More: North Korea on it again? Reportedly Fired Unidentified Missiles into East Sea
---