Introduction
In a recent episode of the immensely popular quiz-based reality show 'Kaun Banega Crorepati' (KBC) Season 15, legendary actor Amitabh Bachchan not only engaged with contestants but also shared a personal anecdote about his own identity and his father's principles.
This episode featured a contestant named Madhurima, and during their interaction, Bachchan lauded her for her views on retaining her name and not adopting her husband's surname. Moreover, he opened up about the caste system and his own choice of identity during the last census, revealing that he proudly filled in 'Indian' in the caste section.
Amitabh Bachchan on Madhurima's Unconventional Stance
Amitabh Bachchan warmly welcomed Madhurima, a section officer in the forest, environment, and climate change department from Ranchi, Jharkhand, to the KBC hot seat. He acknowledged her profession and asked her to share her full name.
In a refreshing deviation from tradition, Madhurima replied, "Sir, my name is Madhurima, and I use the same name everywhere. I've only used Madhurima since I adopted it. Usually, the surname is the man's father's name. When you are married, you take your husband's last name."
She went on to give an example: "Or a woman's name bears the suffix 'devi.' No one treats you like the deity that you are. Extremely unusual. The devi suffix didn't work well. After getting married, it was an excellent time to adopt a surname. My spouse proposed taking his last name, and I accepted. Just calling me by my name, I told him. You see, I don't require it.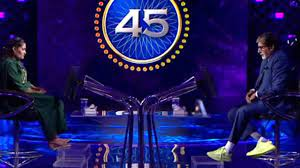 Amitabh Bachchan Applauds Madhurima's Choice
Amitabh Bachchan was visibly impressed with Madhurima's perspective and praised her, saying, "This is fantastic news. Madhurima, your vistas are breathtaking. Their very presence conveys power. You informed us that you have begun a new annual ritual. It's beautiful, and I'm happy for you.."
Amitabh Bachchan's Personal Revelation
The legendary actor was reflecting on his own experiences with issues of identity and caste, and he spoke openly about them. That's something I've done many times with my name," he admitted. Harivansh Rai Bachchan, my late father, did not support the caste system. In India, a person's caste is indicated by his surname. My paternal grandfather was of Kayasth descent. He legally changed his last name to Bachchan, his poet's nom de plume. His new moniker was "that."
Bachchan elaborated, "Once I reached puberty, I was legally required to enroll in school. My parents were questioned at school about my last name. According to the autobiography my dad wrote. I've brought this up numerous times as well. My parents were at a loss about what to do with their own children. My mom always thought that he should legally adopt my last name, how I became the legendary Amitabh Bachchan.
He remarked, "I applaud your thoughts. Both one's last name and one's social status can be questioned.
I agree, sir," Madhurima said in agreement. Group dynamics emerge when people get together. Even in the office, they tend to form factions.
Amitabh Bachchan's Census Form Revelation
The Bollywood celebrity elaborated on the census's importance in a recent interview. One person recently admitted to not declaring their race on a census form. Recent news shows that many individuals know about the census. Recently, a massive list of personal data was made public. Including names, ages, heights, and weights, this large list is significant. Caste discussion has been added.
When Amitabh Bachchan was asked about his caste, he boldly claimed his caste to be that of an Indian in a recent comment.
While Amitabh Bachchan believes that people are being told to include their caste while sharing sensitive information and that, this approach ensures accurate representation and promotes inclusiveness in various settings, upon adding his caste he simply said, "I will not." He further added, "I'm Indian, and our Chandrayaan spacecraft successfully landed on the moon."
Conclusion
Amitabh Bachchan's candid revelations and the thoughtful exchange with contestant Madhurima shed light on the complex issues of identity, caste, and tradition in India. The episode celebrated individual choices and encouraged viewers to rethink deeply ingrained societal norms. KBC 15 continues to be a platform where valuable discussions like these take place alongside the exciting quiz format.