India phasing towards Electric Vehicles
Electric Vehicles have been the vogue of climate change mitigating strategy, mainly preferred for their non-polluting, lightweight, and cost-free maintenance.
Under the view of promoting electric vehicles, the Government of India launched National Electric Mobility Mission Plan (NEMMP) of 2013 to speed up adoption of electric vehicles to save 9500 million liters of crude oil which is equal to ₹62,000 crores.
Further, the FAME India Phase I (launched in 2015) and Phase II (launched in 2019) were eventually launched under the NEMMP to incentivize the manufacturing of electric vehicles.
Under the NEMMP, all Government vehicles are to be converted to electric vehicles by 2030. And only electric vehicles will be allowed to be purchased after 2025. Additionally, it also aims to phase out all fossil fuel-based commercial fleets and logistics vehicles in all cities by 2030.
Advantages of Electric vehicles over internal combustion engine vehicles:-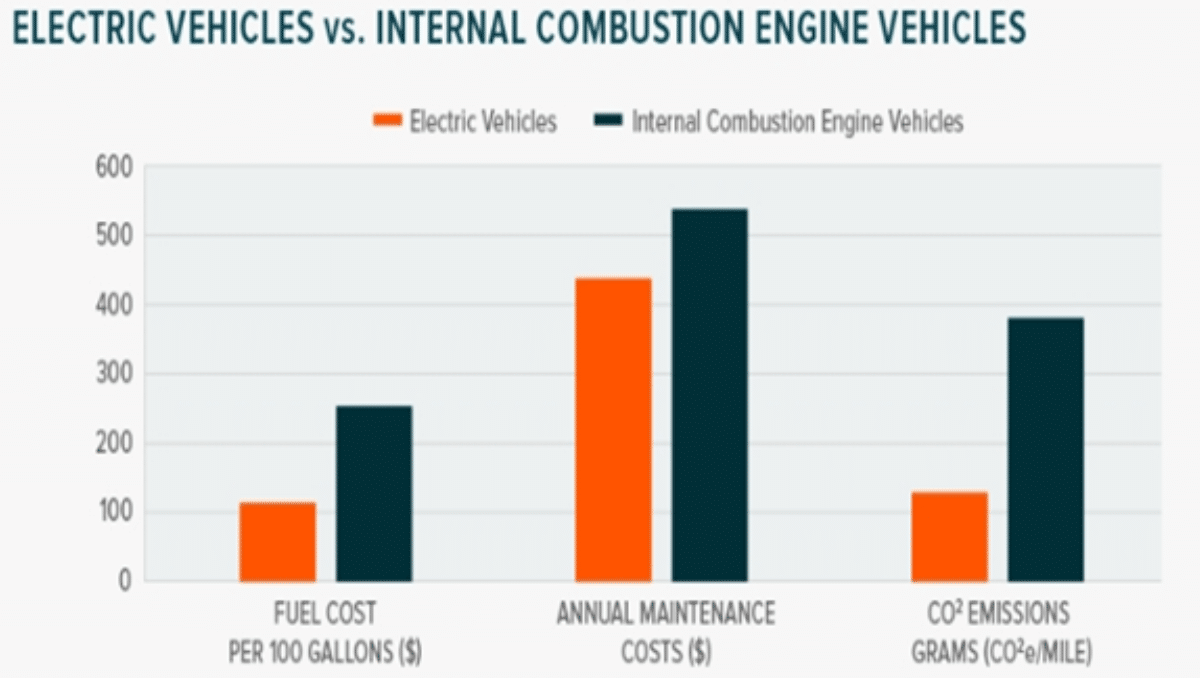 Although the electric variant of any particular vehicle is 20 – 30% more expensive than their petrol/diesel variant, on the overall performance they incur a lesser cost of operation in the longer run.
Typically, an electric car would have a running cost of ₹ 1.2-1.4 per km, while that of a petrol car varies between ₹ 9-10/km.
Further, an electric car with a 39.2 kWh battery capacity and range of 312 km, with ₹12/kWh charging at a public charging station will cost around ₹400 (and a maximum of ₹ 697 at home).
While the same charge for a petrol engine-operated car will go up to 10×312 = ₹3,120 approx. per month which is nearly 8 – 10 times high. And this along with reducing efficiency due to engine slackness will increase over the years.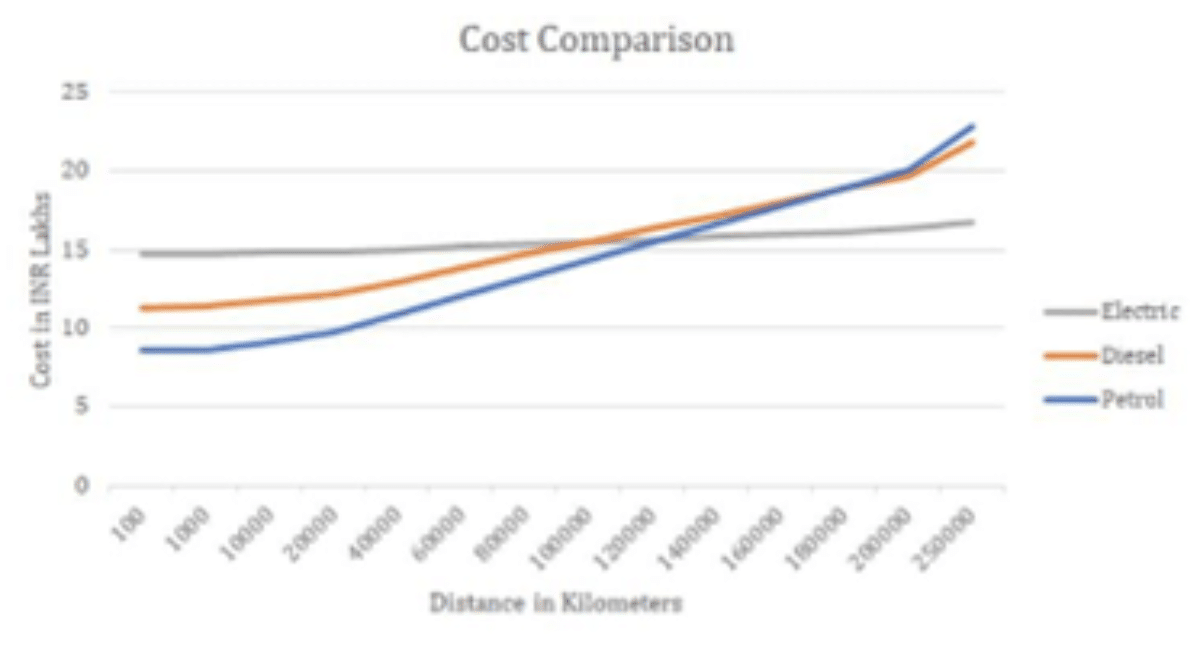 If you factor that into the long-term, say 6 to 8 years, the total you would end up spending on battery charging would barely be over ₹1 lakh due to the low electricity prices.
Army has a plan, to replace around 25% of light vehicles, 38% of buses, and 48% of motorcycles with electric equivalents in a time-bound manner in select units, the efforts are mainly to reduce dependence on petrol.
Types of vehicles in the Army and their possible electric variants
1. Utility and staff transport

These are ordinary four-wheelers and two-wheelers with moderately advanced accessories and weapon mountings. At present all tri-service wings have petrol/diesel-fuelled variants.
These can easily be replaced by electric variants without many modifications. And Army inducted the first batch of ten EV cars on Aug 2019.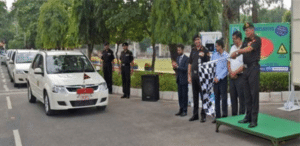 2. Goods and field transport vehicles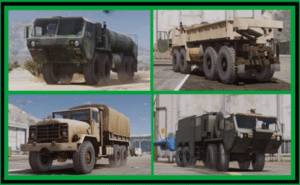 These are Heavy Transport Vehicles (HTV) mainly used for the shipment of defence logistics and crew members. Although there are civilian variants of EV trucks the army trucks have a specific difference.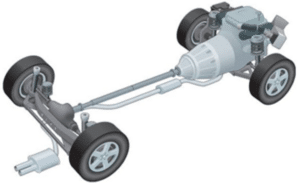 A typical multi-axle civilian truck has the engine power supply only for the front and rare axles.

Whereas a multi-axle military truck has power delivery to each axle, mainly to get maximum total torque. This is because army trucks operate in jungle terrain which is extremely perilous and bogged compared to the challenging roads in urban/rural areas where civilian trucks operate.
At present, no country has introduced an EV truck for defence purposes, and this needs huge modifications to be implemented in the defence sector.
3. Unmanned ground vehicle

These vehicles are mainly used for search and rescue operations, bomb diffusion, and light combat purposes.
At present most of them electric powered. And recently in 2019 U.S army started the trails of an all-electric version of its M5 Ripsaw Robotic Combat Vehicle developed by Textron systems.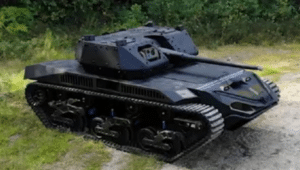 This is the first-of-its-kind mini army tank developed on the lines of UGVs.
4. Armored combat vehicles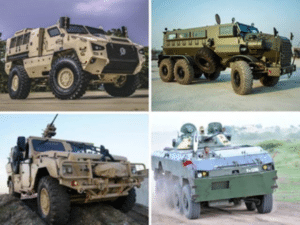 These are mini combat vehicles also used for battle patrolling. Similar to utility vehicles they can be replicated with electric equivalents with smaller modifications.
At present Australian Bushmaster, Turkey's electric armored vehicle and Tesla Cyber Truck are one of the prime versions of this kind.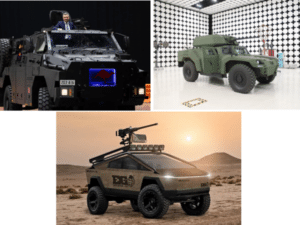 5. Engineering and support vehicles.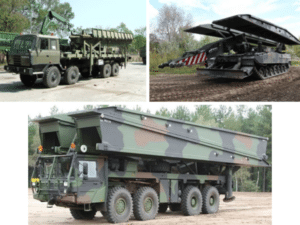 These are highly specialized vehicles configured for a specific operation like bridge laying, ground leveling and towing.
Although they are (most of them are) axle-driven four-wheelers, they again require a multi-axle power supply, and, pertaining to the heavy power consumption based on uneven terrain, they need a robust fuel supply.
At present, an electric civilian truck has an average operating capacity of 200 – 300 Km. But these kinds of Engineering support vehicles have higher power consumption rates, which require modification.
6. Artillery

They are battle-grade machines with firepower. And they are extremely challenging to get replaced by their electric variants due to their bulky design and impulsive forces during the action.
At present, the Defense Science and Technology Laboratory (DSTL) of Britain is one of the maiden nations to invest in the development of electric grade army tanks.
Challenges of electric vehicles in the Army
Ideally, an armored vehicle should have a horsepower-to-weight ratio exceeding 20 to 1, which leads to engines capable of generating up to 1,500 horsepower, hence these vehicles consume gallons of fuel during full-scale operation.
Therefore, apart from utility & unmanned vehicles, it is highly unlikely to have other busty vehicles to get electrified.
Apart from all these, electric-powered vehicles come with a trade-off between battery safety and energy density. When people prefer compact-sized high-powered batteries obviously energy density increases and hence is risky.
Further, all electric batteries need better ventilation compared to engine-run vehicles. Where are this is less feasible for specialized defence vehicles.
Moreover, these vehicles operate in fluctuating weather and environments, from high-temperature desert terrain to flood relief operations, hence there is a very high risk for safety.
Thus, there is a huge modification required for India to have a defence combat electric vehicles.
---
Read More –