A bomb attack was hurled at the gates of the headquarters of CPI(M) by a man on a two-wheeler around midnight before fleeing the spot.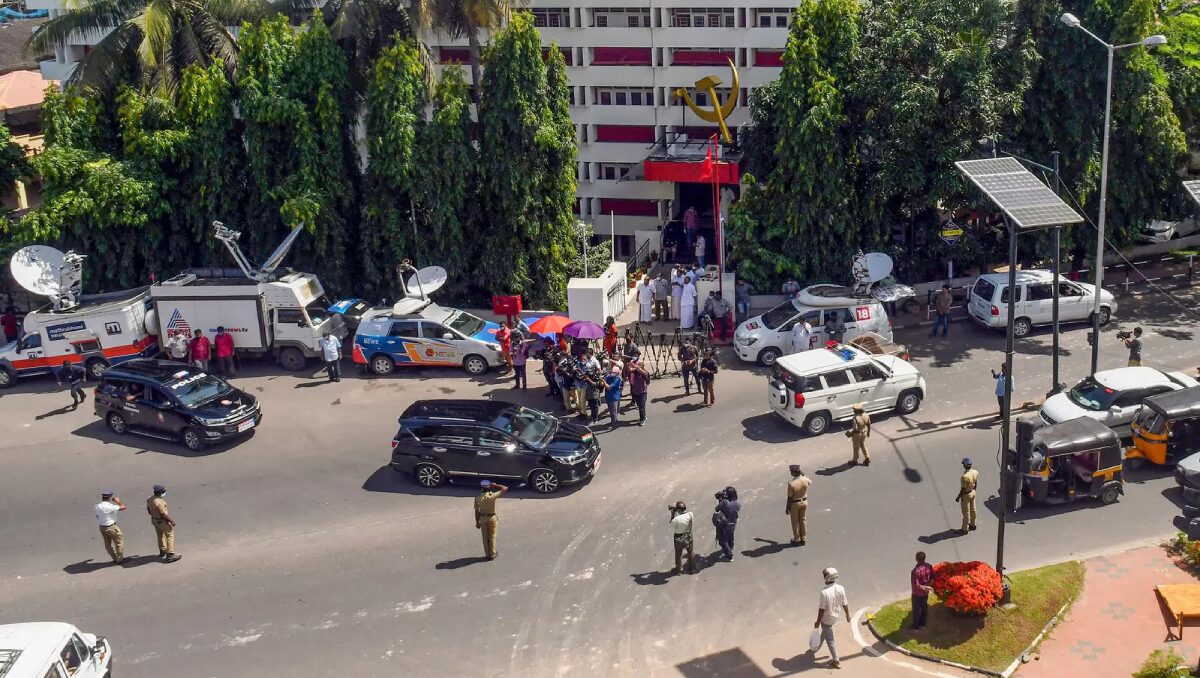 Highlights
A bomb was thrown at the gates of CPI(M) headquarters.

It was thrown by an anonymous man on a two-wheeler.

There are no casualties by far.

This bomb

attack has cause a lot of worry in the state.
A bomb was thrown at the head office of CPI(M). It was only by a man who was on a two-wheeler. He immediately fled the spot. It was around 11.30. It has caused a lot of worry in the state. The latest attack happens as Rahul Gandhi, congress leader is all set to come to Kannur in order to visit his constituency Wayanad.
The police were immediately informed and a group of top officers arrived and checked the spot and CCTV was re-evaluated. Later a bomb squad came and inspected the spot. The CCTV visuals showed a man hurling the explosive substance at the building on a motorbike and later fled. The visuals were also released by CPI(M) through their media group AKG Center.
The explosive had hit the stone wall of the AKG Center.
Senior leader of the party and left democratic front convener E P Jayarajan lives in the neighborhood. He further alleged that the congress is behind the provocative attack and also appealed to the party's workers to remain calm. However, the opposite Congress rejects the accusations.
Many other ministers of Kerala rushed to the spot. The ministers include Finance Minister K N Balagopal, Education Minister V Sivankutty. Several workers held a protest march against the attack in various places in the state.
More Attack In Kerala
As the tension tightens, the security around the offices of congress across the state has been tightened.
The state secretary of CPI(M) Kodiyeri Balakrishnan urged for a peaceful protest. He further accused the congress led UDF of intentional provocation as well as asked the party workers to not fall into their trap.
To identify the culprits behind the attacks, an investigation has been said to start.
This incident happened as Congress leader Rahul Gandhi planned to visit his constituency. His office was ambushed last week by the activists of Students Federation of India, CPI(M) youth wing in Kalpetta. The state has recently gone through a series of violent incidents. He is reportedly expected to talk in a rally in Kalpetta in protest of the attack on his office.
The angry workers of CPI(M) took out rallies at many places and stones were flung at the DCC office in Kottayam but also Kozhikode. The attack on the DCC office in Kottayam in the early hours of Friday. Party leader Thiruvanchur Radhakrishnan has alleged that the attack happened before the eyes of the police. He also said that the attacks are pre-planned to divert the attention from gold smuggling case as well as Rahul Gandhi's visit