Table of Contents
Authorities in India's central Madhya Pradesh state have taken swift action after a video went viral on social media showing a man allegedly urinating on a member of a tribal community. The man, identified as Pravesh Shukla, was arrested and charged for the obscene act, facing potential fines and up to two years in jail. In addition to the legal consequences, the state government ordered the demolition of Shukla's home, citing illegal construction as the reason.
The incident captured in the video reportedly took place a year ago, but it gained attention after it circulated widely on social media. Priya Singh, Deputy Superintendent of Police for Sidhi District, where the incident occurred, stated that the police responded promptly upon learning about the video.
Similar Incidents
This is not the first instance of Indian authorities demolishing the homes of individuals accused of criminal activities. In April 2022, after violent clashes between Hindus and Muslims, several properties belonging to alleged "rioters" and "encroachers" were demolished in Madhya Pradesh. Similarly, in June 2022, officials in the state of Uttar Pradesh demolished the homes of people accused of involvement in riots protesting anti-Islamic comments made by members of Prime Minister Narendra Modi's Bharatiya Janata Party (BJP).
Following the uproar caused by the viral video, the Madhya Pradesh government announced that the victim would receive compensation of 500,000 rupees ($6,000) and an additional 150,000 rupees ($1,800) to help him build a house. Madhya Pradesh Chief Minister Shivraj Singh Chouhan personally visited the victim to offer an apology, expressing deep disturbance and pain upon watching the incident.
Tribal Communities in India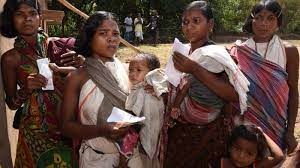 Tribal communities account for around 8.6% of India's population, and they are recognized as protected "scheduled tribes" under the country's constitution. However, they continue to face marginalization and socio-economic disadvantages. While Chouhan has called for severe punishment for Shukla to set an example, opposition politicians, including Rahul Gandhi from the Congress party, criticized Chouhan and the BJP, claiming that atrocities against tribal communities have increased under BJP rule.
Claims have emerged that Shukla was an aide to a BJP member of the legislative assembly, although members of the BJP have denied this allegation. Kamal Nath, former Chief Minister of Madhya Pradesh and a member of the Congress party, expressed deep sadness over the incident, describing it as an attack on tribal identity. Nath assured the tribal society of the Congress party's support and commitment to seeking justice for them.
Minority Rights in India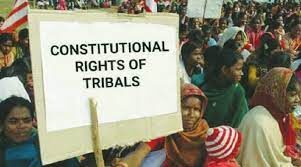 The Indian Constitution provides safeguards and protections for scheduled castes and scheduled tribes, including provisions for public employment opportunities. These measures aim to address the discrimination and disadvantages faced by these communities, allowing them to compete on an equal footing with more privileged sections of society.
The incident in Madhya Pradesh has sparked public outrage and raised concerns about the treatment of tribal communities in India. It highlights the need for stronger measures to protect marginalized groups and ensure their rights and dignity are upheld. The government's response, including the demolition of the accused's home and the compensation provided to the victim, represents an attempt to address the issue and prevent further marginalization of tribal communities. However, the incident also serves as a reminder that more efforts are needed to eradicate discrimination and promote inclusivity in Indian society.
Minority rights in India are enshrined in the constitution, providing protections and safeguards for marginalized communities such as scheduled castes, scheduled tribes, and religious minorities. While progress has been made, challenges remain in ensuring equal opportunities, combating discrimination, and promoting inclusivity for all minority groups in the country.