Fabricio Diaz, a target for Barcelona who plays for Liverpool Montevideo, is in fact close to joining Qatari club Al Gharafa, according to Fabrizio Romano.
Diaz, who is regarded as one of the best young midfielders in South America, shot to prominence this year when he played for the Uruguayan national team in the U-20 South American Championship.
In the years that followed, Diaz led Uruguay to the U-20 FIFA World Cup win, putting him on the radars of numerous elite teams in Europe, including Barcelona.Barça had thought about signing him during the summer, but due to other commitments and FFP issues, the young player's pursuit was shelved.
Who is Barcelona Target " Fabricio Diaz"
Fabricio Díaz is a 20-year-old Uruguayan professional footballer who plays as a defensive midfielder for Liverpool Montevideo. He is a highly rated prospect and has been linked with a number of European clubs, including Barcelona.
Díaz made his professional debut for Liverpool Montevideo in 2020 and has since made over 100 appearances for the club. Díaz is a versatile midfielder who can play in a number of positions, including central midfield, defensive midfield, and right-back. He is a strong tackler and good passer of the ball. He is also known for his work ethic and determination.
Díaz is considered to be one of the most promising young players in Uruguay. He has been praised for his technical ability and his intelligence on the pitch. He is also seen as a leader and has captained Liverpool Montevideo and Uruguay at the youth level.He could not be signed due to the financial woes of the club . Barcelona have been in the news for all the wrong reasons.
Fc Barcelona Levers
Barcelona's "economic levers" are a series of financial measures that the club is taking to improve its financial situation. The levers involve selling stakes in the club's assets, such as its TV rights, media divisions, and merchandising business.
Barcelona has already activated a number of levers, including selling 49.9% of its merchandising company, BLM, for €200 million. They have also sold 10% of its TV rights to Sixth Street Partners for €267 million. They have sold 24.5% stakes in its media division, Barca Studios, to Orpheus Media and Socios.com for €100 million each
These levers have generated over €600 million for Barcelona, which the club has used to reduce its debt and invest in new players.Barcelona is still considering activating additional levers, such as selling more of its TV rights or a stake in its Camp Nou stadium. However, the club has said that it will only activate levers if it is in the best interests of the club.Last season ,they sold the naming rights of the stadium to Spotify.
Reduction in wage limits of FCBarcelona
Barcelona's wage limit for the 2023-24 season has been set at €270 million. This is a significant decrease from the €648 million limit that the club had last season.The reduction in Barcelona's wage limit is due to a number of factors, including the club's high debt of more than 1.5 billion euros and its overspending on player salaries in recent years.
The club has also been affected by the COVID-19 pandemic, which has caused a significant decrease in revenue from matchday ticket sales and sponsorships.Barcelona is currently taking a number of steps to address its financial problems, including selling stakes in its assets and implementing cost-cutting measures.
However, it is likely to take several years for the club to fully recover from its financial crisis and increase its wage limit again.Despite the reduction in its wage limit, Barcelona is still able to sign new players. However, the club will need to be careful about how much it spends on salaries, as it will only be able to register new players if they fit within the club's wage limit.
More eyes will be cast on the Barcelona management as despite the various levers they had pulled,have still left them in a bad position . Despite levers ,the payments have not arrived ,putting the club in an unfortunate position .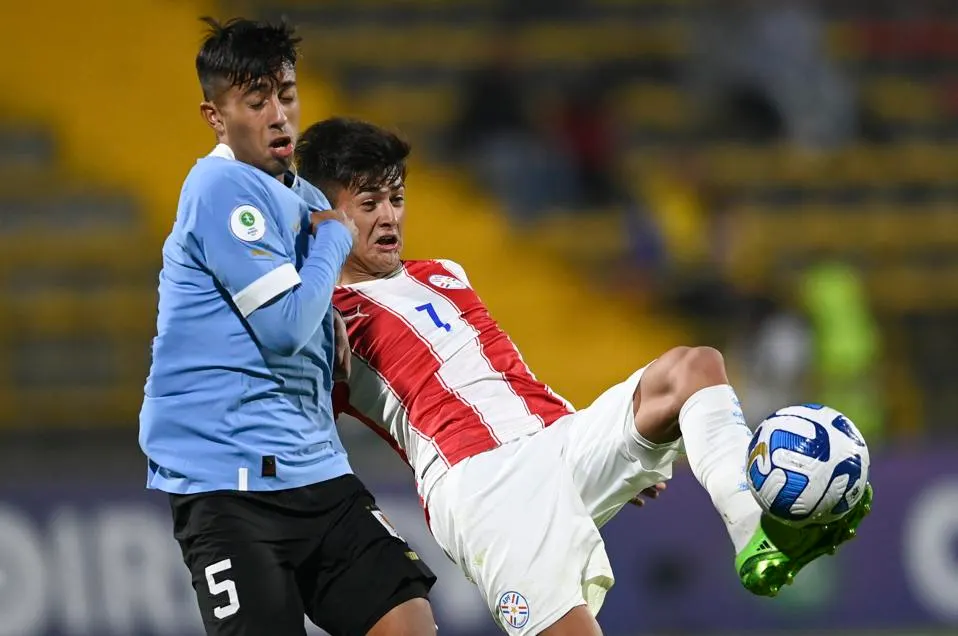 Diaz (L) fighting for the ball.
(Image source: Forbes)