world
Mack Rutherford, a 17-year-old boy of British-Belgian origin becomes the youngest person to fly solo in a small aircraft around the world, according to Guinness World Records (GWR). He started his journey on March 23 and finished it on September 24, on Wednesday in the place where he started.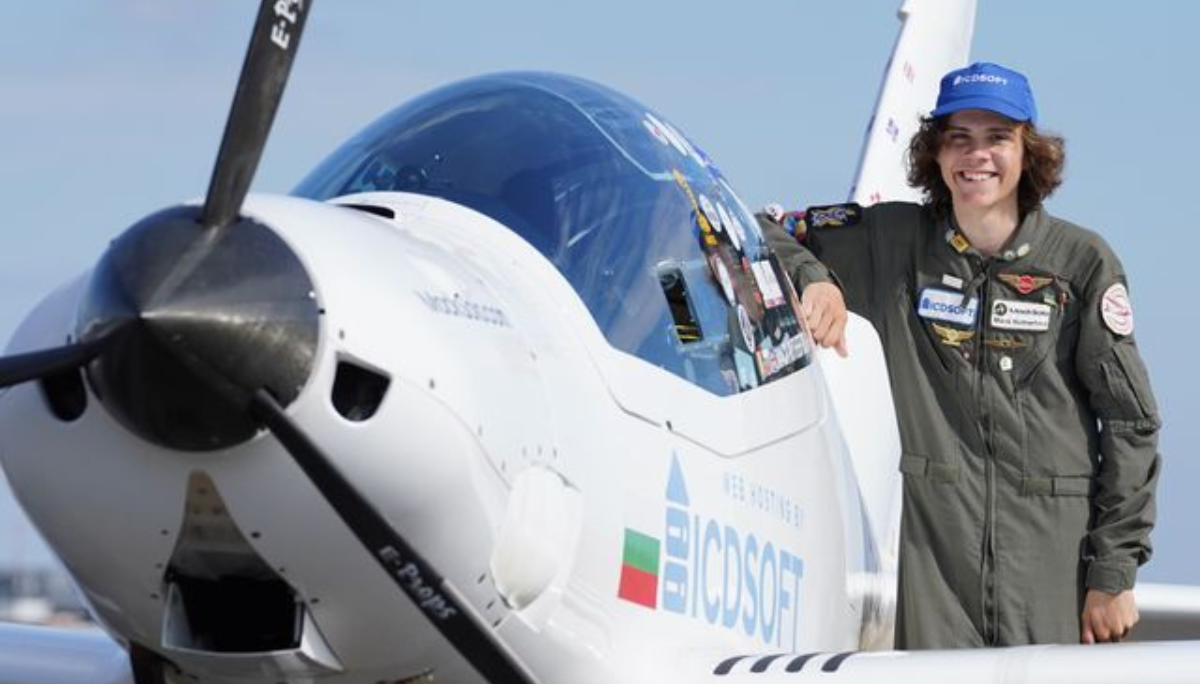 Mack Rutherford, a 17-year-old boy of British- Belgian origin becomes the youngest person to fly solo in a small aircraft around the world, according to the Guinness Book of World Records(GWR). He traveled across five continents and 52 countries in his five-month journey before finally landing near Sofia, Bulgaria on Wednesday.
Rutherford traveled on his specially prepared ultralight Shark aircraft with a cruising speed reaching 300 km/h, according to Rutherford's Official website.
Challenges during his Journey
Talking about his challenges during the whole journey. He claims to have overcome various obstacles such as sandstorms, scorching heat, monsoon rains, and even bureaucracy during the day. While at night, he was compelled to spend his days on uninhabited Pacific Islands. 
Family Background
Born to British parents, Mack was born and brought up in Belgium.
His elder sister Zara is the youngest woman to fly solo around the world. She completed this journey of sojourning around the world in January, this year itself. Mack asserts she had "given him advice on the route" as she voyaged to Sofia to meet Mack as he returned after the successful voyage.
Hence, Mack got the inspiration to fly around the world through his family.
According to Rutherford's official website and GWR, British-Belgian youngster Mack Rutherford arrived back in the Bulgarian capital of Sofia. He was still 16 years old when he first commenced his journey.
"I want to use the opportunity to meet young people on my route who do incredible things, making a difference to their communities or even to the world," he wrote before flying off.
Journey to Guinness Book of World Records(GWR)
During his journey, his own Rutherford Official website traced his whole journey.
According to his website, he set off from Bulgaria towards the Mediterranean then through the Sahara, onwards through the Middle East, and then East Asia.
In the successful expedition, he broke two records simultaneously of his own elder sister Zara Rutherford. Earlier, she held the record of being the youngest person to fly around the world solo and also the youngest person to do so in a microlight aircraft, the GWR website states.
Encouraging the people around after the completion of his own feat, Rutherford said people should follow their dreams irrespective of their age. Adding further, "Work hard and move forward to achieve your goals," he asserted.
Coming from a family of aviators he got his license at the early age of 15, becoming the youngest pilot in the world.
"When I was 15, I got my license and was the youngest in the world at that point. And then when my sister flew around the world, I thought, well, there's something I can actually try to strive for and achieve," he told CNN earlier while he was on his way.
In the interview, he also elucidated on the beautiful places he crossed during the whole journey. He described some places like wildlife in national parks in Kenya to the New York City skyline.
Talking about his further goals, he had earlier said that after this he would focus on his school and try to catch up as much as he can.
Mack is currently studying at Private Sherborne School in Dorset. The school website was also tracking his progress during his entire journey.
Also Read: NASA's First Native American Woman in Space