BTS member Kim Taehyung marked his first solo debut as he prerelease his song, which is a part of his solo album Layover.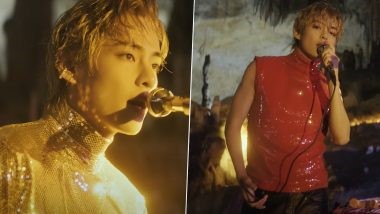 As each member of BTS is now working on their solo albums during the group hiatus. Kim Taehyung aka V's solo album is one of the much awaited one and now that it has released a song from his album, it's giving a retro kind of vibes to the listeners.
Kim Taehyung is seen taking a center stage in the video as a heartbroken lover. Whereas his strong fashion sense for which he is known for is also unmissable in the video.
As he unveils his song, love me again is all about a person talking about a missing love and the struggles of letting go a heartbreak. In his music video, love me again V appears in a red shimmery suit standing and singing in front of the mic, as he admits to be haunted by his past love's memories. The background in the music video has a vintage TV set and looks like a cave with some retro vibes and elements in it.
As Kim Taehyung is known for his undeniable style statements, in the music video he is accessorized by jewelries such as wearing a gold chain and ear cuff which is adding more glam to the entire music video.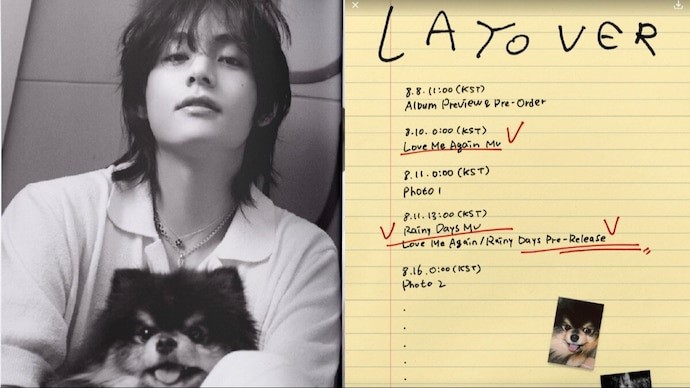 After the release of his first song which is going very well, Taehyung is all set to unveils his next solo name, 'Rainy Days' which will be unveiled on 11th August, Friday, at 1pm KST(Korea Standard Time) that is 9:30 am IST. Both of his songs Rainy Days and Love Me Again were scheduled for prerelease.
On Tuesday, 8th August, Taehyung finally announced the released date of his solo album Layover will be release on 8th September 2023. Big Hit music, BTS' management agency also released a statement to inform BTS fans and said, they are excited to share more details regarding the release of BTS member V's solo album name Layover. The album consist of total six tracks in it which is five tracks and one will be a bonus track. They also asked the fans to listen the album in a sequences start to end, to completely appreciated the flow of the tracks.
BTS fans were over the moon as Taehyung released the track from his Layover album on 9th August which already managed to surpass 1 million views on YouTube. Taehyung achieved this within seven minutes of his track's release, mirroring to his band member Jung kook's accomplishment with his solo track Seven.
This symbolize the unmatched popularity of BTS with this unique and remarkable achievement of Kim Taehyung. As BTS is one of the world's biggest k-pop group, the members of the group is also unexceptionally talented in their own ways.
Several fans took to their social media accounts to hail for the duo's achievement and said that Kin Taehyung and Jung kook are "most powerful duos."