Bangalore Businessman shot himself in his car and left behind an eight-page suicide note holding six people responsible for the extreme step.
The deceased is Pradeep S, a resident of Ambalipura, Bangalore.
He had gone to a resort in Nettigere with his family to celebrate New Year.
On the morning of 1st Jan 2023, he returned to his home in Ambalipura, wrote the suicide note, and returned to the resort in, Nettigere and shot himself in his car.
He left a suicide note of eight pages mentioning the names and phone numbers of the people he blamed for his suicide.
The names mentioned are K Gopi, Somayya, G Ramesh Reddy, Jayaram Reddy, Raghav Bhat, and BJP MLA Aravind Limbavali.
In the note, he urged the police to take action against them.
Baby said "Pradeep had invested Rs 1.5 crore in Opus Club in 2018. He was promised Rs 3 lakh profit and Rs 1.5 lakh salary every month. He claimed nothing was given to him for long. He blamed Limbavali for supporting the other five people."
He added, "He wrote three suicide notes and kept one in his wife's cupboard. He returned to the resort, stuck another copy of the note to the wiper blade of his relative's car and kept the third in his car."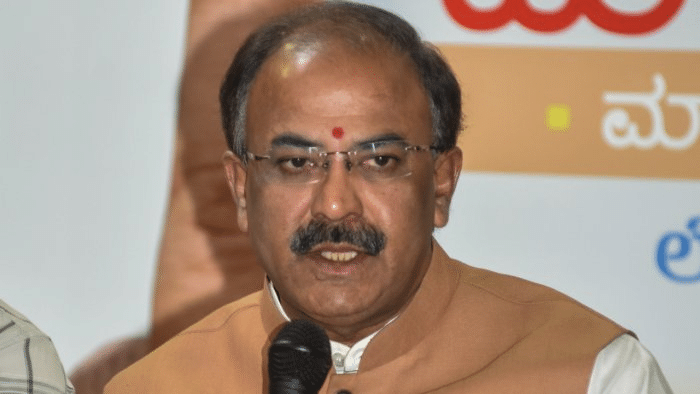 BJP MLA Limbavali trying to distance himself from the case said "I've learnt that I've been named in the note. He (Pradeep) used to handle my social media between 2010 and 2013. He had brought a business dispute of his to my notice and I asked him and his partners to resolve it amicably. I didn't even ask how much he had invested or make any suggestion to the partners about how much they needed to pay. Later, he (Pradeep) came and thanked me. I am not aware why he died by suicide or why I have been named in the note."
He added, "He (Pradeep) was active with party work even after he left my office saying he would start a business and so was in touch with me. He had even come to me accusing his wife of having an affair and I'd turned him away saying he shouldn't bring his personal matters to me."
On 22 May 2022 Namitha, Pradeep's wife filed a case against Pradeep for assaulting her.
Namitha stated that Pradeep slapped her and threatened to shoot her with a pistol over an argument.
The suicide note mentioned " The two(Gopi and Somayya) promised me that they will give me Rs 3. Lakhs out of profits and Rs 1.5 Lakh as remuneration per month for working at the club, I agreed to it and deposited over Rs 1 crore in the bank from May 2018 to December 2018."
He stated that he sold his house in Mysuru and paid Rs 40 lakh in cash to the two.
"They had promised to make me a partner in the venture but to date, they haven't paid me a penny. When I went to the MLA, I was made to pay Rs 1 lakh for nine months under the pretext of a compromise. I was told that Rs 90 lakh will be returned later."
Pradeep alleged that he did not get help from Limbavali while he was in debt.
"I had taken a Rs 10 lakh loan from Ramesh Reddy. I have paid back Rs 35 lakh by selling my agricultural property. However, they are threatening to extort more money. Raghav Bhatt has taken Rs 20 lakh from me. He hasn't paid it back, to date," he alleged.
---
READ MORE:
https://asianatimes.com/death-of-2-palestinians-in-west-bank/
https://asianatimes.com/minor-girl-gang-raped-and-thrown-in-tubewell-in-up/
---