India is keeping a Hawk eye on a Chinese "Spy Ship" affecting India`s security heading to Sri Lanka port and is expected to dock at its Hambantota port around August 11.
As Sri Lanka struggles with a severe economic crisis, the ship's visit to its port comes at a time when India is rumored to have already expressed its vociferous opposition to the ship's entry.

What is the nature of the Chinese ship sailing toward Sri Lanka?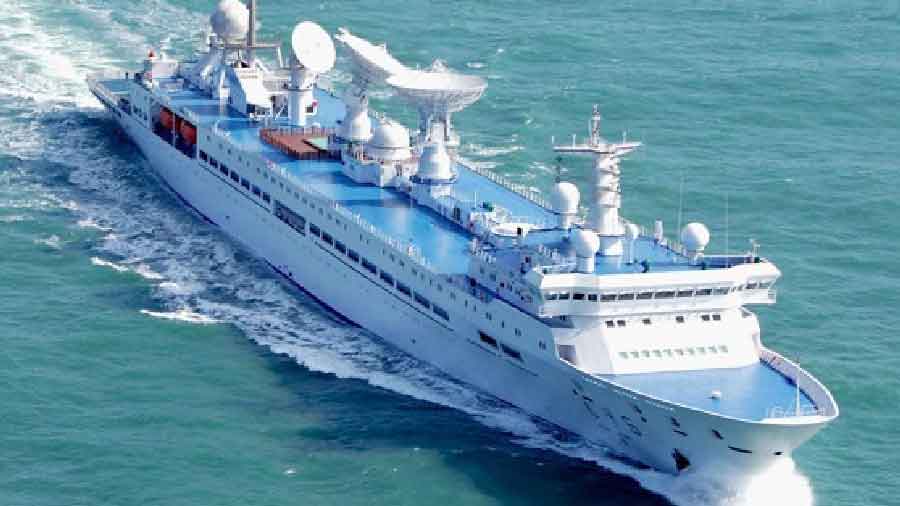 On its journey to Hambantota, a big deep-water port that was mostly financed by Beijing is the Chinese research and survey vessel "Yuan Wang 5".
The launches of satellites, rockets, and ICBMs are monitored by ships of the "Yuan Wang" class.
These tracking ships, which can travel through the Pacific, Atlantic, and Indian oceans, are owned by China and number around seven. The ships add to Beijing's on-land tracking stations. 
A US Department of Defense study cites the Strategic Support Force (SSF), which is in charge of these space support vessels, as saying that it is a theatre command organization established to centralize the PLA's strategic space, cyber, electronic, information, communications, and psychological warfare tasks and capabilities. 
In September 2007, the "Yuan Wang 5", which was built in China's Jiangnan Shipyard, began operations.
Modern tracking gear is onboarding this 222-meter-long, 25.2-meter-wide ship for transoceanic aerospace observation. 
China's most recent surveillance mission included the launch of the "Long March 5B" rocket.
The recent launch of the first lab module for China's Tiangong space station was also under maritime observation by it.
Exactly why is this ship sailing to Sri Lanka?
According to the Belt and Road Initiative Sri Lanka, the "Yuan Wang 5" is slated to enter Hambantota port on August 11 for a week before departing on August 17 after being restocked (BRISL).  
The Yuan Wang 5 will manage Chinese satellites and conduct research tracking of them in the northern Indian Ocean between the months of August and September, according to the BRISL website. 
Chinese spy ship, Why is this development causing India concern?
Several ports in Kerala, Tamil Nadu, and Andhra Pradesh may have come to China's attention as a result of the "Yuan Wang 5," a potent tracking craft with a claimed 750 km substantial aerial reach.
Several significant installations in South India may be vulnerable to spying, according to sources. 
The development was discussed last week by Arindam Bagchi, a spokesperson for the Ministry of External Affairs, who stated:
"This ship may travel to Hambantota in August, according to rumors that we are aware of."
The government defends India's economic and security interests by taking all necessary precautions and closely monitoring any developments that might have an influence on them. 
What makes the Hambantota Port so important strategically?
The second-largest port in Sri Lanka, Hambantota, may be found close to the route that connects Southeast Asia with West Asia, Africa, and the Middle East.
China's Belt and Road Initiative is a significant stop. China has greatly aided in its growth, and in 2017 Colombo surrendered its primary control to a Chinese firm after failing to pay off the rising debt. 
Read Also: Russia's aggression over Ukraine Concerns India and China
India and the US have often voiced their fear that Chinese control of this port, which might serve as a hub for the PLA Navy, could endanger their interests in the Indian Ocean.
The economic sustainability of China's "string of pearls" plan, which aims for encircling India in the Indian Ocean by expanding its land and marine footprint, has long been questioned by security analysts in India. 
The Chinese navy may have the chance to engage in the long-awaited maritime flex against India given the proximity of Hambantota to that country.