accuse Smriti Irani
Congress president Sonia Gandhi allegedly rebuffs Union Minister Smriti Irani after being interrupted by her
o Congress and other opposition parties accuse Smriti Irani, and other BJP MPs of heckling Sonia Gandhi.
o When Smriti Irani reportedly interrupted her, Sonia Gandhi told her: "Don't talk to me", as per sources.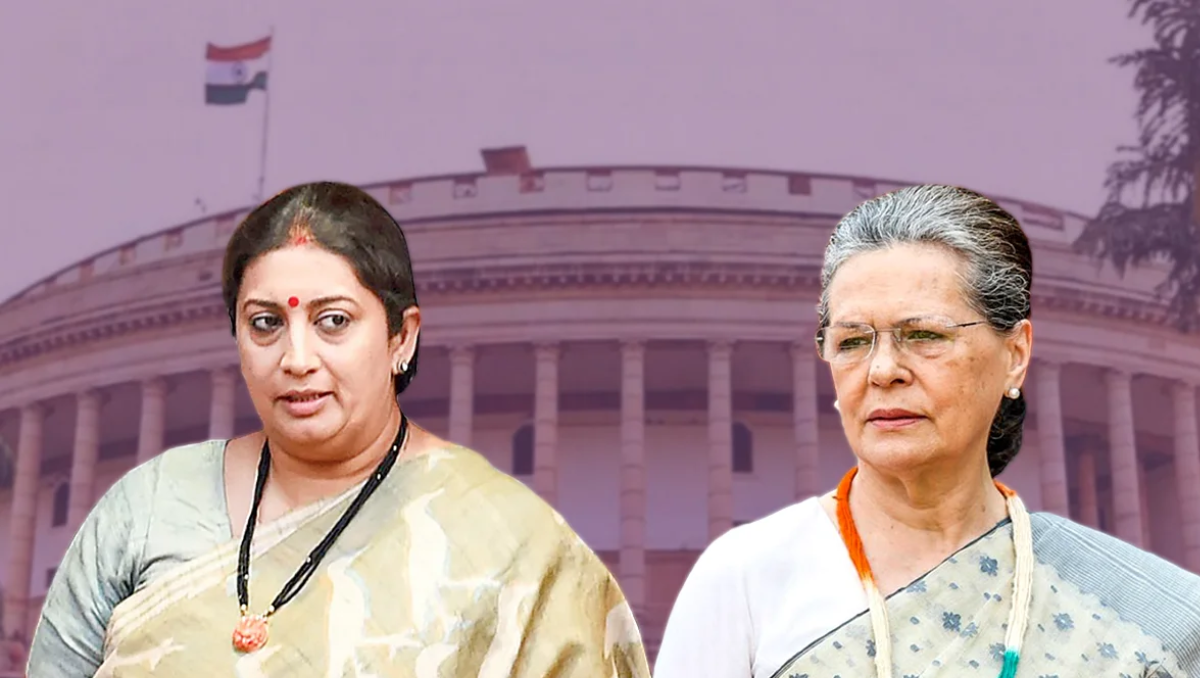 In a parliamentary confrontation on Thursday over Congress leader Adhir Ranjan Chowdhury's accusations of calling President Droupadi Murmu "Rashtrapatni", Congress president Sonia Gandhi allegedly brushed off Union Minister Smriti Irani after walking across the house to speak to a BJP MP.
When Smriti Irani reportedly interrupted her, Sonia Gandhi told her to not talk to her, as per sources. Congress and other opposition parties have accused Smriti Irani and other BJP MPs of jibing at Sonia Gandhi. In an official statement, Jairam Ramesh, Congress MP and Congress' General Secretary-in-Charge of Communications stated Smriti Irani had "acted inappropriately" with Sonia Gandhi and used "offensive terms".
Union minister Smriti Irani threw insults at Sonia Gandhi, and shouted at her while pointing a finger, Congress confirmed on Thursday following the exchange between the two political leaders set off a political storm. Many versions have been circulating in regards to the details of the dramatic exchange. Many are from BJP leaders who are accusing Sonia Gandhi of rebuffing Ms Irani when she tried to cut into her conversation along with Rama Devi from the Bharatiya Janata Party. 
Jairam Ramesh alleged that: "Sonia Gandhi was speaking to BJP MP, Rama Devi and Smriti Irani came up to Sonia Gandhi and used abusive words in a derogatory tone. Sonia-ji politely told her, 'I am not speaking to you, I am speaking to another MP,' Smriti Irani shouted angrily, 'You don't know me, you don't know who I am.
"MPs of other parties and Congress MPs are witnesses of this incident," said Mr Ramesh's statement in Hindi. "What sort of behaviour is this? Can a MP not even talk to another MP? Smriti Irani can always make her point in a more diplomatic way. Why is she taking such an aggressive attitude with a senior MP and a party president?" Mr Ramesh said.
Other Congress leaders present during the incident have alleged that Ms Irani pointed a finger at Mrs Gandhi and said, "How dare you behave like this. This is not the office of your party".
The exchange occurred after an intense Lok Sabha session wherein Ms Irani had directed accusations against Sonia Gandhi of allegedly sanctioning her party member Adhir Ranjan Chowdhury's "Rashtrapatni" comment on President Droupadi Murmu. Labelle her "anti-tribal, anti-woman and anti-Dalit", had ordered that the Congress chief apologises for his comments.
After the session was concluded, Sonia Gandhi crossed the floor and spoke to BJP MP Rama Devi, noting that Adhir Ranjan Chowdhury had apologized and questioned where her fault was, sources said. During this exchange, Smriti Irani tried to interrupt the conversation, asking "Madam, can I help you? I took your name". Sources say that Sonia Gandhi then responded by saying, "Don't talk to me".
Trinamool Congress' Mahua Moitra, one of the MPs who witnessed the whole exchange, shared on social media that Mrs Gandhi was heckled in a  "pack-wolf style".
"Was in Lok Sabha when a 75-year-old lady, a senior leader, was encircled and heckled pack-wolf style when all she did was walk across the House and speak to a fellow senior lady panel chairperson. Am disgusted to read BJPs lies and false narratives in the press," her post said.
Mr Chowdhury has now apologized for his "Rashtrapatni" remark, claiming that it was a "slip of the tongue" owing to his language barrier and that he would meet Ms Murmu and apologize personally to the President "a hundred times" if she claims she was affected by his remark.