Climate change will never stop without our intervention… Our time here is limited and we must use every second that we have,"
At the summit, COP27 which will take place in Sharm El Sheikh, Egypt, from November 6 to November 18, wealthier nations are expected to put pressure on developing countries to strengthen their climate plans. On the other side, wealthy nations would have to agree to contribute the resources and technology required to battle climate change and the resulting calamities.
This year's UN climate summit COP27 is taking place in the wake of Russian aggression in Ukraine and the subsequent energy crisis, which have put pressure on countries to act swiftly against climate change.
According to reports, the developing world rallied under the banner of "climate justice" in Sharm el Sheikh to hold wealthy countries responsible for their historical emissions once more and make them pay for the damage that climate change has wreaked on some of the world's most vulnerable countries in recent years.
Battle for a survival
At the COP27 UN climate summit in Egypt on Monday, UN Secretary-General Antonio Guterres sounded the alarm that the world was on a highway to climatic hell. Global leaders must take immediate action to combat climate change, the UN head cautioned, adding that "our planet is swiftly nearing tipping points that would make climate calamity irreversible."
World leaders and diplomats framed the fight against global warming as a battle for human survival during opening speeches at the COP27 climate summit in Egypt on Monday, with the head of the United Nations declaring a lack of progress so far had the world speeding down a "highway to hell".
He further said Climate change is already having an impact, and it is now impossible to deny the loss and pain it causes. The COP27 must choose a specific, time-bound plan that considers the magnitude and urgency of the situation. It is a moral necessity as well as a question of solidarity and climate justice.
Need a new pact between the rich and poor
"Humanity has a choice: cooperate or perish," Guterres said. "It is either a Climate Solidarity Pact – or a Collective Suicide Pact."
A new agreement between developed and developing countries is needed for them to work together more closely. This agreement should include financial assistance and the phase-out of coal in developed countries by 2030 and elsewhere by 2040.
The largest challenge confronting the globe, as described by experts, will be discussed by world leaders at the COP27 UN climate meeting this year. Several urgent issues are expected to be addressed by the world leaders, such as the energy crisis brought on by the Russian invasion of Ukraine, the droughts in Africa, and the flooding in Pakistan.
This year, Cuba saw days of blackouts when Hurricane Ian destroyed the country's electricity infrastructure, and Pakistan had terrible floods caused by climate change that claimed thousands of lives and jeopardised the food security of the whole country.
Since developing, economies are adamant about institutionalising a system for funding to pay for disasters brought on by extreme weather occurrences, "loss and damage," often known as "climate reparations," are expected to be a priority this year.
According to reports, the Alliance of Small Island States will offer a plan for a worldwide "reaction fund" to ease the effects of climate change. India should support the cause. It has the moral authority to bring the industrialised countries to the negotiation table given how it has performed on climate action.
COP27 and Climate funding
Every action that needs to be taken in response to climate change has money at its core. The needs are at least many orders of magnitude greater than the current or pledged resources and the demands are increasing quickly. Climate change is developing on a different timetable and at a different scale, as UN Secretary-General Antonio Guterres stated on Monday.
It is expected to originate from the wealthy, industrialised nations that have been blamed for contributing to global warming over the past century through their emissions of greenhouse gases.
Each nation is required to act as best as it can under the terms of the 2015 Paris Agreement. The majority of climate action is financed by large, developed economies like India and Brazil using their funds. However, even to defend themselves against natural calamities, the poorest nations or small island states are reliant on foreign finance.
The fact that wealthy nations have not yet followed through on their promises is even more concerning. They are considerably more likely to break their promises now that most people are facing a recession.
The $100 billion per year funding target was pushed back from 2020 to 2023 last year. However, just $11.3 billion worth of promises has been made to the Green Climate Fund, which is essential to reaching the $100 billion goal.
According to an Oxfam report, wealthy countries' actual public climate financing is much lower than what is claimed. It's understandable why the UN secretary general reminded the developed countries just days before COP27 that they must submit "a credible roadmap" outlining how they will deliver $40 billion yearly by 2025 to support the most vulnerable countries' response to climate change.
The industrialised nations also engage in a lot of "greenwashing," which is the practice of passing off money intended for other uses as climate funding, to fill in the gaps. Creating precise definitions for climate finance is one of the concepts being promoted at this climate forum, including by India.
India and COP27
"According to Bhupender Yadav climate financing is a marriage, he believes early Warnings For All, a programme that effectively adapts to climate change, assists our community in decreasing vulnerabilities and increasing readiness for natural disasters.
During COP27, Bhupender Yadav emphasised that the global speed of climate mitigation is insufficient to slow the rate of climate change during his speech at the UN Secretary-General High-Level Round Table to introduce the "Early Warnings for All Executive Action Plan."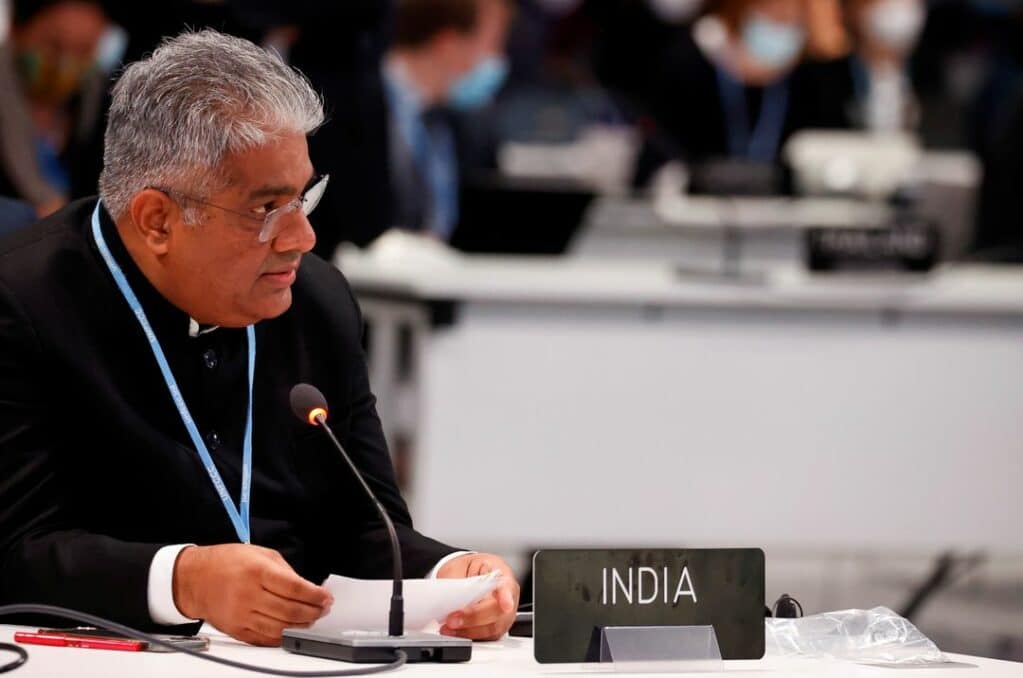 He added that there was a pressing need to recognise the cascading natural disasters that result in significant losses all across the world and that India fully supported the UN secretary general's initiative to achieve "Earat Warnings for All."
He emphasised the need to keep these concerns at the forefront of attention, particularly for those areas that are adversely affected by extreme climate-related occurrences. With a particular focus on early warning systems as adaptation measures to safeguard the lives and livelihoods of individuals who are more at risk from these issues.
He discussed the steps taken by India to develop early warning systems for all hydro-meteorological dangers. He noted the strides India has made in the last 15 years to reduce cyclone-related fatality rates by 90%.
---
Read More: ANXIETY DISORDER RECEIVING GENERALISED ATTENTION.
---