China has always faced the most criticism for its helping practices to the emerging countries, accusing them of leaving them struggling to repay their debts and therefore getting vulnerable pressure from Beijing.
But that's not it, China blames the western countries for tarnishing its image. China is the world's largest and only single creditor of the nations, which is china helps nations in need of credit. China's loans to lower-income countries have tripled over the past decade to $170bn by the end of 2020.
China's lending had been growing in the east and pacific countries,  middle east and African countries, some Latin America and Caribbeans too. Last year Sri Lanka had a debt of 1 million and they had to give the key to one of their major ports to companies owned by the Chinese Government.
But the billion-dollar project using loans and debt from China and contractors from China became mired in controversy and struggled to prove viable, leaving Sri Lanka saddled with growing debts.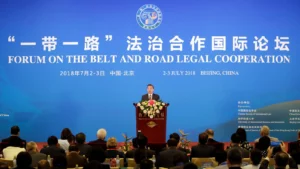 The claim is that China lends money to other countries and if the other countries are not able to meet the debt payments they take the countries' key assets. They end up having the cede control.
Some people call this debt-trap diplomacy i.e. They offer loans at cheap rates with the sting of default coming if the smaller economies can't generate enough cash to pay their interest back. The Belt and Road initiative is a win-win for their aspirations to become the world's biggest trade leader.
China's Lending Compared with others
China never publishes records for foreign loans, and the majority of its contracts contain non-disclosure clauses which also prevent borrowers from revealing their contents too. It also argues that such confidentiality is common practice for international load contractors.
As stated by Professor Lee Jones at Queen Mary University of London " Confidentiality agreements are very common in international commercial loans".
But what we have heard is that they are hard to pay as the Chinese government lends loans at a higher interest rate than the western governments. The payment tenure of the Chinese loans is also shorter, which is less than 10 years, compared to around 28 years for other lenders that lend to developing countries.
As said by the BBC, " At around 4% these loans are close to commercial market rates and about four times that of a typical loan from the world bank or an individual country such as France or Germany".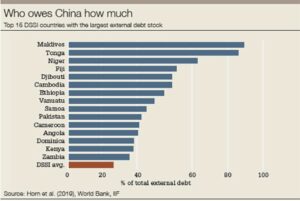 Chinese state-owned lenders also typically require borrowers to maintain a minimum type of cash balance in an offshore account which the lender may have access.
It is also said that if a borrower cannot pay the loan back, they simply debit the funds from that account without legally having a bad debt.
This is an approach that is only seen by the Chinese lenders and is not practiced by any of the western countries.
It is stated that the researchers have still not stated how the debt is beneficial for growth. They say that they have collected the evidence from the media reports but still the evidence they have raises a concern for economic distress coming from debt. They argue that China should bring countries into their investment program to spread the debt equally. China is advised to adopt strict standards and should have more transparency about the approach and how sustainable its approach for developing economies is.
Some Countries like Pakistan and Nepal Turned down their infrastructure loans as they were getting better sources of funding from other places.