Within the diabetic population, the greatest susceptibility to partial or complete foot and leg amputations due to the disease lies among divorced men, a study has revealed.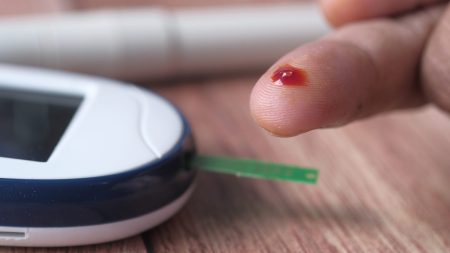 The Research
Amputations linked to diabetes, notably of the lower limbs, have emerged as a substantial worry for patients due to the intertwined complexities of the condition, encompassing neuropathy and peripheral arterial disease. These complications can give rise to wounds that resist healing, cause infections and harm to tissue and can often end up culminating in amputation as a final measure to avert the escalation of health perils.
Recent research has shed light on a concerning trend within the diabetic community, revealing that individuals who are divorced face a significantly heightened risk of lower limb amputations, with a staggering sixty seven percent of an increase compared to those of their married counterparts. Moreover, gender disparities have also come to the forefront, indicating that men are at a fifty seven percent higher risk than women of experiencing such an outcome.
This insightful research, encompassing a substantial cohort of sixty six thousand five hundred and sixty nine individuals living with diabetes in Sweden, has yielded these critical findings. The outcomes of the study are poised to be unveiled at an upcoming conference dedicated to experts specializing in diabetes. These revelations underscore the intricate interplay between marital status, gender, and diabetes-related health complications, urging a deeper examination of the underlying factors contributing to these disparities.
The implications of this research are far-reaching, emphasizing the importance of not only effectively managing diabetes but also addressing the broader societal and personal contexts that may influence health outcomes. As medical professionals, policymakers, and researchers gather to explore these revelations, there arises a pressing need to develop targeted interventions that consider the unique challenges faced by divorced individuals within the diabetes landscape.
The Limitations
Previous updates show that while acknowledging their inability to unequivocally ascertain the precise causes, the researchers responsible for the study conceded that a conclusive determination regarding the markedly elevated risk of lower limb amputation among divorced individuals of both sexes, in contrast to their married counterparts, remained elusive. Despite this limitation, they proffered a speculative hypothesis that attempts to shed light on this perplexing correlation.
The conjecture put forth by the researchers puts forth that the augmented risk of lower limb amputation within the divorced population could potentially be intertwined with shifts in self-care routines and dietary behaviours. These alterations are believed to be more pronounced after going through divorce, as individuals grapple with the aftermath of the dissolution of their marriages. Consequently, the newfound solitude that often accompanies divorce might foster a tendency towards modified living arrangements, where individuals are inclined to reside alone.
This proposed theory hinges on the premise that living alone subsequent to divorce could create changes in lifestyle habits, including reduced attention to practices related to self care and diet. The emotional and psychological upheaval associated with divorce may inadvertently culminate in a less vigilant approach towards health maintenance, thereby accentuating the risk of diabetes-related complications and necessitating lower limb amputation.
While the researchers acknowledge that this supposition requires further investigation, it offers a preliminary insight into the potential mechanisms underpinning the intricate relationship between divorce, solitary living, and the heightened susceptibility to lower limb amputation among those grappling with diabetes.
Amputation: A Risk Factor for Diabetes
Lower limb amputation, a grave yet prevalent consequence of diabetes, poses a significant risk to individuals that are afflicted with both type 1 and type 2 variants of the condition.
According to the National Library of Medicine, between 1989 and 1992, more than 105,000 individuals underwent lower limb amputations in short-stay hospitals across the United States. Notably, half of these lower extremity amputations occurred in individuals diagnosed with diabetes. Delving into the chain of causality leading to diabetic amputations, a study at the VA Medical Center in Seattle, WA, examined 80 consecutive patients and revealed 23 distinct pathways.
For 96% of the patients, multiple components were identified within the pathways, while 4% exhibited a single ischemic pathway sufficient to necessitate amputation. In a significant majority of cases, the sequence towards amputation commenced when individuals lacking peripheral sensation encountered a pivotal incident triggering the causal trajectory. Footwear-related incidents constituted this pivotal event in nearly half of the patients. Subsequently, 73% of cases witnessed ulceration and flawed wound healing.