Dream Girl 2, the highly anticipated sequel to the 2019 hit film Dream Girl, has taken the Indian box office by storm, amassing a staggering 200 crores in gross earnings. This comic caper, led by the talented Ayushmann Khurrana, has proven to be a massive success, even in the face of tough competition from Jailer, Gadar 2, and OMG 2. The film's remarkable journey at the box office reflects the enduring appeal of Ayushmann's unique brand of comedy and the love of audiences nationwide.
Dream Girl 2's Box Office Dream Run
Despite the release of several high-profile films like Jailer, Gadar 2, and OMG 2, Dream Girl 2 has managed to stand tall. The film's early estimates indicate that it has achieved an impressive milestone by remaining consistent, even amidst the frenzy surrounding Shah Rukh Khan's Jawan. The Atlee directorial has not only won the hearts of audiences but also garnered acclaim from critics. Early trends suggest that it is poised to achieve record-breaking collections, following in the footsteps of Sunny Deol's Gadar 2. Jawan, on the other hand, has seen pre-sales of approximately Rs 5 Crore, with Saturday (the third day) raking in around Rs 13 Crore, followed by Sunday (the fourth day) with Rs 10 Crore, as reported by Sacnilk. In contrast, Ayushmann's Dream Girl sequel has netted an estimated Rs 94.51 Crore in India, according to early estimates by Sacnilk.
Approaching the 100 Crore Net Mark
Dream Girl 2 inched closer to the illustrious 100 Crore Net mark by earning Rs 2.55 Crore Net on a Wednesday, as reported by Sacnilk based on early box office estimates. The film's gross collection has been conservatively estimated at around Rs 189.02 Crore, tantalizingly close to the coveted 200 Crore mark. On Tuesday, the global collection for Ayushmann's starrer stood at an impressive Rs 118.86 Crore, a figure shared by producer Ekta Kapoor.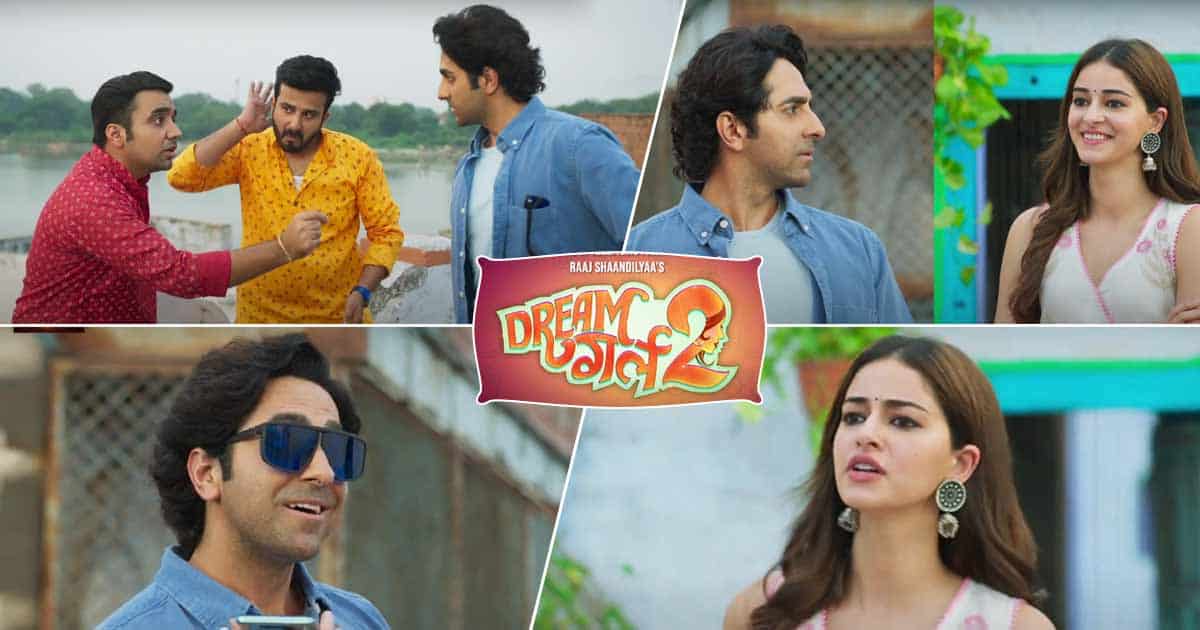 The Dream Girl Saga Continues
Dream Girl 2 doesn't just rely on its star power; it also boasts an ensemble cast featuring Ananya Panday, Annu Kapoor, Manjot Singh, Vijay Raaz, Abhishek Banerjee, Paresh Rawal, Asrani, Rajpal Yadav, and Seema Pahwa in pivotal roles. This ensemble of talented actors adds depth and entertainment value to the movie, contributing to its overall success.
Plot of the Movie
The storyline of Dream Girl 2 revolves around Karam, a man attempting to lead a serious life in Mathura who unexpectedly falls in love with Pari. However, fate seems determined to thwart his attempts at a calm existence. In a bizarre twist of events, Karam transforms into Pooja, setting off a series of comedic and chaotic incidents that further disrupt his already tumultuous life.
Budget and Public Response
While specific budget details for Dream Girl 2 remain undisclosed, the film's resounding success at the box office is a testament to its strong appeal to the masses. Audiences have embraced the film's humor and unique storyline, making it a favorite choice for moviegoers.
Dream Girl 2's exceptional journey at the box office reaffirms the enduring popularity of Ayushmann Khurrana and his unique brand of comedy. With its eye-popping gross earnings, this sequel has certainly lived up to the expectations set by its predecessor and solidified its place as a box office sensation. The film's success is not only a testament to its star-studded cast but also to its ability to captivate and entertain audiences across India. Dream Girl 2 is a testament to the power of laughter and entertainment in bringing people together, and its journey is far from over.
Table of Contents