Earthquake tremors were witnessed yesterday for the second time in a week in Nepal, NCR, Delhi and some other northern states around 7:57pm(National Center for Seismology) often resulting in severe mental health crisis and its delivery by healthcare centers.
Disaster as defined by World Health Organization(WHO) is "a sudden ecological phenomenon of sufficient magnitude to require external assistance. Countries like Nepal, India have already faced health crises under COVID lockdown affecting urban populations with poor structural infrastructures.
A significant number of individuals show depressive, stressful and psychotic symptoms post effects. Data collected from a study done at Christchurch Health and Development Study, studied the birth cohort of New Zealand children. Depression, Post-traumatic Stress Disorder, several attempts of suicide, acute anxiety attacks, illegal drug consumption/dependence were recurrent symptoms seen  historically  among individuals affected from earthquake.
There are several other potentially confounding factors which might impact mental health of an individual such as personal encounter, prior history of mental illness, historically displaced individuals, parent-child relation and economic losses(direct-property damage and indirect-GDP, trade).
HOW ECONOMIC LOSS DUE TO EARTHQUAKE FURTHER WORSENS MENTAL HEALTH
The aftermath of any disaster impacts the socio-economic and mental health of victims and their families. According to the Intergovernmental Panel on Climate Change 2014, the main factors that drive the loss of natural disasters are economic loss and population; anthropogenic activity just adds to the frequency of extreme weather events. Challenges like poverty, lack of resources, lack of awareness, lack of educational opportunities, manpower and infrastructure are bound to be seen especially in developing and under-developed nations. Further, destruction of assets, crop destruction and inadequate rehabilitation leaves depressive impacts till reconstruction. People living in disaster prone regions are often advised to learn to accumulate savings in anticipation of tough times.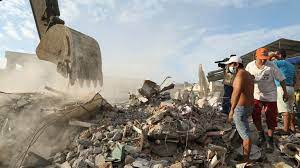 EFFECTIVE RESPONSE FROM HEALTHCARE SYSTEM DURING DISASTER EMERGENCIES
Hospitals play a crucial role while delivering critical responses to victims and their families during emergencies. Disasters result in mobilization and overcrowding, which in turn push health emergencies near hospitals and shelter homes. WHO and PAHO(Pan American and Health Organization) rightly recognized the need of an organized and structural response by implementing policies that would strengthen the capacities, enhance coordination, resource sharing and allocation, prioritizing mental health, role of central and state government to further spread awareness would stimulate the proper functioning of the hospitals response during emergencies.
Absence of methods and high resolution disaster risk hinders the analysis at system level and further adds to more complications. Another important aspect to look upon is the metric based procedures taken before and during emergencies is the focus on patients waiting hours and availability of ambulances as an emergency response step.
FEW MANAGEMENT ASPECTS TO FOCUS FOR EFFECTIVE IMPLEMENTATION FOR BETTER COMMUNITY HEALTHCARE
Proper community works like HR management, victims management, nutrition management, environmental monitoring units, access to  mental health control, disease control management, information and technology management might help to bridge better communication between the authorities and victims.