The first match between India and England at Edgbaston was in 1967 when England won by 132 runs. India and England have played six matches since then, with India failing to win any of them
As soon as the Edgbaston match begins on Friday, India's Test history may include a "boom-boom" chapter. As COVID-positive Rohit Sharma is unable to play this test, Team India will be led by fast bowler Jasprit Bumrah, who will be India's Test captain No. 36. Not only that, but by being named captain of this match, he has joined an elite group of fast bowlers who have previously captained their respective teams. Bob Willis, Imran Khan, Kapil Dev, Shaun Pollock, Wasim Akram, Waqar Younis, Courtney Walsh, Heath Streak, Pat Cummins, Jason Holder, and now Jasprit Bumrah are among those who have played for India. However, Bumrah's journey to Edgbaston will be difficult because the hosts have an unbeatable record. It will be the first time in nearly 35 years that a fast bowler will captain the Indian Test team. The fast bowler Kapil Dev was the captain the last time this happened. Bumrah will be the first fast bowler to take on this role since Kapil Dev stepped down as Test captain in 1987.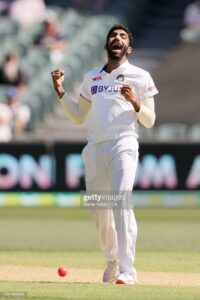 England recently defeated New Zealand 3-0, and the team has been playing aggressively under new coach Brendon McCullum. Their batsmen have thrashed the opposing attack, and Jack Leach has taken five wickets twice in the innings. The pitch here appears to be flat, which should help the batsmen. In this case, it will be hard for Bumrah, Mohammed Shami, and Mohammad Siraj to stop England's batsmen. Only the Indian pace bowlers allowed India to take the series lead. The Indian pace attack, led by Jasprit Bumrah, has taken the most wickets in the country, with 18. Mohammad Siraj and Mohammed Shami have taken 14 and 11 wickets respectively to help Bumrah.
Despite Sachin Tendulkar's century in the second innings of the 1996 Edgbaston Test, India lost. In 2011. Current coach Rahul Dravid was dubbed the "Wall of India" at the time. To name a few, there were Sachin, Dravid, Sehwag, Laxman, and Gambhir. Despite this, India was defeated by massive innings and a 242-run margin. Alastair Cook's 294 and Eoin Morgan's 104 helped England score 710 (declared for 7 wickets) in this Test. India had a chance to win at this venue in 2018. Virat Kohli was the captain at the time. He set the standard for the team, scoring a century in the first innings and a half-century in the second. A total of 194 runs was required to win.
The Edgbaston Test for the 2018
After London, Birmingham is the country's second-largest city. In 2018, this venue hosted a Test match between India and England. England won the toss and chose to bat first. In the first innings, England scored 287 runs, with captain Joe Root scoring 80 and Jonny Bairstow scoring 70. In this match, Johnny batted well as a wicketkeeper, and he recently scored a Test century in 77 balls against New Zealand. Ashwin took four wickets in the first inning, while Shami took three. India's openers, Murali Vijay and Shikhar Dhawan, were out early, but captain Virat Kohli's brilliant 149-run innings sparked a comeback, and India finished its innings with a total of 274. Virat Kohli took command after three wickets were lost. While captaining the team, he scored 149 runs.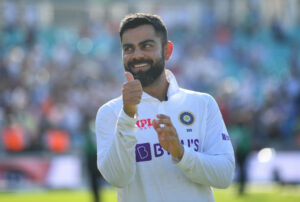 As India's total was reduced to 274 runs, there was no notable partnership. Curran took four wickets, Stokes two, and Anderson two. Ishant Sharma bowled spectacularly fast when England's second innings began. He only bowled 13 overs, but he took five wickets for 51 runs. Umesh Yadav and Ravichandran Ashwin each took two wickets. England's innings faltered in the face of India's best bowling, and the team was bowled out for 180 runs. Thanks to Sam Curran's 60 runs, England's innings reached a respectable total. The Indian batsmen were given an easy target of 194 runs to win, putting the entire burden on them.
To win, 194 runs were required
On the third day before tea, England's innings had ended for 180 runs. India's second innings began after tea. India needed 194 runs to win with two days remaining. India's start to chasing the target of 194 runs was abysmal, with both openers losing wickets at 22 runs. Once again, India's top order failed miserably, and captain Kohli was forced to fight alone from the other end. By the end of the third day, India had scored 100 runs for the loss of five wickets. This was India's final batting pair in the match, and Kohli and Kartik were batting intelligently. Because the pitch flattens and batting becomes easier on the fourth day of a test match, it is said to be the most important day of chasing. Indian fans were hoping for a big win because Virat was on the other end.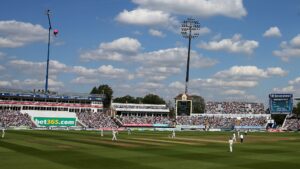 When he dismissed Kartik for 20 runs, Anderson provided England with their first breakthrough. By dismissing Virat Kohli, Stokes, who took four wickets in the second inning, effectively ended all Indian hopes. Indian fans were overwhelmingly dissatisfied. On that day, India had a chance to make history, but they were all out for 162, and England won by 31 runs.
The first match between India and England at Edgbaston was in 1967 when England won by 132 runs. India and England have played six matches since then, with India failing to win any of them.