The university holds the belief in the overall development.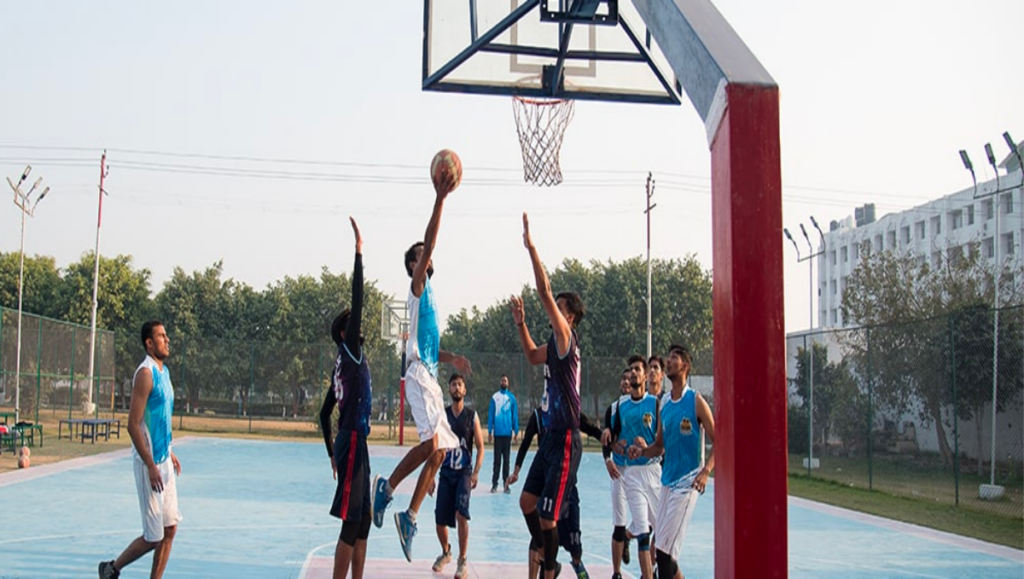 The Ganeshi Lal Agarwal University encourages sports to be practiced on the campus. The campus has world-class on-campus facilities for the students to excel in sports. The university has the right balance between extra-curricular activities like sports and education. 
Approach:
This move by the University is to promote a good body and a healthy mind. And practicing sports is one of the reasons to stay fit. Whereas education helps us to learn and be updated and keeps our minds fresh.  
Along with the facilities provided, the campus also organizes state-level sports facilities on its campus. It meets to encourage students even from other colleges to participate in the events conducted.  
The private university has employed a practical approach to avoiding any monotony of excessive studying. It firmly believes in value-based yet fun-oriented learning. This helps the students to grasp maximum learning outcomes.  
Events Conducted:
The rich on-campus sports infrastructure is used in conducting events like Pratham Pratibha – Athletics events, Get Set – Badminton event, Hoop It Up – Basketball Event, G.P.L – Cricket Event, Spardha – For First-Year Students, Chakravyuh – Chess Event, Laliga (futsal) – Football Event, Goal in Fire – Handball Event, Kabaddi Championship, Aaveg – Volleyball Event, Aagaz – All Sports Events, and Maitree – Annual Sports Meet.  
 University boasts the infrastructure of dedicated grounds and courts for all major sports. Sports like Cricket, Football, Volleyball, and Basketball. The maintenance of the courts is a major concern for the university.  The following are some of the courts that the campus boasts: Athletics Track, Badminton Court, Basketball Court, Cricket Ground, Football ground, Handball Ground, Volleyball Court, Chess Hall, Table Tennis Hall, and Lawn Tennis.  
Indoor infrastructure: 
GLA university also has indoor games facilities provided. It works hard to meet the variegated sports interest of the student population. The few indoor games that are available on the campus are Badminton, Chess, Table Tennis, Carrom and many other indoor sports are practiced at the university.  
About the University:
GLA University is evolving at a rapid speed. In terms of quality of education and the placements offered. The alumni base has 30,000 students settled worldwide. It is a part of the league of 12 private universities in India, holding the status of 12B by the University Grants Commission (UGC). The university is truly a gateway to global success. 
---
Published By – Chirag Agrawal
Edited By – Sonu M Kothari