Are you ready for a smartphone that's both eco-friendly and impressively modern? Fairphone is back with the 5th iteration of its repairable phones – The Fairphone 5.
The Fairphone 5 showcases how repairability and sustainability can coexist with cutting-edge features.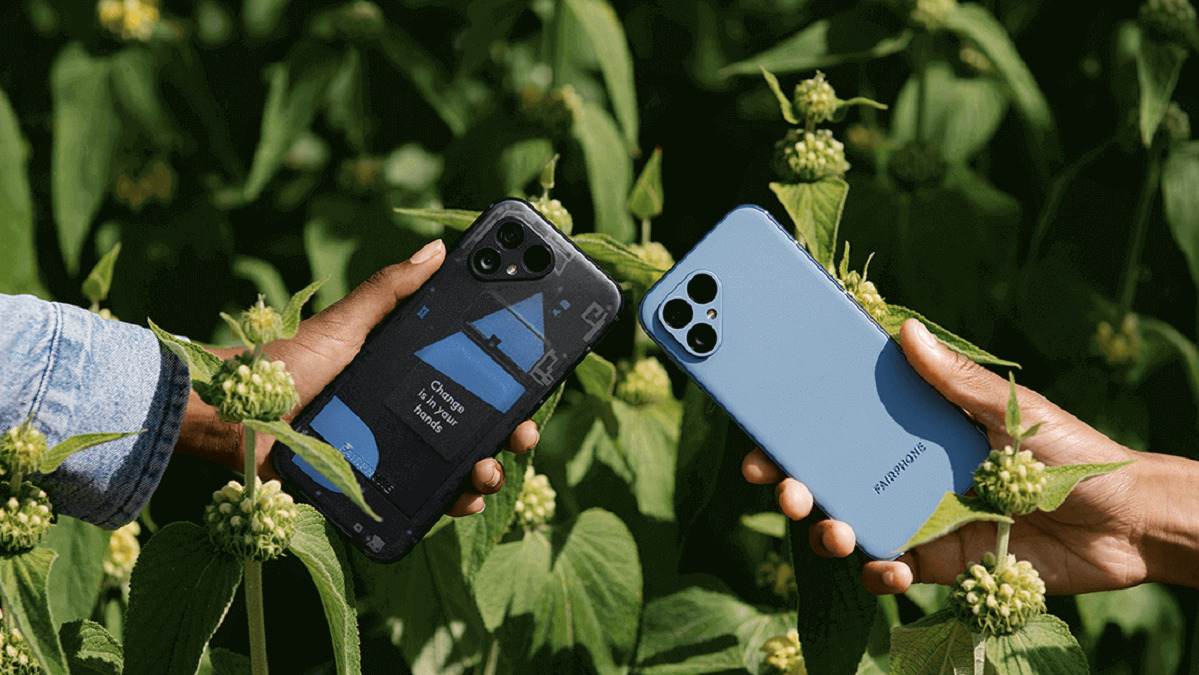 Design: Where Repair Meets Style
In a world where sleek design often clashes with repairability, the Fairphone 5 strikes a balance that's nothing short of remarkable. Unlike its predecessors, this phone effortlessly blends in with the latest models released in 2023. Sporting a sleek metal frame and a signature triangular camera bump introduced by the Fairphone 4, the Fairphone 5 introduces a punch-hole selfie camera and uniform bezels, offering a contemporary front profile. What truly sets it apart is its slightly larger dimensions, distinct bezels, and an innovative design that lets you effortlessly access the battery and the phone's interior without any hassle.
Functionality and Features: A Step into the Future
The Fairphone 5 doesn't just look good; it's loaded with features that match the needs of modern everyday users. The 6.46-inch OLED display boasts a refresh rate of up to 90Hz, offering immersive visuals. Notably, Fairphone has upgraded from LCD to OLED from the previous generation, enhancing both visual quality and environmental consciousness. The device houses dual 50-megapixel cameras—wide and ultrawide—ensuring exceptional photography. What's more, the Fairphone 5 embraces water and dust resistance, achieving an IP55 rating. While it might not match the IP68 standard (we can hope for it in the future iterations) of the higher end smartphones, it's a leap towards durability without compromising on repairability.
Sustainability and Longevity: More Than a Phone
Beyond its technical prowess, the Fairphone 5 sets a new standard for sustainability and longevity. Its modular design boasts 10 repairable modules, allowing individual component replacements. The user-replaceable 4,200mAh battery supports 30W fast charging and is designed to last upto 1,000 charging cycles. Furthermore, Fairphone's commitment to software support shines through. Powered by the Qualcomm QCM6490 chip (comparable to the Snapdragon 778G chipset), the phone guarantees at least five major Android updates and security patches for eight years, extending its software lifespan until 2031. This puts it ahead of industry giants like Google and Samsung in terms of update duration.
Ethical Sourcing and Supply Chain Revolution
Fairphone's philosophy transcends repairability—it's about revolutionizing the supply chain and creating a positive impact in the world. The company collaborates with its suppliers to ensure living wages for workers and supports fair mining practices. The Fairphone 5's ethical foundation extends beyond materials and wages; the company pioneers change in an industry that often overlooks social consequences (certain companies often look the other way and put profitability over human rights).
The Fairphone 5 Experience: An Investment for the Future
Preorders for the Fairphone 5 have commenced in Europe, starting at €700 or £620. The price tag reflects not just the device's specs, but the promise of sustainability, repairability, and a positive impact. While the Fairphone 5 might seem high-priced at first glance, it's an investment in a greener future and a smartphone that will stand the test of time.
In Conclusion
The Fairphone 5's arrival signals a major shift in smartphone design and values. With its highly repairable design, modern features, and commitment to sustainability, this handset is more than just a device—it's a glimpse into a future where technology aligns with our aspirations for a better world. As the Fairphone 5 paves the way, we eagerly anticipate the transformative impact it will have on the industry and hopefully encourage other phone manufacturers to devote a segment of their phones if not switch to this method.