"Health is Wealth" is just a proverbial phrase in the jargon, but in a sad reality of maladministration it is reverse read as "Only the Wealthy can afford Health"!
Without any frivolous slag, diving into the topic, there is a huge health crisis lurking beneath the social inequality in developing and underdeveloped nations like India and South Africa.
Status of health infrastructure and services in India
The concerns of improper health services rarely surfaced in India prior pandemic, and this is very disreputable for a vigilant nation like India to elude the ground reality by hiding the stats.
The heat of the medical crisis in India sored extremely dragging the attention of popular media to analyze the inefficiencies in the sector from a multi-faceted perspective.
And, concurrently there were clarion discussions in news channels followed by a series of articles in newspapers.
It was alleged that India has a huge shortage of medical resources in terms of hospital beds, doctors, and nurses compared to the neighboring Asian nations.
World Bank data (as in 2017)
| | | | |
| --- | --- | --- | --- |
| Nation | Doctors (per lakh population) | Beds (per lakh population) | Nurses (per lakh population) |
| India | 85.7 | 53 | 172.7 |
| Pakistan | 98 | 63 | 70 |
| Bangladesh | 58 | 79.5 | 40 |
| Srilanka | 100 | 415 | 220 |
| Japan | 241 | 1,295 | 1,220 |
The data on Mental health infrastructure as per the Lancet health report 2017 also projects a bleak picture, with 1 mental care hospital per crore population! with every 1 in 7 Indians suffering from mental health disorders. And further, the report projects the data on other resources as follows;
| | | | |
| --- | --- | --- | --- |
| Nation | Psychologist (per lakh population) | Social workers (per lakh population) | Nurses (per lakh population) |
| India | 0.069 | 0.065 | 0.796 |
| Leading nations | 222.6 | 145.4 | 150.3 |
This is also asserted from the suicide rate due to mental disorders in India, which is at 16.3 per lakh population, whereas the global average is 10.6 per lakh population.
The nightmare of non-communicable diseases
65% of deaths in India are due to noncommunicable diseases, About 50–70% of patients took treatment in private facilities.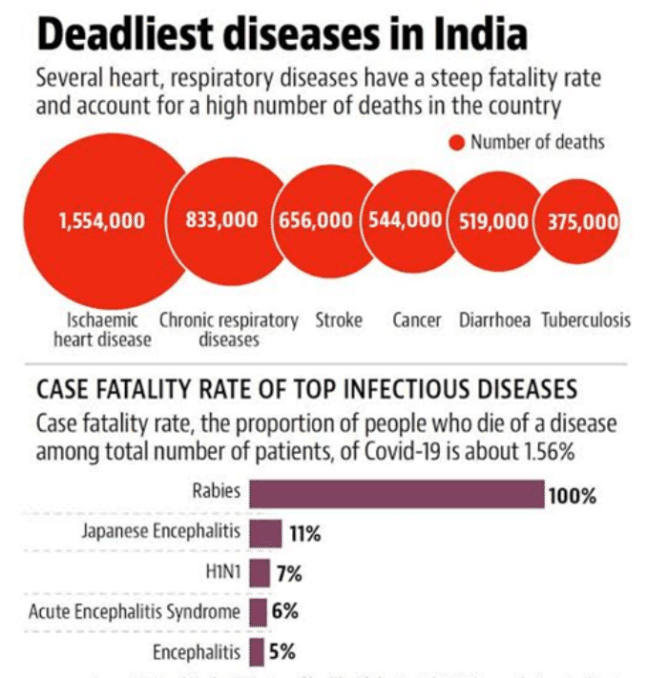 The reality behind Out of Pocket Expenditure on Health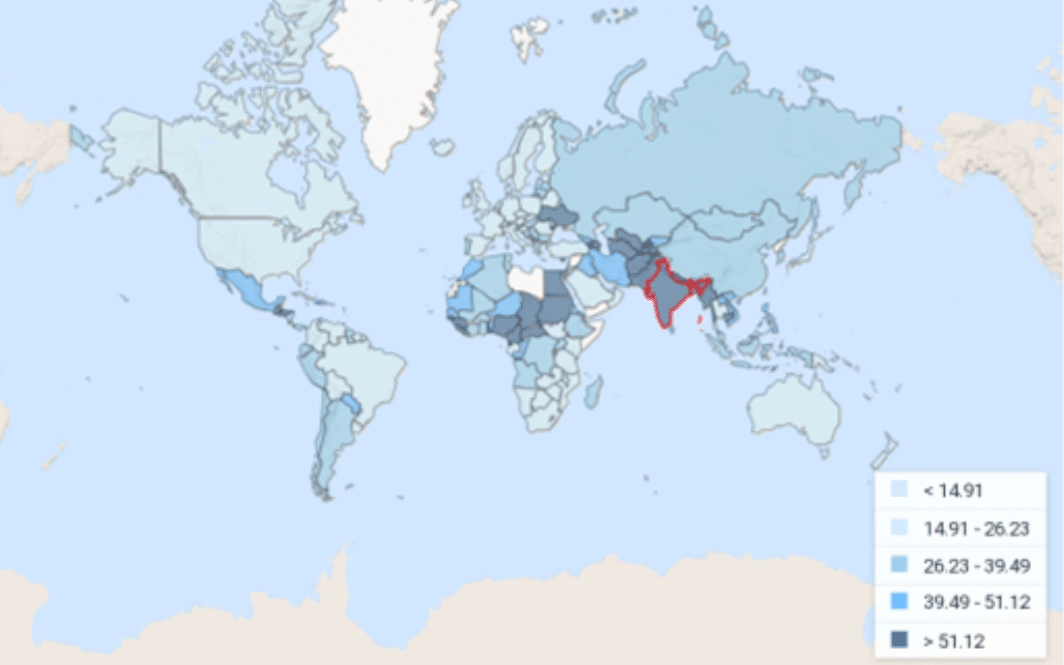 As per the World Bank data on Out of Pocket Expenditure on Health as of 2019, India stood amongst the nations having the highest OOP expenditure in the world, pushing nearly 60 million people into poverty annually.
The health expenditure of the government health expenditure has increased from ₹1042 per head to ₹1815, from 2013 – 14 to 2018 – 19 but this includes a substantial share of the defence sector and capital infrastructure in the primary health sector, but not in public sector.
Further, the Out of pocket expenditure has decreased from ₹2336 to ₹2155 per head from 2013 – 14 to 2018 – 19, the amount of ₹2155 is nearly equal to 15% salary of an average urban resident employed in an IT sector earning ₹15,000 per month.
Whereas an average Chinese citizen spends only 7 – 8% of their salary on health.
The reduction in the expense means people didn't have money to go to hospitals because of the rise in poverty, and further this expense doesn't include the lavish expenditure of the 5% rich population in India.
The issue was worst during May 2021 when 90% of Indian families found a decrement in their income causing a shrink in market purchases hence dropping economic demand.
The actual coverage of the Ayushman Bharat scheme
According to the latest data, out of the 50% eligible beneficiaries, only 2% are covered (i.e 1.23 crores out of 12.5 crores).
In a study conducted National Library of Medicine it was found that 57.67% were not covered under the scheme yet.
On another note, it was found that 59% of Indians do not have any health insurance. And most of the policies don't cover all expenses. For example, outpatient department (OPD) expenses, accounting for 45% of total healthcare expenses, are not covered by most insurance policies.
Despite the scrupulous measures taken, only 35% of Indian lives (480 million) are covered by a health insurance policy today.
On the other side, the upper limit of the treatment cost is fixed to ensure that hospitals don't extort money from insurance schemes. Very often, a beneficiary ends up being charged over and above the 'approved' amount for a given package.
Medical inflation
At present, the annual rate of medical inflation is 15%. On the contrary, India's overall inflation rate is 6-7% annually. Gradually, the prices of healthcare services in India are becoming unaffordable for underprivileged people.
The risks of the poor
With 22% of the population in India in poverty and 5% slum dwellers, the population prone to health disorders due to food contamination is said to rise.
And on the other hand, there is a staggering cost of medical expenses which is very unlikely to be afforded by this population.
The recommendations
The Economic Survey 2020 – 2021 recommended that: an investment of 2.5 – 3% of GDP on health will reduce the OOP expenditure from 65% to 35%.
While the OECD nations allot 7.6% of GDP to Health on average and BRICS invest 3.6% on average, India has just invested 1.28 – 1.8% of GDP on health as of 2022.
The cost of treatments in India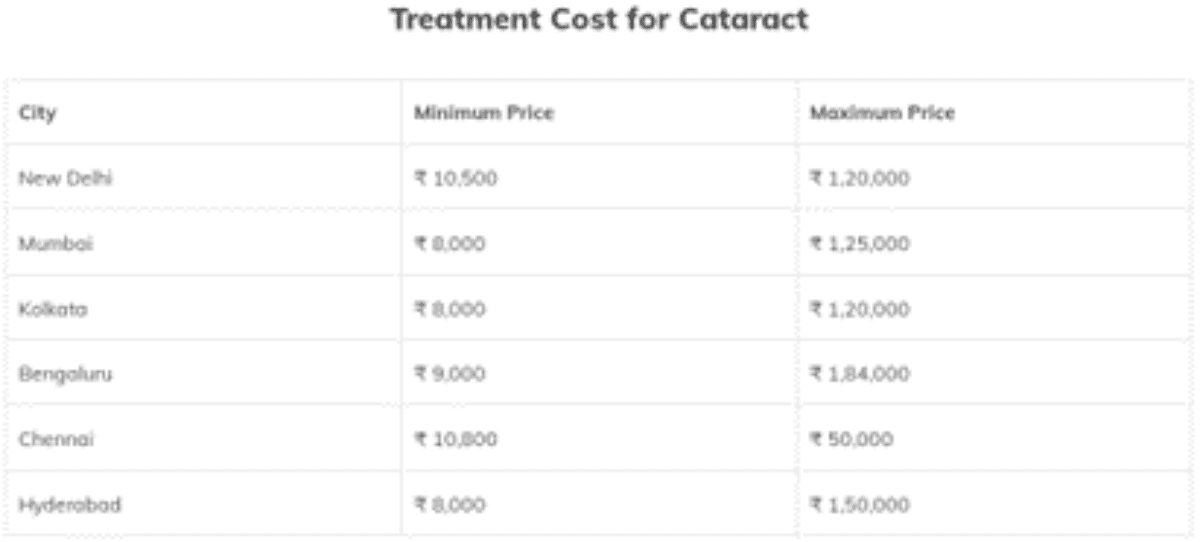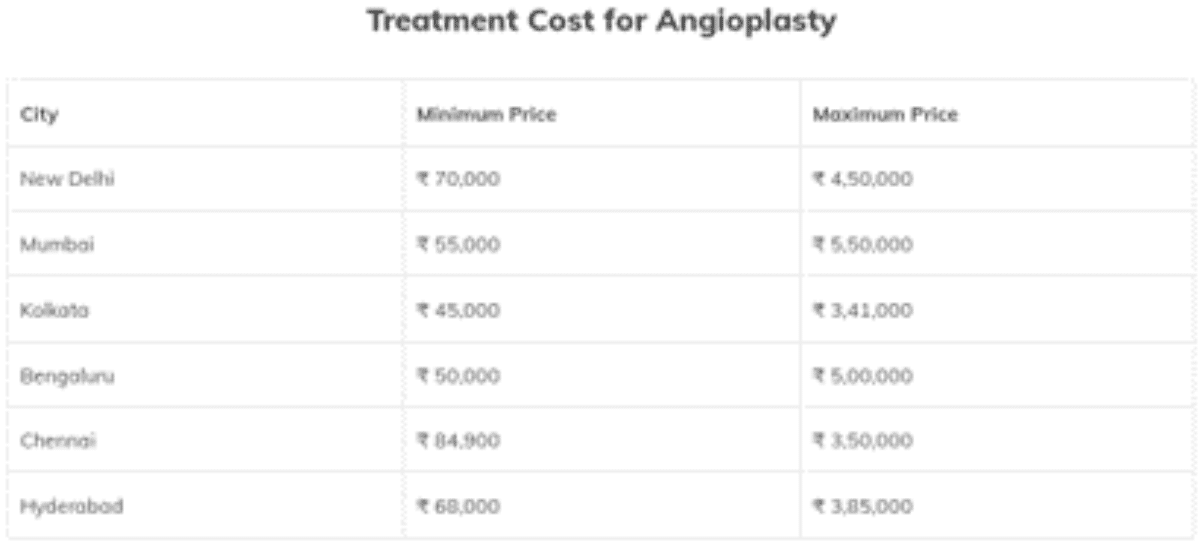 Apart from these, an average dentist charges ₹1500 / tooth decay and ₹5000 for tooth surgery, and most of the insurance schemes don't address such sensitive treatments.
Then how can a common man with a salary of ₹9000 per month (₹300 wage/day) fulfill his every essential need along with such expensive treatments, medical expenditure indeed pushes 60 million Indians into poverty annually!
The Ayushman Bharat is aimed at rescuing only 50% of the bottom poor population, and the top 20% are covered by premium health insurance schemes, the question boils down to the 30% of middle-class Indians who lack any sort of insurance schemes.
As ailments and diseases are indiscriminate to the economic status of an individual, most of the people unable to afford expensive treatments prefer to suffer or endure the pain!
It's up to the government!
---
Read More –
Launch of Tele-MANAS – A 24×7 tele-mental health service across India
Bharatiya Janta Party refused to provide PIL for better health
https://asianatimes.com/up-cm-yogi-adityanath-order-cbi-to-probe-into-ayush-admission-scam/