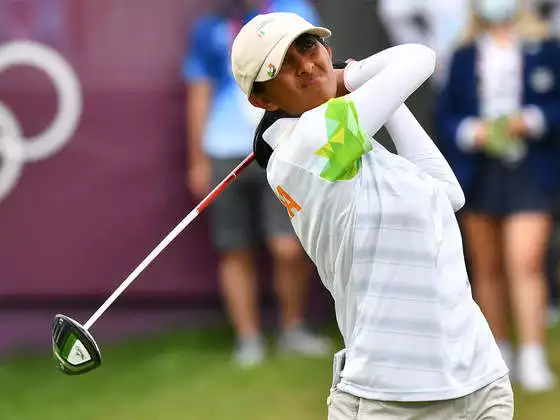 Indian golfer Aditi Ashok finishes fourth, nearly missing out on the podium of Olympics 2020.
Aditi Ashok and Diksha Dagar represented India in the Women's Individual of Tokyo Olympics 2020. 
Diksha Dagar finished at 50th position and three more athletes, and Aditi Ashok slipped down to 4th position, nearly missed to achieve India's first medal in golf. 
Top 5 Ranks: 
1. Korda Nelly(USA) – 267 total points
2. Inami Mone(Japan) – 268 total points
3. Ko Lydia(New Zealand) – 268 total points
4. Aditi Ashok(India) – 269 total points
5. Green Hannah(Australia) – 271 total points
Aditi's Golf Career
Aditi is well aware of what the podium means for her country as she could be the first one ever to win it for India. At the end of round 3, Aditi finished at 2nd position, just below rank one and former world number 1, Korda Nelly, representing the USA.
 Coming from a family of sports enthusiasts, Aditi started playing golf at the early age of 5, and by the age of 23, she came out victorious in 7 tournaments.
This time is Aditi's second Olympic appearance after the 2016 Rio Olympics, in which she was the youngest Olympic golfer aged 18 ever to be featured in the tournament. She had a good start in Rio but eventually fell to joint 41st.
Her father Ashok was her caddie in the 2016 Rio Olympics, while in Tokyo 2020, her mother Maheshwari Ashok accompanied her as her caddie.
On tour, Maheshwari, famously known as 'Mash', has been a pillar of strength as Aditi stunned the field, finishing at the silver medal position at the end of Round 3 on Friday. 
India's Tokyo Olympics Tour 2020
In Tokyo Olympics 2020, our Indian athletes have so far won 5 medals in 5 different sports.
● Mirabai Chanu
Silver Medal in Weight Lifting (Women's 49kg)
● Indian Hockey Team
Bronze Medal in Men's Hockey tournament
 ● PV Sindhu
Bronze Medal in Women's Singles Badminton
 ● Lovlina Borgohain
Bronze Medal in Women's Welterweight Boxing
 ● Ravi Kum Dahiya
Silver Medal in Men's 57 kg Wrestling
Sports Awareness In India 
Even though the competition did not bring glory to our country, India is immensely proud of Aditi Ashok for giving her best and proving to us that golf is not a retirement sport as many believe it is. Golf is a sport that could unlock someone's true potential if played on a wide scale in our country. 
Sports is often a perception of a physical activity where athletes display their physical attributes. Still, in many sports such as golf, precision, awareness, and focus are many qualities required to excel.
Aditi Ashoka's performance is an eye-opener for all the Indians who take an interest in golf as well as those who are passionate enough to build a career around it.
In a country where cricket dominates the sports industry, we need more awareness and education of different sports and their career structure.
According to a study conducted by Kanishka Pandey of Research Center in 2019, only 5.56% of Indians are sports literate. That means that only 57 lakh people are associated with sports out of 125 crore people of India.
If India wants to see a rise in its sports industry, awareness and education are two crucial factors to begin