Diego Maradona's famous 'hand of god' will be on display during the world cup in Qatar.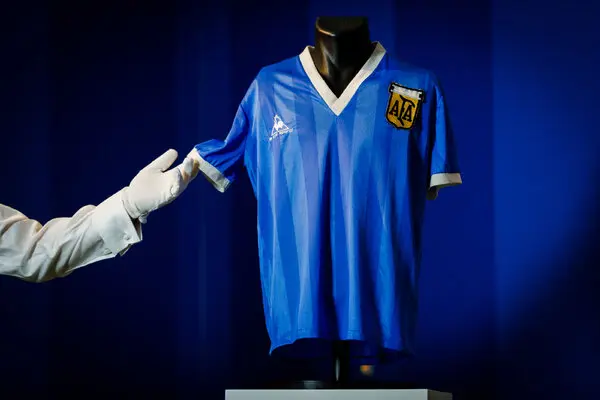 Hand of God display
On Saturday a top official said that the shirt which was worn by Diego Maradona when he scored the infamous 'Hand of God' goal will be on display during the Qatar world cup.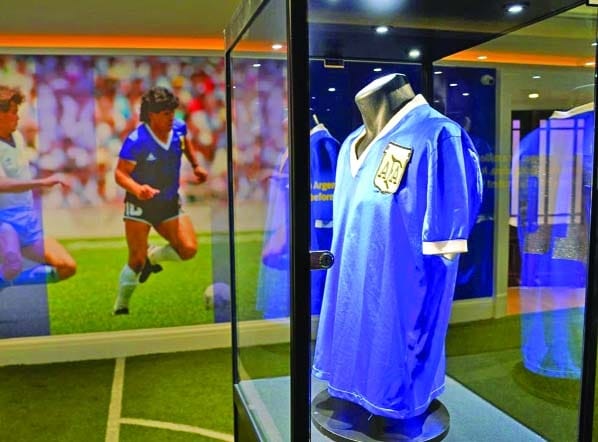 The shirt was sold to a secret buyer for $9.3 billion and was loaned to Qatar's 3-2-1 museum which will be on display from Sunday to 1st April.
The sports memorabilia object was sold in the auction on May 4th where a secret buyer bought it for a record-setting price but as the object was loaned to a Museum in Qatar the officials of that museum did not leak the name of that secret buyer.
The head of the Qatar Museum Sheikha Al Mayassa who is also a member of the gulf state's ruling family said that she is excited to have the shirt for the special world cup exhibition. She also stated to the AFP that the shirt has been through a lot of journeys starting when Steve Hodge the Nottingham Forest defender swapped jerseys with Maradona after the match.
In 1986 Maradona scored both goals in the quarter-final of the world cup, winning the match against England with a 2-1 victory in Mexico city's Aztec Stadium.
The match was one of the most famous and controversial matches to be ever witnessed in football history, it also helped Maradona to gain legendary status.
During the match, Maradona wearing the number 10 shirt punched the ball which looked like he headed past the goalkeeper Peter Shilton and scored the first goal. After that, he dribbled past five English defenders to score a goal and that goal was voted the goal of the century in the 2002 FIFA poll.
The shirt will be put on display at the "World OF Football" exhibition alongside the first football player in the first world cup finals in 1930.