On Thursday afternoon, militants shot at Rahul Bhat, a Kashmiri Pandit, in Jammu and Kashmir's Budgam district. Rahul "felt unsafe and requested for a transfer to district HQ," according to his wife .
Meenakshi Bhat (The wife of Rahul Bhat) speaks to the media that her husband; Rahul, had pleaded with the local administration for a transfer to the district headquarters as he felt unsafe while working in Chadoora but he could not get a transfer. I told him to come home, and he said Okay. I heard the news of his murder five minutes later. She further stated;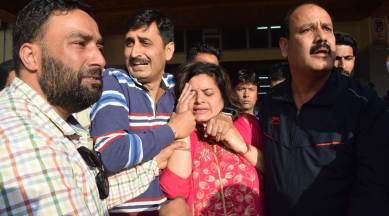 Terrorists opened fire on Rahul Bhat, a revenue department official in Budgam, on Thursday, injuring him severely. He was brought to a Srinagar hospital, where he died a moment later. The 'Kashmir Tigers' terror group claimed credit for the incident.
Rahul Bhat's wife alleged that "Some people within his office colluded with the terrorists," "He used to say that everyone treated him well and that no one could harm him. But no one guarded him; they (terrorists) must have inquired about him; otherwise, how could they have known?"
Rahul Bhat's father said;
His body should be returned soon, and an investigation into the matter should be launched to identify all those involved in his cold-blooded murder.
Wails and shrieks reverberated around the house as mourners, including neighbors and relatives, raced to console the family after learning of Bhat's death in his early 30s.
I was in the hospital with my sick brother when a family friend from Kashmir called to tell me about the tragedy. "I tried to contact the deputy commissioner of Budgam and the responsible police officers, but my calls went unanswered," the father said to the reporters, attempting to keep a brave face and keep his emotions under control.
"Nobody is secure in the valley if a person is shot inside his office…when this happens, it is a clear proof of the government's failure. Those serving there (among Kashmiri Pandits) do it at their own peril because the government has failed to provide them with adequate security."
Rahul Bhat's death avenged; 3 terrorists involved in the killing of Kashmir Pandit gunned down by security forces.
Read More : A Kashmiri Pandit Shot Dead in a Government Office at Budgam