The incessant urge to shop in fashion is something we are all acquainted with and honestly its hard to stop but buying a piece that you genuinely want gives you pleasure of different realms. We are continuing with our saga of 'how to dress like a K-Drama lead male or female'. Looking into K-Drama looks of popular stars from Park Min young to IU.
The K-drama female leads especially display a powerful, independent dispositions which are very well suited in the global hierarchy. It maybe imaginary or fictional but women like these raise our real life expectations and with that expectations we seek to do more work in order to live such life.
But again bunch of us are just dreamers and don't push open the door of idleness and set free. One motivation to look forward to a wonderful life would be manifesting positive thoughts and high fashion jewellery and clothes can be a part of it.
Here we will look into clothing pieces worn by some powerful K-Drama female leads.
1) Yoon Se-ri
Our lovely and stunning Son Ye jin portrayed the role of Se-ri from the drama Crash Landing On You with was a massive global hit of 2020 and ranked number one for several weeks even after airing the last episode. The show boasts and impeccable cast including Son Ye jin and Hyun Bin. The reel life couple became real life couple in no time and got married recently.
In this image Se-ri is seen wearing a double breasted coat from Miu Miu spring summer 2020 collection. There's no doubt she doesn't fail to look like a highly pampered, well brought up, rich South Korean heiress. The mini Karligraphy bag by Fendi works as an quintessential accessory.
2) Sung Deok-mi
Park Min young did justice to the character of Sung Deok-mi from drama Her Private Life. She portrayed the role of an art curator who is secretly a kpop idol fan. The raptures and hardships of being a K-pop fan is absolutely exact and speaks out whole heart of every K-pop, K-Drama fan out there.
In this drama Park Min young is seen donning some ultra high fashionable office looks. This brown jacket from globally acknowledged Mediterranean brand Mango for its sustainable and yet no so expensive garments and accessories. You can look up to Deok-mi as your fashion inspo to wear formal wear. Deok-mi is also seen carrying few high fashion accessories like Serpenti Forever Crossbody bag by Bvlgari.
3) Jang Man-wol
Our nation's sweetheart can reach any boundaries when giving best performances. Known for being an impeccable singer and dancer IU is also known as a versatile actress in South Korea and all across the globe. In the drama Hotel Del Luna, IU played the character of a CEO.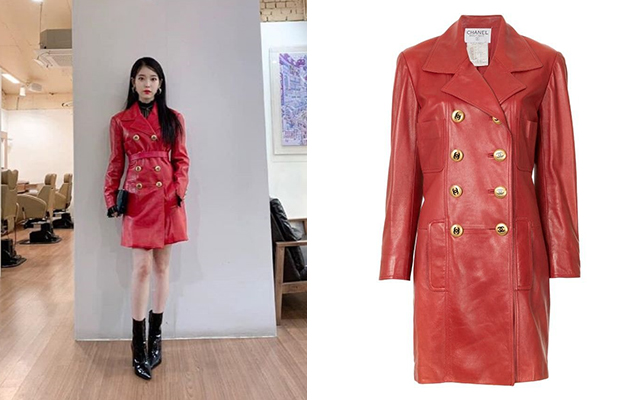 CEO of an hotel who only caters ghosts. And for a ghost CEO she is not that bad at all infact she could be possibly the best dressed ghost ever.
The petite figure can very well make everything look beautiful and appealing. The red double breasted leather coat from Chanel surely raises fashion quotient. Everything that Jang Man-wol wore in Hotel Del Luna Is exceptionally glamorous and for a ghost definitely in super, super vogue.
For Jang Man-wol's accessories the directors spared no amount of money. The designer bags that she channelled from Givenchy small GV3 bag to Gucci Sylvie 1969 Plexiglas top handle bag.
Published By : Akshita Katoch
Edited By : Khushi Thakur