Three galaxies are seen heading toward a collision and merger in a stunning new Hubble Space Telescope image. Despite the fact that galactic collisions are fairly common, this one is uncommon due to the fact that each of the three galaxies is currently producing new stars.One day, the three galaxies in the Boötes constellation will combine to form a single, massive galaxy. Gravitational interactions between the trio will eventually cause the galaxies' current spiral structure to vanish.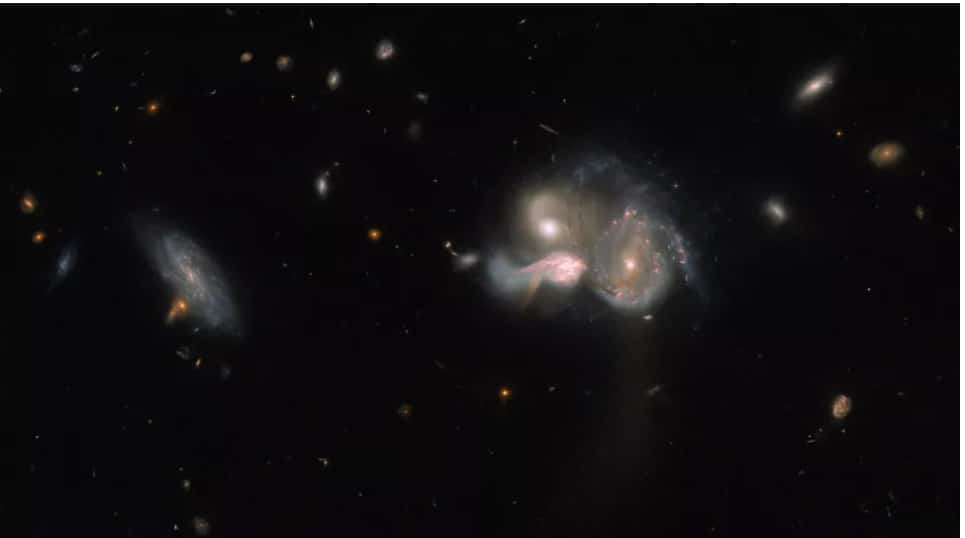 The three galaxies, which are collectively referred to as SDSSCGB 10189, appear to be merging due to their proximity in this image. Already distorted in shape, the galaxies are connected by strands of gas and dust. There is a lot of light coming from the three galaxies .An unrelated spiral galaxy to the left of the collision progresses peacefully, almost like a passing motorist "rubbernecking" a more earth-centered collision on our planet's highway.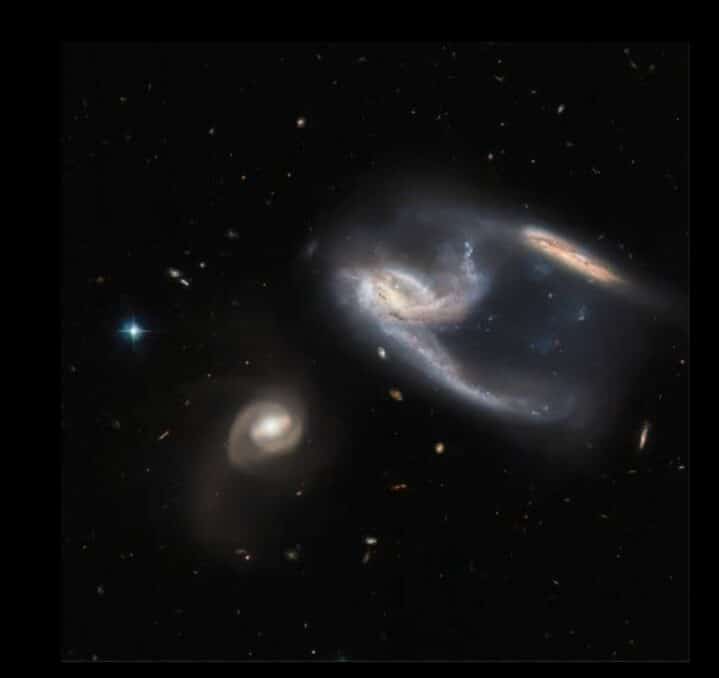 The distance between the three massive star-forming galaxies in SDSSCGB 10189 is just 50,000 light-years. In cosmic terms, this is actually very close to each other, despite the fact that it may appear to be a vast distance with little risk of collision.
The nearest galaxy to our own Milky Way, Andromeda, is more than 2.5 million light-years away.The origins of the universe's largest and most massive galaxies, which astronomers refer to as Brightest Cluster Galaxies (BCGs), are the subject of the new Hubble Space Telescope image.
The "cosmic web," the tangled structure of clumps and filaments of material formed by dark matter that connect individual galaxies within a cluster, is also hoped to have evolved from BCGs.The question of when BCGs formed in the universe's 13.8 billion-year history is still up for debate. These massive, bright galaxies may have formed when the universe was just 19 percent of its current age, according to some astronomers.
Others believe that BCGs are still developing today.It's possible that the birth of a BCG from the merger of SDSSCGB 10189 will finally shed light on the mystery of how and when massive bright galaxies form.This cosmic crash is known as a triple galaxy merger, when three galaxies' competing gravitational forces slowly bring them closer together and tear them apart.
All large galaxies, including our own Milky Way, are the result of violent mergers like this one, which are common throughout the universe