After the presidential election campaigned on Sunday in France the founder of La République En Marche short for En Marche political party Emmanuel Macron has gained victory twice in history of last two decades in French politics.
The strategic alliance between France and India is a renowned coalition and with Emmanuel Macron's second presidential win this coalition seems to be strengthening.
Marine Le Pen this time managed to grab more votes than previous polls. The reason behind this is contradiction to her being admirer of Vladimir Putin. Even if she didn't manage to climb the poll results she still gained lot of votes tham consecutive election.
Even after winning the polls by great margin of 58% yet its considerably less than previous polls when Macron defeated Marine Le Pen with the difference of 33% counting about plus 70% back in 2017.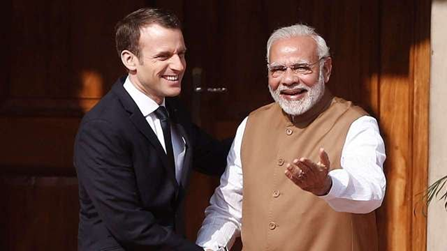 Prime minister Narendra Modi congratulated his French counterpart on Twitter about taking over the presidency for the second time. This has happened for the first time since last 20 years.
Yet after conquering the presidency election there's still more to face for Macron since Marine Le Pen and another presidency candidate to join forces in the upcoming parliamentary election in June. This is considered as a tough challenge to Macron as it will be hard to run a country if there are numerous opposition in an association.
The overall win of Emmanuel Macron over his far right rival Marine Le Pen is anticipated to build a stronger amalgamation of future ventures from both India and France. With Macron's second term win it also seems to bond a close tie in G7 countries.
Prime minister Narendra Modi took this to his twitter account felicitating French president.
Edited By: Khushi Thakur
Published By: Mohammed Anees