The tragic incident that took place on Saturday, killing over hundreds! 
One of the deadliest sports tragedies took place on Saturday night in the eastern city of Malang, Indonesia, killing around 129 people and leaving 323 injured, according to the police.  
Arema FC supporters at the Kanjuruhan stadium marched onto the pitch after the team lost 3-2 to Persebaya Surabaya. When thousands of agitated fans approached the pitch, police responded with tear gas that created panic and triggered a stampede.  
Arema has also been barred from hosting games by Indonesia's football governing body. 
The use of any crowd control agents or weapons is prohibited by the Federation Internationale de Football Association (FIFA), the world's governing body. East Java police did not immediately respond to a request for comment on whether such restrictions were known to them. 
A PSSI team has been dispatched to Malang to investigate after FIFA requested a report on the incident from Indonesia's PSSI football association. 
Both the teams, Arema and Persebaya Surabaya, are known for their aggressive and violent attitudes and have a long history of rivalry. Members and fans of the two teams have frequently been engaged in clashes prior to or after matches.  
To avoid any violent clashes, only Arema supporters were permitted inside. However, following Persebaya's victory, hordes of enraged supporters descended onto the field and hurled objects at players and referees. 
According to local media, when riots split outside, individuals overturned and damaged police vehicles. Later, police used tear gas, which caused panic and a stampede for the exits.  
Due to the overcapacity of the stadium, many people lost their lives due to suffocation and stampede, which included a five-year old boy as well. Several people are in critical condition as a result of this incident. 
Video of this tragic incident is going viral on social media
The 43-year-old spectator, Doni, told AFP, " Officers fired tear gas, and immediately people were rushing to come out, pushing each other, and it caused many victims." 
22-year-old survivor Sam Gilang, who lost three friends, called it shocking and terrifying. And further told AFP, "People were pushing each other and many were trampled on their way to the exit gate. My eyes were burning because of the tear gas. I fortunately managed to climb up the fence and survive." 
"Many of our friends lost their lives because of the officers who dehumanised us," said Muhammad Rian Dwicahyono, 22, crying as he nursed a broken arm at the local Kanjuruhan hospital. "Many lives have been wasted."
Amnesty International called for an investigation into why tear gas was deployed by the police when it should have been used only "when other methods have failed." 
President Joko Widodo ordered an investigation into the tragedy and directed the football association to suspend all matches until security improvements were completed.
People around the world have mourned that the tragedy happened.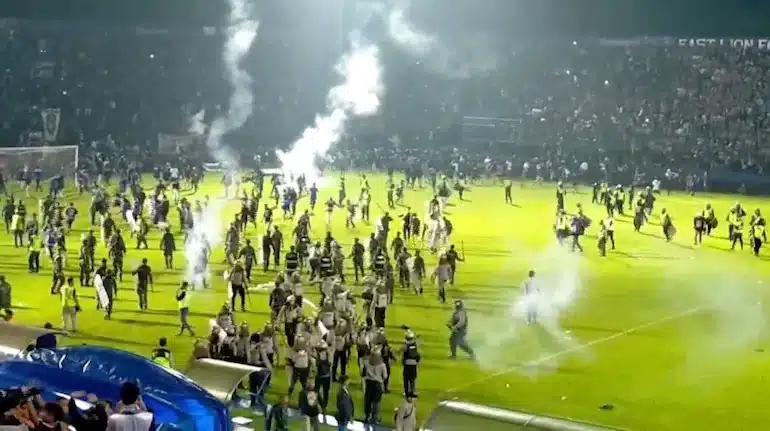 The events in Indonesia rank among the worst stadium disasters in football history.  
A stampede killed 320 people and injured over 1,000 more during a Peru-Argentina Olympic qualifier in Lima in 1964. During the European Cup final between Liverpool and Juventus in 1985, 39 people were killed when fans were crushed against a wall that then collapsed at the Heysel stadium in Brussels, Belgium.  
Only four years later, in the FA Cup semi-final between Liverpool and Nottingham Forest, 96 people were killed at Hillsborough. The death toll was raised to 97 in 2021 after it was determined that another supporter had been unlawfully killed by the effects of the crush 32 years earlier.
Readmore- Tragedy in Indonesian Football: 174 deaths and more than 100 people injured