The most recent version of Apple's operating system (OS) is now being distributed to users. From the iPhone 8 to the iPhone 13 Pro Max, iOS 16 will be made available for all iPhone models.
On Monday, Apple intends to roll out software updates for the iPhone and smartwatch that will bring new functionality and aesthetics to compatible devices.
iOS 16 and watchOS 9 were unveiled at the company's developer conference in June. They completely redesigned the lock screen, tried to do away with the infamous password, remodel notifications, introduce new watch faces, new running data, and more.
The information you require regarding the upgrades is given below.
Lock screen
A new lock screen has been introduced, offering far more personalization and a modification to the way notifications are shown.
The time, date, and row of information widgets are now displayed by default, and notifications are filed in groups from the bottom of the screen. You can alter the time's typography and colour, add additional details beneath the date, and add a 3D effect to select images or a slideshow of photos to personalise the wallpaper.
Live activities are easier to access with one hand since they are positioned above the notification stack at the bottom of the screen, above things like sports scores or music playing.
Additionally, you may link several lock screens to different focus modes, allowing you to, for example, have separate lock screens for business and leisure time. New "attention filters" can prevent messages from co-workers when off-duty and conceal distracting content from apps.
Messages
You may now mark texts as unread in Messages, which is useful if you want to study them later when you have more time. SharePlay may be opened from within Messages, enabling you to work together with other users in programmes like Files, Keynote, and Notes.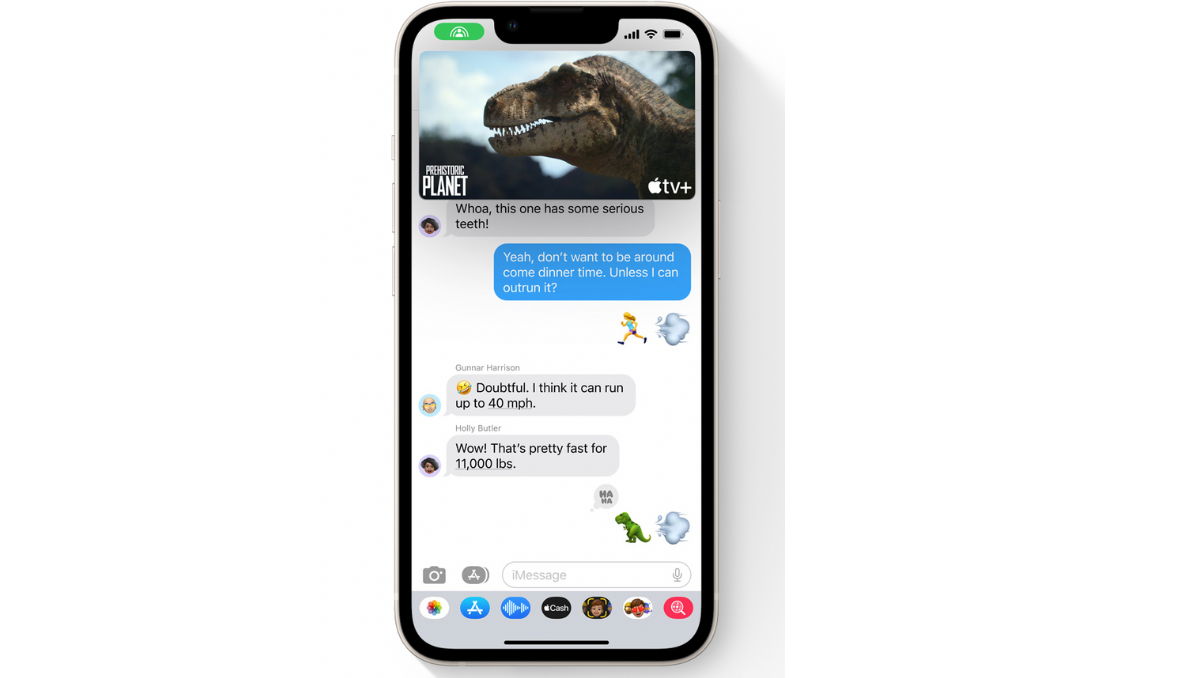 However, the addition of new editing capabilities in iOS 16 Messages is the largest change. For example, if you reply to an erroneous text message, you can unsend the text message and amend it after you send it. After you've sent your text, you only have a little window of time to use the editing and unsending capabilities.
Mail
The Mail app's search has been enhanced, and you may now stop an email from being sent within 10 seconds. If you fail to add a recipient using machine learning or forget to attach a file to an email, Mail will also issue a warning.
Passkeys
With the use of passkeys, you can access apps and websites and create new accounts without having to make, remember, or save a password. The cryptographic key pair that makes up this passkey replaces your current password and is synced throughout iCloud's Keychain. By replacing your current likely insecure passwords and bad behaviours, it has the ability to do away with passwords and increase your online security.
According to Apple, "Your private key is never kept on a web server, so you don't have to worry about website leaks compromising your accounts."
Photos
Images' foreground elements, including animals, plants, people, and merchandise, can be copied and pasted into other programmes, documents, or messages. This is in addition to finding, copying text, and other aspects, but an iPhone XS or newer is necessary for this.
Safari
With iOS 16 Safari, which builds on the Tab Groups feature unveiled with iOS 15 last year, you can collaborate with others by sharing Tab Groups.
Passkeys, an alternative to passwords that will need to be adopted by third-party apps and websites, is the second significant change in iOS 16. But we discussed with Apple how passkeys enhance the password experience.
Fitness
Your movement can now be tracked without an Apple Watch. A standalone fitness app that keeps track of your steps, miles travelled, and calories burnt has been included to iOS 16. Fitness on the iPhone might encourage you to get up and move every day, even though it's a scaled-down version of a comparable app accessible to Apple Watch owners.
Lockdown Mode
In actuality, Lockdown Mode is something that Apple uses to launch iOS 16, but the majority of us won't use it. For the very few customers who are subject to serious, targeted threats to their digital security, Apple claims Lockdown Mode offers "extreme protection."
The purpose of the feature is to secure your iPhone so tightly that spyware won't target it. Be cautious when using Lockdown Mode because it practically renders your smartphone useless.