Table of Contents
Berlinale or the Berlin Film Festival has been dominated by politics and activism, with protests and demonstrations taking centre stage over celebrities and films. This year's festival has seen a series of demonstrations on issues ranging from environmentalism to the rights of women in Iran and solidarity with Ukraine.
On Saturday, a group of actors and filmmakers gathered on the red carpet to show their support for anti-government protesters in Iran. Exiled Iranian film director Sepideh Farsi predicted the imminent fall of the country's government and held up placards emblazoned with the Kurdish revolutionary slogan Jin, Jîyan, Azadî (Woman, Life, Freedom). Many stood in solidarity while chanting slogans and making signs of victory.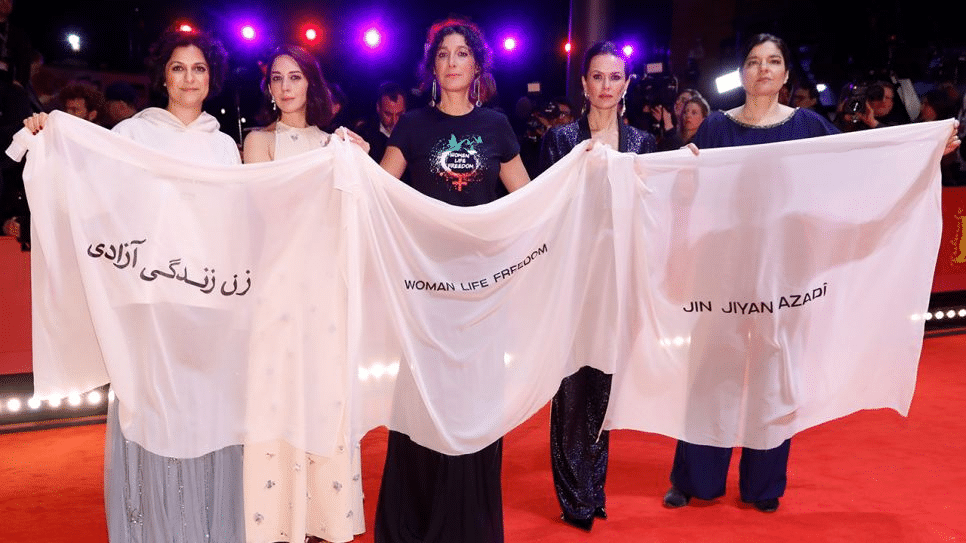 Berlinale has boycotted Iranian film institutions
The Berlinale has boycotted Iranian film institutions this year but is showing a number of films by independent directors from the country, with Iran's quest for freedom being one of the main themes. French-Iranian actor Golshifteh Farahani, who is serving on the jury along with Kristen Stewart, said that "In a country like Iran that is a dictatorship, art is not only an intellectual or philosophical thing, it's essential, it's like oxygen."
The Berlin film festival is renowned for being the biggest platform of political activism as compared to the other big film festivals. This year, the festival has leaned into its "political festival" brand. In addition to public declarations of support for various causes, it is throwing its weight behind concrete action. The festival has banned any attendees from Russia or Iran with direct ties to their respective regimes.
In the past, the festival has flown in Rhuhel Ahmed and Shafiq Rasul, who were captured by US forces in Afghanistan in 2001. The British-origin Muslims spent years imprisoned in the notorious US military base- the Guantanamo bay detention camp. They were subjects of Michael Winterbottom and Mat Whitecross' competition film Road to Guantanamo. Additionally, the festival stood in support of Iranian filmmaker Jafar Panahi in 2011 by posing beside an empty chair marking his place as a selected jury member for he was prevented by Tehran from leaving the country.
Among the films on Iran in the festival's Panorama section, curated under the theme 'film as a tool of resistance,' a documentary by Indian filmmaker Sreemoyee Singh, titled And, Towards Happy Alleys, was showcased. The film chronicles conversations with Panahi and other Iranian artists and critics as they persevere to balance artistic freedom with personal safety.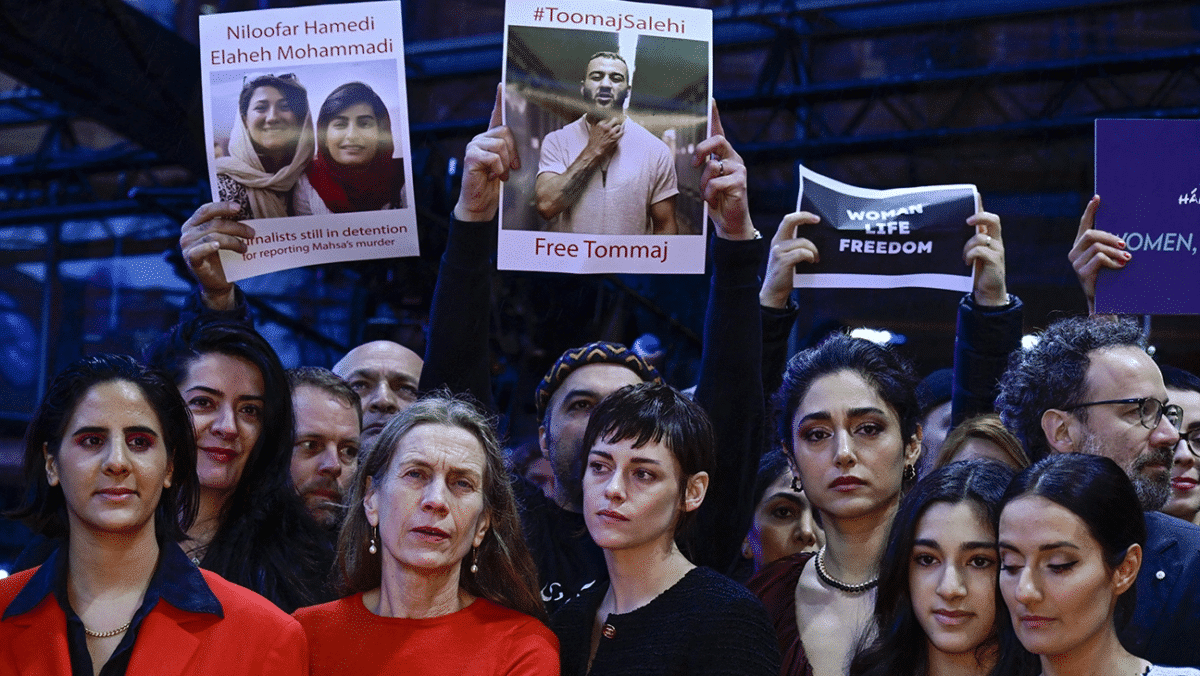 Berlinale jury president Kristen Stewart acknowledged the festival's history of political confrontation in her opening press conference, saying "whether you like it or not, this festival in particular, historically, is in a positive way confrontational and political." On Saturday she stood, alongside fellow jury member Golshifteh Farahani, festival co-heads Carlo Chatrian and Mariëtte Rissenbeek, The Siren director Sepideh Farsi, and Zar Amir Ebrahimi, protesting the dismal rights of Iranian women. The red carpet was filled with chants of "Women, Life, Freedom!" demanding the release of female journalists and rappers who had been arrested by the Iranian regime.
Rights of Women In Iran
The activism and protests have created a media echo that has often overpowered what has been happening on screen. While films like The Siren have been screened to audiences, it is the activism and political engagement that has generated the most attention. The festival's stance on various issues has not gone unnoticed, and its support for protesters and activists has been welcomed by many. With films being used as a tool of resistance against various oppressive regimes, this year's Berlinale has shown that cinema can also be a powerful platform for social and political change.